SUNY Potsdam Professor of Chemistry Dr. Fadi Bou-Abdallah Recognized for Research Excellence
SUNY Potsdam Professor of Chemistry Dr. Fadi Bou-Abdallah was awarded a 2019 T. Urling and Mabel Walker Research Fellowship for his project, "Design of a Sensor for Lead Detection in Drinking Water."
The discovery of lead in the drinking water in Flint, Mich., drew national attention to the health risks posed by this toxic metal. Exposure to lead can cause behavior problems and learning disabilities in young children, but can also affect the health of adults. Because there is no safe blood lead threshold in children, there is an urgent need to develop innovative methodologies to detect lead in drinking water, before exposure occurs, and that is exactly what this work is trying to achieve, Bou-Abdallah said.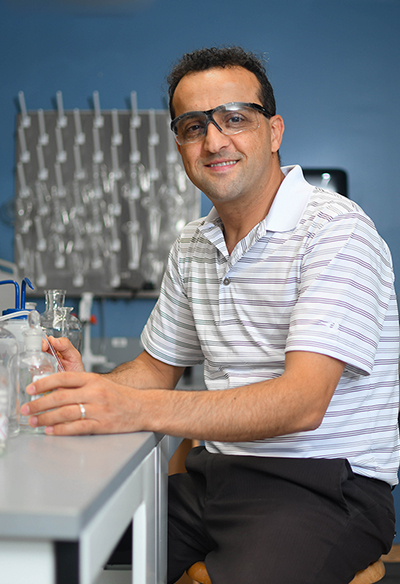 Some residents of a small town in Jefferson County, (Orleans, N.Y.) are also now discovering that their drinking water from private wells may be as bad as the water in Flint, Michigan. Additionally, a recent report by Reuters found people served by wells in the North Country (and likely nationwide) drink, bathe and cook with water containing potentially dangerous amounts of lead.  The severity of this problem has been highlighted in many news reports all across the U.S., to a point where some lawmakers were compelled to sponsor legislation requiring New York school districts to regularly test water for lead contamination.
"Lead contamination in our drinking water is a serious health issue that cannot be ignored, and it will not go away," Bou-Abdallah said. "Unless we invest the time, effort and use our expertise to propose solutions to this potentially deadly problem, people's health and well-being, and our region's social and economic problems, will be directly, and negatively impacted."
The purpose of the Walker Fellowship is to encourage faculty from the region's 11 institutions of higher education to undertake research on critical issues confronting North Country communities, and to make recommendations for possible solutions. To learn more, visit www.potsdam.edu/faculty/research/walkerfellowship.cfm.
Bou-Abdallah recently had his research featured as the cover story in one of the top journals in the field of metallomics. Bou-Abdallah and his colleagues at Clarkson University and the University of Brescia in Italy had their research paper titled "Ferritin exhibits Michaelis–Menten behavior with oxygen but not with iron during iron oxidation and core mineralization" published in the journal Metallomics.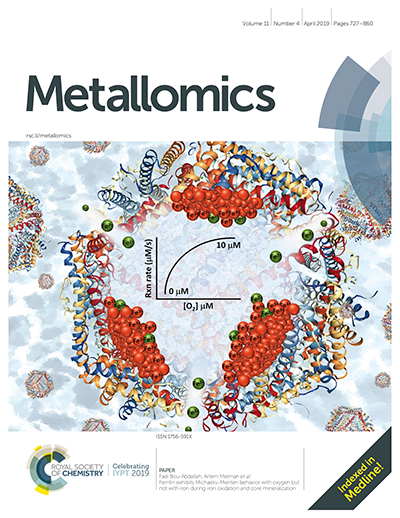 Metallomics publishes cutting-edge investigations aimed at understanding the molecular mechanisms of metal-dependent life processes and at elucidating the role and impact of metals in biological systems. The paper is co-authored with SUNY Potsdam undergraduate student Nicholas Flint '20, who is graduating with his Bachelor of Science degree in biochemistry. After graduation, Flint is heading to Colorado State University to pursue a Ph.D. in chemistry.
After the discovery of the iron storage protein (Ferritin) more than 8 decades ago, excessively high, physiologically irrelevant and inconsistent literature values concerning the kinetics of iron deposition inside the ferritin cavity prompted Bou-Abdallah and his colleagues to re-examine this fundamental enzymatic reaction under conditions close to those encountered in biological systems. 
Ferritins are highly conserved supramolecular protein nanostructures that play an important role in the biological management of iron. Thousands of iron atoms can be safely and reversibly sequestered inside its hollow cavity.
"The literature is full of misleading and incorrect information. There is increasing concern that a good majority of published research claims false findings or data manipulation," Bou-Abdallah said. "Our results show that iron accumulation inside human ferritins follow a typical Michaelis–Menten enzymatic reaction with respect to oxygen, but not with respect to iron, meaning that iron uptake by the protein continues to occur even under conditions of severe hypoxia (or lack of oxygen)." 
The novelty of the research and experimental set-up and execution prompted the executive editor of the journal to highlight the findings on the cover of the journal.
"I am pleased to see our findings featured on the cover of the journal. This speaks volumes of the importance of undergraduate research and the high impact science that we do here at SUNY Potsdam," Bou-Abdallah said.
SUNY Potsdam's Department of Chemistry offers a rigorous and well-balanced curriculum that provides a solid foundation for successful graduate study or a career in chemistry or a chemistry-related field. The department is known for its strong and diverse undergraduate research programs, its $1.3 million in grants to support teaching and research, and the success of its students' acceptance to competitive graduate and professional schools. To find out more, visit www.potsdam.edu/academics/AAS/Chem.
About SUNY Potsdam:
Founded in 1816, The State University of New York at Potsdam is one of America's first 50 colleges—and the oldest institution within SUNY. Now in its third century, SUNY Potsdam is distinguished by a legacy of pioneering programs and educational excellence. The College currently enrolls approximately 3,600 undergraduate and graduate students. Home to the world-renowned Crane School of Music, SUNY Potsdam is known for its challenging liberal arts and sciences core, distinction in teacher training and culture of creativity. To learn more, visit www.potsdam.edu.