SUNY Potsdam Dedicates HEARTH, Part of the New Marqusee Center for Archaeology & Anthropology
SUNY Potsdam recently dedicated the Handcrafted Experiential Archaeological Research and Teaching Hub (HEARTH) and the center that it is a part of, in a celebration with campus and local community members.
HEARTH is a timber-frame structure intended to facilitate hands-on learning opportunities, from stone masonry to maple syrup production, for SUNY Potsdam students and local community members. It is the first initiative launched under the umbrella of the Marqusee Center for Archaeology and Anthropology, a publicly facing teaching and learning center focused on the preservation and revitalization of cultural heritage.
The campus celebrated the new structure and the new initiative with a celebration held during the LoKo Arts Festival.

The Marqusee Center for Archaeology and Anthropology is named in honor of Dean Emeritus Dr. Steven J. Marqusee (Hon. '19), a longtime archaeology faculty member who retired in 2019 after a 43-year career at the College, including a decade as dean of SUNY Potsdam's School of Arts and Sciences. 
The center was established thanks to a generous leadership gift from Donald (Hon. '54) and Kathryn Kofoed Lougheed '54, as well as significant contributions from Lowe's of Potsdam and generous gifts from local businesses, alumni, faculty, volunteers and friends.
At the dedication, SUNY Potsdam College Council chair June O'Neill (Hon. '99) shared the Council's unanimous decision to approve the naming of the Marqusee Center for Archaeology and Anthropology.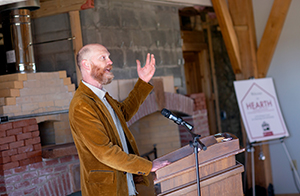 "It was the Lougheeds' vision that the Center celebrate Steve's passion for archaeological and anthropological research through the construction of an innovative heritage craft classroom and makerspace—a space that will serve SUNY Potsdam students and faculty, K-12 educators and students, as well as the greater North Country region. We are proud to dedicate HEARTH as the first initiative and learning space within the Center," O'Neill said.
The mission of SUNY Potsdam's Department of Anthropology is to provide students with knowledge of the five fields of anthropology and to give them practical experience in communities so that they can approach the world professionally and anthropologically. The College's archaeological studies program offers students a chance to gain hands-on field experience working alongside experienced faculty as undergraduates. Past field school projects have included work in the North Country and the Adirondacks, and as far away as South Africa. To learn more, visit www.potsdam.edu/academics/AAS/Anthro.
About SUNY Potsdam:
Founded in 1816, The State University of New York at Potsdam is one of America's first 50 colleges—and the oldest institution within SUNY. Now in its third century, SUNY Potsdam is distinguished by a legacy of pioneering programs and educational excellence. The College currently enrolls approximately 3,000 undergraduate and graduate students. Home to the world-renowned Crane School of Music, SUNY Potsdam is known for its challenging liberal arts and sciences core, distinction in teacher training and culture of creativity. To learn more, visit www.potsdam.edu.