The SUNY Potsdam School of Education Alumni Association recently honored Dr. Jan Harting McChesney '74 of Greenport, N.Y., with the 2020 St. Lawrence Academy Medal, during the College's Virtual Reunion Week.
The St. Lawrence Academy Medal is presented to a SUNY Potsdam graduate who has made significant contributions to the field of professional education or related fields. The Alumni Association recognized Harting-McChesney for her leadership, dedication, outstanding career in education, and in gratitude for her service and generosity to the College.
About the recipient: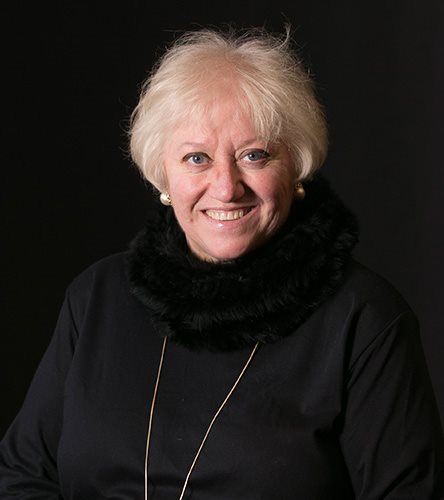 As a K-12 educator, coach and administrator, and more recently as a college professor and researcher, Dr. Jan Harting-McChesney '74 has shown a lifelong commitment to ensuring that all learners receive high-quality instruction. Throughout her long and successful career, Jan has truly exemplified the qualities central to this award.
Jan has been an educator for 46 years, beginning as a student at SUNY Potsdam and continuing through the present day as a professor at St. Joseph's College in Patchogue, N.Y. As a Head Start instructor and later as an elementary school teacher, Jan often taught children who had been given up on by others, whom she worked hard to reach. It was this experience that led her to pursue a master's degree in special education, one of three master's degrees that she earned before ultimately completing a doctorate in education.
In 1991, Jan was hired for a tenured position as a faculty member in the Child Study Department at St. Joseph's College, where she teaches courses such as "Literacy and Language Arts for the Primary and Intermediate Grades," as well as "Special Education and Research in Child Development." She also supervises student teachers and has managed her department's clinic for local schoolchildren, who receive hands-on instruction from her college students.
As she has dedicated her life's work to preparing outstanding teachers, and to acknowledge and honor the excellent education she received at SUNY Potsdam, Jan established the Harting-McChesney Endowment Fund to provide financial support for the Branching Out With Books program. Administered by SUNY Potsdam's Rebecca V. Sheard Literacy Center, the program provides literacy mentoring on-site to high-need outlying school districts in St. Lawrence County. In addition to her financial support, Jan has become a knowledgeable partner, friend and project cheerleader whose rich experiences as a practitioner and researcher help this program to thrive. Being able to consult Jan about the program demonstrates how her work continues to inspire and shape the College.
The St. Lawrence Academy Medal is named for the predecessor institution to The State University of New York at Potsdam. Founded in 1816, the Academy focused on teacher training from its founding—a tradition that continues to the present day with the rigorous liberal arts and sciences foundation offered at SUNY Potsdam.
To find out more about education at SUNY Potsdam, visit www.potsdam.edu/academics/soeps.
About SUNY Potsdam:
Founded in 1816, The State University of New York at Potsdam is one of America's first 50 colleges—and the oldest institution within SUNY. Now in its third century, SUNY Potsdam is distinguished by a legacy of pioneering programs and educational excellence. The College currently enrolls approximately 3,600 undergraduate and graduate students. Home to the world-renowned Crane School of Music, SUNY Potsdam is known for its challenging liberal arts and sciences core, distinction in teacher training and culture of creativity. To learn more, visit www.potsdam.edu.