Two Outstanding SUNY Potsdam Class Leaders Recognized with 2019 Faculty Awards
Two outstanding SUNY Potsdam graduates have been recognized as the academic honorees for the Class of 2019, earning the 2019 Faculty Awards. The award recipients are chosen by Faculty Senate and are specially recognized during Commencement.
The SUNY Potsdam Faculty Award recognizes two students in the graduating class with the highest grade point averages. One recipient must have completed all of their degree requirements at SUNY Potsdam, and the other is a transfer student. As there were multiple graduates with perfect 4.0 GPAs this year, the Faculty Senate also considered each student's other academic achievements when choosing the recipients for this prestigious honor as well.
This year's recipients are Shelby Elizabeth Nair of Ballston Spa, N.Y., and Camille Marie Holmes of Groton, N.Y.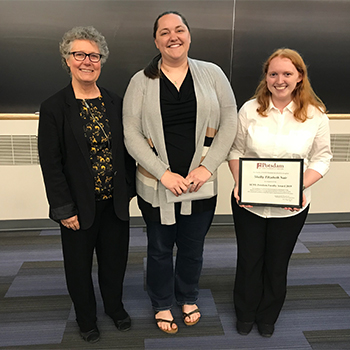 Shelby Elizabeth Nair is an English writing major and was a transfer student, graduating now with a 4.0 GPA. This semester, she served as one of the editors for the North Country Literary Magazine. She also continued working as a tutor at the Writers' Block, and participated in an internship for the Writers' Block. She received the Excellence in English Award. She was vice president of the Comic Book Club. Nair wrote almost every day, whether it was drafting assignments, tutorials for her internship, or her own creative works. She hopes to work as an editor for a publishing company, as well as publish her own books. In the meantime, she is happy to continue writing and gaining editing experience.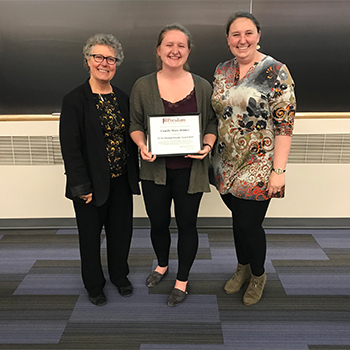 Camille Marie Holmes majored in biology and minored in chemistry, completing all her undergraduate studies at SUNY Potsdam, and is also graduating with a perfect GPA. She held leadership positions in Biology Club, the Pre-Health Club, Beta Beta Beta Biology Honor Society and Gamma Sigma Epsilon Chemistry Honor Society, while serving as the student representative on Faculty Senate's Academic Policies and Curriculum Committee. She has conducted research in avian physiology as an undergraduate. Outside of the university she rides and competed as an equestrian. She received the Biology Department Award, Departmental Scholar Award, Tri-Beta Research Award and George R. Isenberg Award. After graduation she will be pursuing a Ph.D. in immunology and infectious disease at Cornell University.
SUNY Potsdam will celebrate the College's Commencement Ceremony on Saturday, May 18 at 10:15 a.m. in the Academic Quad. To learn more about Commencement at SUNY Potsdam, visit www.potsdam.edu/commencement.
About SUNY Potsdam:
Founded in 1816, The State University of New York at Potsdam is one of America's first 50 colleges—and the oldest institution within SUNY. Now in its third century, SUNY Potsdam is distinguished by a legacy of pioneering programs and educational excellence. The College currently enrolls approximately 3,600 undergraduate and graduate students. Home to the world-renowned Crane School of Music, SUNY Potsdam is known for its challenging liberal arts and sciences core, distinction in teacher training and culture of creativity. To learn more, visit www.potsdam.edu.