The State University of New York at Potsdam Presents Bernie Williams with Honorary Doctor of Humane Letters Degree in NYC Ceremony
Over the course of his remarkable life and career, Bernie Williams' exceptional talents in athletics and in music have taken him from center field to center stage. The longtime New York Yankee centerfielder and Latin Grammy-nominated musician gives every performance his all, whether the venue is Yankee Stadium or the House of Blues.
He's already an athlete, a musician, an author, an advocate for arts education and a philanthropist. Now Williams has a new title to add to his resume: Doctor.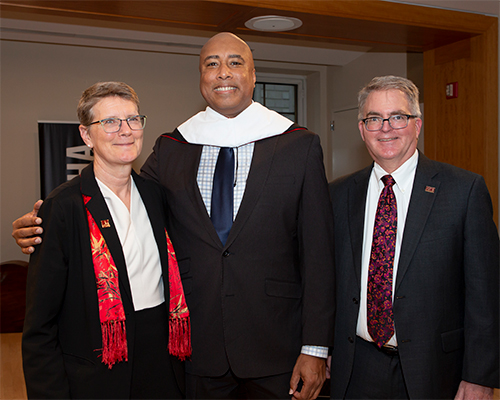 The State University of New York, through SUNY Potsdam, awarded Williams with an Honorary Doctor of Humane Letters degree in a special ceremony yesterday, June 13, in the Yamaha Piano Salon in New York City.
SUNY Potsdam President Dr. Kristin G. Esterberg and Crane School of Music Dean Dr. Michael Sitton presented Williams with his degree during the ceremony, which was attended by Williams' family and friends, as well as College alumni and associates.
"At SUNY Potsdam's Crane School of Music, we share Mr. Williams' love of music and dedication to music education," Sitton said. "We are exceedingly proud to honor Mr. Williams, who exemplifies the ideals we aspire to as artists and educators."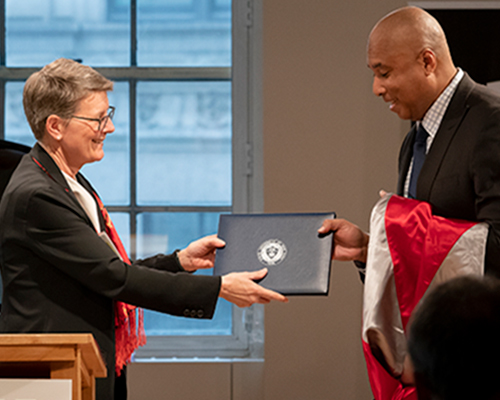 As she prepared to present Williams with his diploma and academic hood signifying his honorary doctorate, Esterberg extolled his record-setting life and career, and the example he sets for others.
"In celebration of your record-setting achievements in athletics as a centerfielder for the New York Yankees, as well as your artistic accomplishments as a musician and your dedication to philanthropy, SUNY Potsdam believes that you are an eminently worthy candidate to receive the Honorary Doctor of Humane Letters degree from The State University of New York," Esterberg said. "You have set an extraordinary example for those of us who create, perform, teach and serve."
Before sitting down to play a solo set of his original music to close out the ceremony, Williams shared some remarks with the guests at the intimate ceremony.
"I am grateful for your efforts to bring this honor down to me tonight, and travel to New York City to create this special ceremony. This is just incredible. There are no words to describe it. I also want to thank The Crane School of Music, credited for being the birthplace of American music education. They are producing so many future music superstars, wonderful young men and women," he said, adding that he hopes to travel to Potsdam to see campus for himself soon in the near future.
Williams thanked a number of people who have helped him throughout the course of his life, from his parents and family members, to his fellow advocates for music education.
"My mom was an educator for 40 years in the public education system in Puerto Rico, where we grew up. She believed in whole education of the whole child. She and my dad were always big fans when I was in the big leagues. But she was always an advocate of me getting my education," Williams said. "As you know, I have always been a staunch advocate in music education. But my ability to truly make an impact on awareness and instill change, to ensure that every child has an opportunity to have music in their lives came from Ms. Mary Leuhrsen, who is the executive director of the NAMM Foundation. She is truly a hero among us, and recruited me to take this crusade to Capitol Hill."
In addition to his new honorary doctorate, Williams earned his bachelor's degree after retiring from the Majors Leagues. In fitting with his career change, he completed a Bachelor of Music degree in 2016 from the Manhattan School of Music, studying with his mentor, Garry Dial. Dial attended Thursday's ceremony, along with Manhattan School of Music President James Gandre.
About Bernie Williams:
Over the course of 16 seasons and 2,076 games in his Major League Baseball career, Bernabé Williams Figueroa (Bernie Williams) piled up an array of honors and accolades. The New York Yankees centerfielder is a four-time World Series Champion, and a five-time All-Star Team member. He has racked up four Gold Glove Awards and a Silver Slugger Award and was named the American League Championship Series' MVP in 1996. In 1998, Williams became the first player to take home the AL batting title, a Gold Glove and a World Series Ring, all in the same season. He is the Yankees' all-time postseason leader in home runs, and also has more postseason RBIs to his name than any other player in team history. Williams is one of the Yankees' all-time leaders in every major batting category, with performance statistics that put him alongside the likes of Babe Ruth, Mickey Mantle, Yogi Berra, Lou Gehrig and Joe DiMaggio. In recognition of his achievements, the Yankees retired Williams' jersey number, No. 51, in 2015.
Williams' passion for music began at a young age, as he studied classical guitar in Puerto Rico. In 2003, he found time in the Yankees off-season to record and release his first album, "The Journey Within." Blending jazz, rock and tropical rhythms, the album was critically praised and reached No. 3 on Billboard's Contemporary Jazz Chart. His much-anticipated second album, "Moving Forward," was released in 2009. With guest artists such as Bruce Springsteen, Jon Secada and Dave Koz, the album debuted at No. 2 and included two top singles. "Moving Forward" was nominated for a Latin Grammy Award for Best Instrumental Album in 2009. In 2011, Williams co-authored a book, "Rhythms of the Game: The Link Between Music and Athletic Performance," along with Dave Gluck and Bob Thompson, featuring a foreword by Paul Simon.
On top of his athletic and musical careers, Williams has dedicated himself to philanthropy and charitable endeavors as well, raising funds and volunteering for Little Kids Rock, the Kids Need MORE Foundation and the National Association of Music Merchants (NAMM) Foundation, among others.
To learn more about Bernie Williams, visit www.bernie51.com.
About SUNY Potsdam:
Founded in 1816, The State University of New York at Potsdam is one of America's first 50 colleges—and the oldest institution within SUNY. Now in its third century, SUNY Potsdam is distinguished by a legacy of pioneering programs and educational excellence. The College currently enrolls approximately 3,600 undergraduate and graduate students. Home to the world-renowned Crane School of Music, SUNY Potsdam is known for its challenging liberal arts and sciences core, distinction in teacher training and culture of creativity. To learn more, visit www.potsdam.edu.