Cohort of Cadets and Officers Graduate from SUNY Potsdam's Law Enforcement Training Institute
SUNY Potsdam's Law Enforcement Training Institute recognized the graduates of its Fall 2019 police academy with a ceremony on campus, held on Dec. 14.
This semester, nine students graduated from the program as pre-employment cadets. They successfully completed Phase 1 of the New York State Municipal Basic Police Training, which includes 56 of the full 60 components, as part of their undergraduate curriculum. The pre-employment cadets included:
Romain Bennett

'20 of Albany, N.Y.

Catrina Deveney

'19 of Hannibal, N.Y.

Sierra Dwinell

'20 of Kirby, Vt.

Oscar Hernandez

'21 of Brentwood, N.Y.

Cullen Jones '20

of Chateaugay, N.Y.

Mynor Martinez

'20 of East Quogue, N.Y.

Judith Par

'21 of Syracuse, N.Y.

Nykai Stevenson

'20

of the Bronx, N.Y.

William Tejeda

'19 of New York, N.Y.
As a New York State-accredited police academy, SUNY Potsdam's Law Enforcement Training Institute offers instruction in defensive tactics, emergency medical services, emergency vehicle operation, applying field sobriety tests, processing crime scenes and a plethora of other training topics.
In addition, four hired officers/cadets completed their Phase 2 training through the SUNY Potsdam Law Enforcement Training Institute this semester. The hired officers/cadets included two new members of the SUNY Potsdam University Police department, Gunnar Brown '16 and Shanielle Kilgore, and two new Potsdam Police Department officers, Shawn Pulver '17 and Travis Stephenson. Pulver previously completed his pre-employment training through the institute in Spring 2017, and was back to complete his police refresher course with the other three hired officers/cadets after having been hired by the Potsdam Police Department. The four officers will now commence the final 160 hours of field training with their respective agencies.
John Kissane, the new school resource officer for the Franklin-Essex-Hamilton BOCES North Franklin Educational Center in Malone, N.Y., completed his peace officer training at the institute this semester. Kissane is a retired 31-year New York State corrections officer. He works under the auspices of the Malone Village Police Department and is employed by BOCES.
SUNY Potsdam University Police Lt. Shannon MacDonald completed his police equivalency certification through the institute this semester. MacDonald, who has been a member of the UP department for 23 years, will now go from being a peace officer special patrolman to a police officer.
SUNY Potsdam's Law Enforcement Training Institute is a New York State accredited police training academy. The institute offers students the opportunity to complete a rigorous pre-employment, state-approved police training as part of their undergraduate curriculum. Cadets complete 95 percent of the total police academy requirements, prior to completing their undergraduate degree. The institute is a joint initiative of the Lougheed Center for Applied Learning, the Department of Sociology and University Police.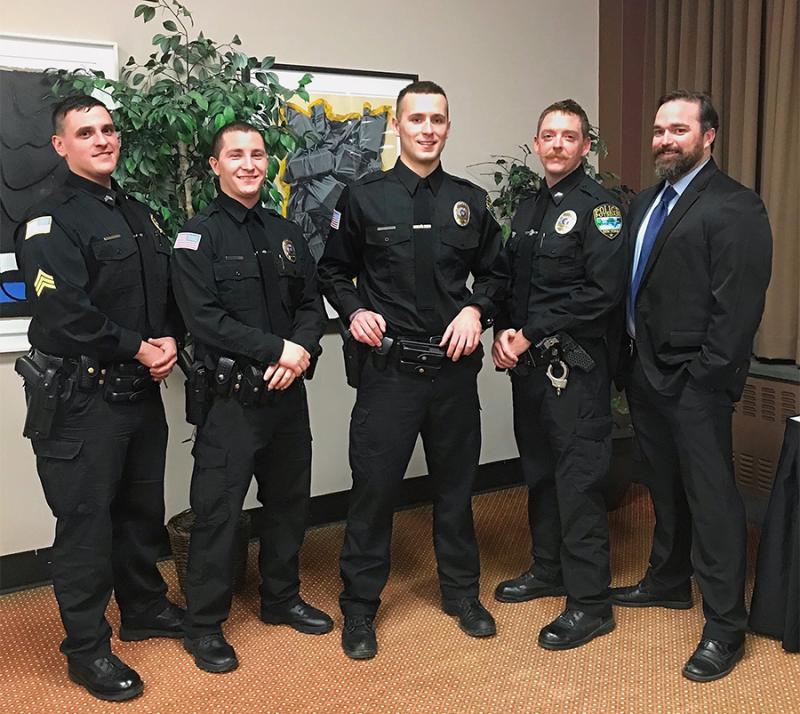 The Law Enforcement Training Institute has a maximum availability of 30 students per cohort, and top priority for acceptance is given to SUNY Potsdam criminal justice students. To learn more, visit https://www.potsdam.edu/academics/appliedlearning/law-enforcement-training-institute.
The SUNY Potsdam Criminal Justice Studies Program provides a broad interdisciplinary liberal arts orientation, with course requirements in philosophy, politics and sociology, and the opportunity for students to elect to study courses in anthropology, chemistry and psychology. The SUNY Potsdam Department of Sociology offers both a major and a minor in criminal justice studies. For more information, visit http://www.potsdam.edu/academics/AAS/Soci.
About SUNY Potsdam:
Founded in 1816, The State University of New York at Potsdam is one of America's first 50 colleges—and the oldest institution within SUNY. Now in its third century, SUNY Potsdam is distinguished by a legacy of pioneering programs and educational excellence. The College currently enrolls approximately 3,600 undergraduate and graduate students. Home to the world-renowned Crane School of Music, SUNY Potsdam is known for its challenging liberal arts and sciences core, distinction in teacher training and culture of creativity. To learn more, visit www.potsdam.edu.