SUNY Potsdam's Department of Theatre and Dance Presents Student Choreographers Concert, 'Fusion,' from Nov. 22 to 24
The SUNY Potsdam Department of Theatre and Dance is proud to present the Fall 2019 Student Choreographers Concert, titled "Fusion." The concert is a showcase of original choreographed works by dance majors, performed entirely by undergraduate dancers.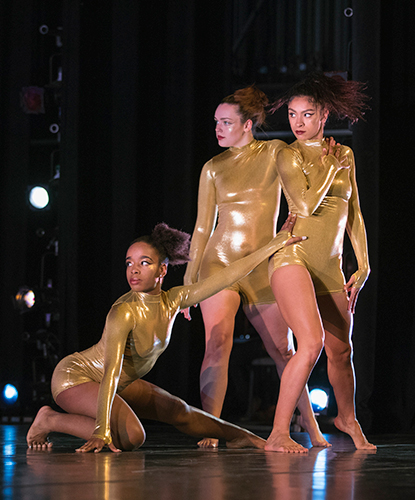 During creative conception and development, the 13 choreographers learned not only about their own choreographic process, but also about the production elements of presenting concert dance. The choreographers wrote that they were collectively inspired to develop the concert to show how "we all come from and are on different roads, but in the end, have joined together in unity." The performances will highlight and combine different genres and movement vocabularies.
"Fusion" has been split into two programs, which will both be presented in the Dance Theater, located in the SUNY Potsdam Performing Arts Center.  
Program A will be presented on Friday, Nov. 22 at 7:30 p.m., and on Saturday, Nov. 23 at 2 p.m. Program B will be presented on Saturday, Nov. 23 at 7:30 p.m. and on Sunday, Nov. 24 at 2 p.m.
Admission to the Student Choreographers Concert is free. All are welcome to join in this celebration of dance to close out the semester. To learn more, contact the Department of Theatre and Dance at (315) 267-2556.
From directing, choreographing, acting and dancing, to designing and technical work, theatre and dance are highly collaborative art forms at SUNY Potsdam. Students and professionals engage in creative problem solving, requiring the setting and meeting of long-term goals, and the analysis and understanding of movement and dramatic literature. For more information about SUNY Potsdam's Department of Theatre and Dance, visit www.potsdam.edu/theatre.
About SUNY Potsdam:
Founded in 1816, The State University of New York at Potsdam is one of America's first 50 colleges—and the oldest institution within SUNY. Now in its third century, SUNY Potsdam is distinguished by a legacy of pioneering programs and educational excellence. The College currently enrolls approximately 3,600 undergraduate and graduate students. Home to the world-renowned Crane School of Music, SUNY Potsdam is known for its challenging liberal arts and sciences core, distinction in teacher training and culture of creativity. To learn more, visit www.potsdam.edu.