Grants Honor Top Bachelor's Degree Students Who Exemplify SUNY System Motto
Hard work and a spirit of service are themes in common for two SUNY Potsdam students, who will be pursuing graduate school with the help of a new fellowship program launched earlier this year.
Tiffanny Montgomery '20, and Karla Ruiz '20, have been selected to receive the Chancellor's Fellowship award for $5,000. The non-tuition grant can be used to defray room, board, books, technology, childcare or other eligible costs of attendance associated with pursuit of an advanced degree. The prestigious honor is given to SUNY's top bachelor's degree students who exemplify the SUNY System motto: To Learn, To Search, To Serve.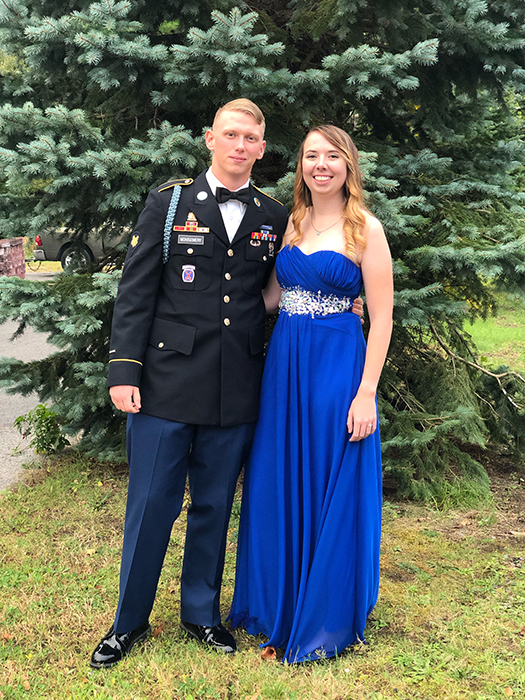 Montgomery will pursue a master's degree in management this fall with a concentration in leadership. Montgomery, of Watertown, excelled in SUNY Potsdam's 2+2 business administration joint program with Jefferson Community College. As a military affairs representative for SUNY Potsdam in Watertown, her work providing technical and academic support to military students has been especially critical in the sudden adjustment to the online class format due to COVID-19. Being in a military family and married to an active duty infantryman, Montgomery finds her work rewarding and personal.
"Both of my parents were in the Army, and my mom now works on Fort Drum and my dad is fully retired after 15 years of service," Montgomery said. "Growing up, my dad taught me that service to others is what matters."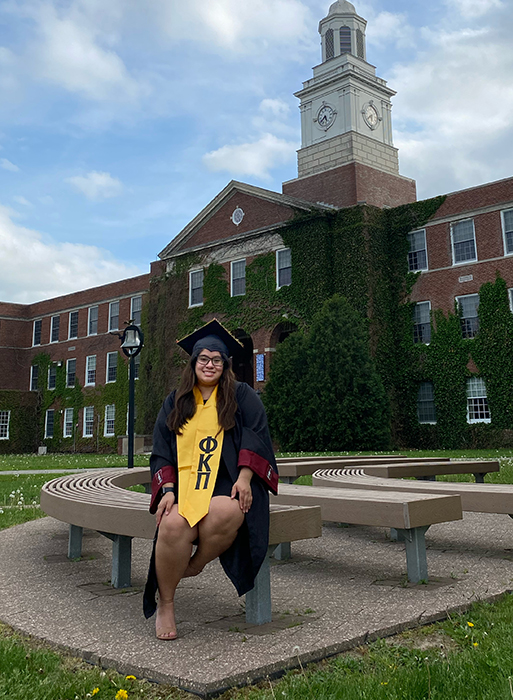 Ruiz, of New York City, aspires to be a teacher in the arena of special education. A dedicated graduate of the SUNY Potsdam Childhood/Early Childhood Education program, she'll be back in the fall to study for a master's degree in special education. Ruiz has worked to balance academics with volunteer service, including work at the Potsdam Humane Society, and has many hours of service projects to her credit.
"I want to make an impact on my students' lives every day," she said. "I strive to be a special education teacher so that my students have a teacher who believes in them and will give them the skills and resources to succeed." 
Ruiz has been a member of the Phi Kappa Pi Sorority, and volunteers her time at a dance studio for young children while back home. As a sophomore in high school, she started teaching dance to children as part of the teen leadership program at Groove With Me Inc. in New York City. It was one of her first experiences that sparked her passion for teaching. 
 "Karla's persistence to achieve, her motivation to seek opportunities for self-improvement through her involvement with service organizations, and her volunteerism speak to her maturity and integrity," said Dr. Deborah Conrad, Ruiz's advisor and the interim associate dean of SUNY Potsdam's School of Education and Professional Studies. "She is one of our promising beginning teachers in our Childhood/Early Childhood Education program."
SUNY Chancellor Kristina Johnson announced the new Chancellor's Undergraduate Scholarships and Graduate Fellowships in January. The non-tuition scholarships are by nomination only and are open to all students, including out-of-state residents, international students, and Deferred Action for Childhood Arrivals (DACA) recipients.
Grants are funded through prior New York State investment in higher education to SUNY. Eligible students are those who maintained a GPA of 3.3 or higher, who are either graduates of SUNY's community colleges and choose to pursue a bachelor's degree at a SUNY college or university, or students graduating with a bachelor's degree and staying with SUNY to receive a graduate degree. A total of 100 students are being awarded the grants across the 64-campus system to start this fall 2020 semester.
About SUNY Potsdam:
Founded in 1816, The State University of New York at Potsdam is one of America's first 50 colleges—and the oldest institution within SUNY. Now in its third century, SUNY Potsdam is distinguished by a legacy of pioneering programs and educational excellence. The College currently enrolls approximately 3,600 undergraduate and graduate students. Home to the world-renowned Crane School of Music, SUNY Potsdam is known for its challenging liberal arts and sciences core, distinction in teacher training and culture of creativity. To learn more, visit www.potsdam.edu.