The State University of New York Board of Trustees recently approved the appointments of 14 faculty to the Distinguished Faculty Rank, including two faculty members from SUNY Potsdam's Crane School of Music.
Dr. Mark S. Hartman, a professor of trombone at The Crane School of Music, was named a Distinguished Teaching Professor. Edward M. Komara, director of the Julia E. Crane Memorial Library, was named a Distinguished Librarian.
All distinguished faculty in active service with SUNY are also members of the SUNY Distinguished Academy.
"The Board is honored to bestow these 14 exceptional academics, who come highly recommended by their peers and presidents, with SUNY's most revered ranking of distinction," said SUNY Board Chairman H. Carl McCall. "Their dedication to the students, faculty and staff at their individual campuses as well as to advancing research and sharing knowledge within their fields is laudable. Congratulations to all honorees."
"The individuals joining SUNY's distinguished faculty exude academic excellence, commit themselves to being exemplary professionals inside and outside of the classroom, and relentlessly work to build on SUNY's prominence as a national leader in education and service," said SUNY Chancellor Kristina Johnson. "Their accomplishments range from producing groundbreaking research to helping students find their passion for learning, and ultimately, to succeeding in their careers. Thank you to all of today's honorees for their service to SUNY and congratulations."
Since the program's inception in 1963, SUNY has appointed 1,130 faculty to the distinguished ranks, as follows, including these most recent appointments: 408 Distinguished Professorships; 327 Distinguished Service Professorships; 388 Distinguished Teaching Professorships, and 7 Distinguished Librarian Professorships. More information about SUNY's faculty award program is available at https://www.suny.edu/impact/education/faculty/distinguished-faculty-ranks.
About the appointments:
The Distinguished Teaching Professorship recognizes and honors mastery of teaching. For this prestigious tribute to be conferred, candidates must have demonstrated consistently superior mastery of teaching, outstanding service to students, and commitment to their ongoing intellectual growth, scholarship and professional growth, and adherence to rigorous academic standards and requirements. Further, a faculty member must have attained and held the rank of full professor for five years, have completed at least three years of full-time teaching on the nominating campus, 10 years of full-time teaching in the System, and must have regularly carried a full-time teaching load as defined by the campus at the undergraduate, graduate or professional level.
The Distinguished Librarian Professorship recognizes librarians whose contributions have been transformational in creating a new information environment by providing access to information, sharing or networking information resources, and fostering information literacy. In extending its "Distinguished" ranks to the library faculty, SUNY recognizes the accomplishments of all its faculty and assumes national leadership within the academy by becoming the first university system to so encourage and foster the full potential of the faculty status of librarians. The Distinguished Librarian rank honors and promotes the achievement of personal excellence, groundbreaking professional progress and wide-ranging benefit to the academic community. This rank parallels the Distinguished Professor rank in terms of expected level of accomplishment and the rarity in awarding the rank. The Distinguished Librarian rank is open to State-operated campuses of the State University of New York. 
About the recipients: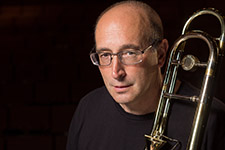 Professor Mark S. Hartman, Distinguished Teaching Professorship: Dr. Hartman, of The Crane School of Music at SUNY Potsdam, has consistently demonstrated mastery of his musical specialty and excellence in teaching throughout his career. Former students from his trombone studio at Crane have performed with the Boston Symphony Orchestra, the U.S. Army Band and the New York Philharmonic, and have performed at highly regarded national and international performance venues. He has also successfully placed students in some of the most competitive graduate programs in the country. In support of his teaching, Dr. Hartman maintains a rigorous professional performing schedule as a member of the Potsdam Brass Quintet and as principal trombone with the Orchestra of Northern New York and the Northern Symphonic Winds. Dr. Hartman has toured New York State conducting the Crane Trombone Ensemble and has given presentations to music educators at statewide, regional and local events for the New York State School Music Association, New York State Band Directors Association and others, as well as authoring articles on trombone pedagogy. He provided outstanding service as acting associate dean at The Crane School of Music and in other leadership roles on campus. He has been awarded both the SUNY Potsdam President's Award for Excellence in Teaching and the SUNY Chancellor's Award for Excellence in Teaching. Dr. Hartman was also awarded lifetime membership to the International Trombone Association and received the New York State Band Directors Association Award for his service to music education.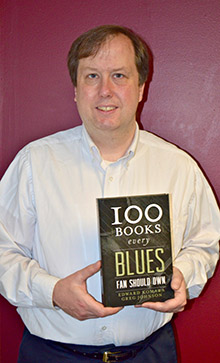 Edward M. Komara, Distinguished Librarian: Mr. Komara, a full librarian at The Crane School of Music at SUNY Potsdam, has achieved an international reputation for his work as a librarian and musicologist. A two-time inductee of the Blues Hall of Fame, Mr. Komara is the epitome of a scholar-librarian, publishing six books, more than 23 articles and 121 reviews of sound recordings and books. Mr. Komara is able to write for both the scholar and the fan, as his many recognitions acknowledge. He has thrice won the Association for Recorded Sound Collections' Award for Excellence in Historical Sound Research: in 2002, for his essay and discography in "Screamin' and Hollerin' the Blues: The Worlds of Charley Patton;" in 2007, for the two-volume "Encyclopedia of the Blues;" and in 2014, for his coauthored book, "100 Books Every Blues Fan Should Own." This last book also won the Music Library Association's prestigious Vincent H. Duckles Award for best book-length bibliography. He has served as a consultant on the blues for the American Folklore Society, the American Folklife Center and the U.S. Library of Congress. His broad scholarship informs his management of the Julia E. Crane Memorial Library and service to its users. Mr. Komara is also an adjunct instructor, teaching "Introduction to Music Bibliography" and "Mississippi Blues 1890-2000"; he also leads bibliographic instruction sessions and gives guest lectures to a wide range of classes. He is the recipient of the Chancellor's Award for Scholarship and Creative Activities and the Music Library Association's Richard S. Hill Award.
About The Crane School of Music:
Founded in 1886, SUNY Potsdam's Crane School of Music has a long legacy of excellence in music education and performance. Life at Crane includes an incredible array of more than 300 recitals, lectures and concerts presented by faculty, students and guests each year. The Crane School of Music is the State University of New York's only All-Steinway institution. For more information, please visit www.potsdam.edu/crane.