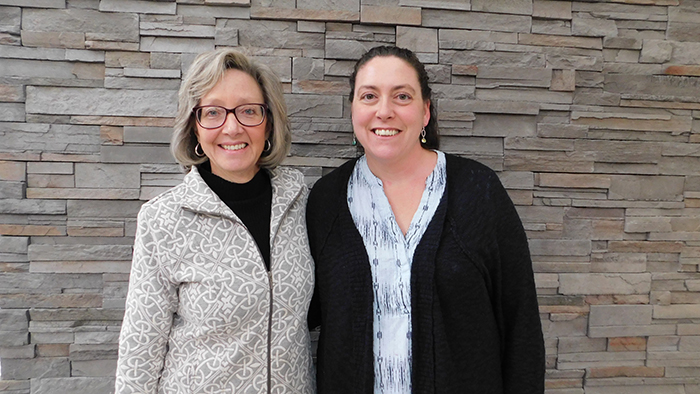 The daughter of a veteran turned teacher, Nancy Griffin (Hon. '08) saw firsthand how her father overcame great obstacles to achieve his education and share his love of learning.
"He went to college after serving in World War II, going to school during the day and working in the steel mill at night. He later earned his master's degree and became a high school teacher, retiring after teaching for 33 years," Nancy shared. "My father was a 'non-traditional' student before there was a name for it."
In honor of her father's legacy, Nancy and her husband, Michael Griffin, created the Joseph G. Nestich Scholarship at SUNY Potsdam to support non-traditional students – older students pursuing their college degree in order to make a better life for themselves and their families.

"Many of them are single moms. One is a single dad," Nancy explained. "All of them are exceptional students who are working hard at college while juggling family and working to make a better life." Melinda Carr '21, a mother of two from DeKalb Junction, N.Y., is studying to become an elementary school teacher and has received the Nestich Scholarship for the past two years.
"Having two young kids myself, I know what an important role teachers play in kids' lives," Melinda shared. "I feel so lucky to be getting this chance in life to earn a degree at my age and start a career that I have always dreamed of."
Nancy and Michael Griffin are not the only donors who have supported the Joseph G. Nestich Scholarship. One of the scholarship's most notable contributors was Nancy's sister, Martha Novelly, who passed away in
April 2019.
"Martha was a very generous person, both financially and through her volunteer work," Nancy shared. "We often talked about her philanthropy and our father's scholarship. I know that it meant a lot to her to be able to
give to the fund personally."
Martha had the opportunity to support the scholarship in a myriad of ways, including cash gifts, gifts of stock and a matching gift through her employer. When she passed away, Martha also left a generous bequest to support her father's scholarship.

Nancy was touched that Martha chose to include the scholarship in her will, noting that it was a "wonderful way to honor our father's memory and to 'pay it forward' to help others, as he taught us to do."

Like Martha, the Griffins have also designated the scholarship in their estate plans so that it can continue to support future generations of non-traditional students. "As a former development officer, I have been able to see firsthand how important it is to contribute financially to organizations that mean the most to you," Nancy expressed, "and SUNY Potsdam certainly continues to be an important part of my life."