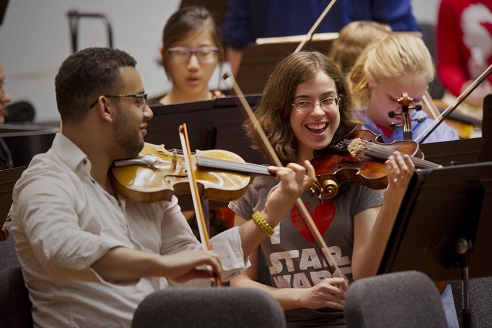 SUNY Potsdam's Crane School of Music is a community of educators, musicians and scholars in an environment dedicated to helping every student achieve his or her career and life goals. We hope you will consider joining the Crane community and become part of a tradition that stretches back over 130 years and includes thousands of educators, performers, composers, researchers, leaders in music industry, and musicians of renown, a network of graduates who can be found throughout North America and around the world.
Crane consists of approximately 500 undergraduate and 25 graduate students, and a faculty of over 80 teachers and professional staff. Crane is housed in the Julia E. Crane Music Center on the north side of the campus and has two classroom buildings (Bishop and Schuette Halls), three concert areas (Helen M. Hosmer Concert Hall, 1290 seats; the Sara M. Snell Music Theater, 452 seats; and the Ralph Wakefield Lecture and Recital Hall, 130 seats) as well as extensive supporting areas. The new 97,000-square-foot Performance Arts Center opened in the Spring 2014 semester next door to the Crane Center, and includes three additional large performance spaces (a Proscenium Theater, a Black Box Theater, and a Dance Theater) as well as a recording studio with new, state-of-the-art equipment.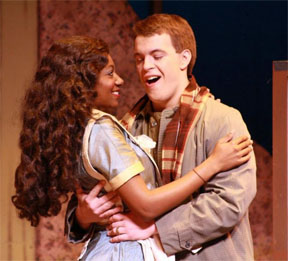 The Crane School was founded in 1886 by Julia Crane (1855-1923) as the Crane Institute of Music and was one of the first institutions in the country to have programs dedicated to preparing specialists in teaching music in the public schools. Throughout Crane's history the school's primary mission has been to educate music teachers with an emphasis on excellence in performance. At Crane, learning to be a teacher does not exclude or limit music performance, but uses excellence in performance as the foundation on which teaching is based. Over the years, our mission has expanded to include degrees in performance, music business, composition, and music theory and history, as well as other programs in jazz, music in special education, music technology, and piano pedagogy. Crane is proud to have many of the finest music educators, scholars and performers in the United States as members of the faculty, all working hard to make Crane a vital, innovative and exciting place.
SUNY Potsdam is an accredited institutional member of the National Association of Schools of Music (NASM). Teacher Education programs at SUNY Potsdam are accredited by the National Council for Accreditation of Teacher Education (NCATE).
What sets The Crane School of Music apart?
Crane Faculty are here for you.
Because 85% of our professors at Crane are full-time faculty and our student-to-teacher ratio is nearly 7 to 1, you will always have the support and attention you need. And you will never take a class run by a graduate assistant as all courses are taught by our outstanding faculty artists, teachers and scholars.
Crane is part of an arts-focused campus.
There are over 500 music majors and nearly 1,000 students majoring in one of the arts at SUNY Potsdam, creating an extraordinarily vibrant artistic environment, and all of this on a campus of only 3,800 students! Students can major or minor in a variety of fields in music, theater, dance, creative writing, and the visual arts, as well as the many other (non-arts) majors and minors SUNY Potsdam offers. 
Crane offers you choices.
with undergraduate degrees in Music Education, Performance, Music Business, Composition, Music Theory & History, a Bachelor of Arts in Music, and graduate degrees in Music Education and Performance. Students can also explore minors in Jazz Studies, Music in Special Education, Music Business, Composition, Music Technology, Musical Theater, and Piano Pedagogy, or double major in a wide variety of fields outside of music. Double majors of all combinations are also possible, and Music Education students can also opt to complete the combined Bachelor's and Master's degrees in Music Education in five years.
A Tradition of Innovation!
The Crane School celebrates more than130 years of artistic and educational excellence! Join us and become part of that history!
Learn more about The Crane School of Music using the links on the left.