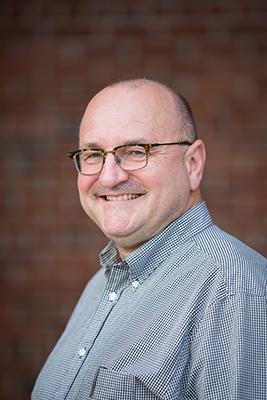 ---
After graduating in 1985 with a B.A. in history from Trinity College, in Hartford, Connecticut, Thomas N. Baker went on to teach history at the secondary-school level for a year before entering graduate school in pursuit of a doctorate in U.S. history. A decade or so later, armed with an M.A. and Ph.D. from the University of North Carolina at Chapel Hill, he was employed teaching courses in history and American studies at Elon College, North Carolina State University, and the University of North Carolina at Chapel Hill. His last appointment before coming to SUNY-Potsdam was at Centre College, in Danville, Kentucky, where he taught for 4 years as a visiting assistant professor of history.
Baker's scholarly interests are varied, ranging from nineteenth-century U.S. cultural and political history to the history of the African Diaspora, with forays into the histories of twentieth century film and popular music. At SUNY-Potsdam he teaches upper-level courses on New York State history, Victorian culture, the American Civil War, race and U.S. film, and Black Diaspora (a history of the Atlantic Slave Trade). Baker's first book, Sentiment & Celebrity: Nathaniel Parker Willis and the Trials of Literary Fame (Oxford University Press, 1999) plumbed the nineteenth-century origins of America's fascination with the culture of celebrity. His latest book-length project is a study of the political and social world of American deism, circa 1800, as exemplified in a secret society of deists ("The Brethren of the Druids") centered in Newburgh, New York. He has published articles on Lyman Beecher and historical memory, "A Slave" writing to Thomas Jefferson, and Aaron Burr's role in the contested presidential election of 1800.
At home, Dr. Baker enjoys spending time with his wife, Sarah, who is a school psychologist, and his son, William. As music fans and sometime string musicians, the Bakers love Potsdam's vibrant music culture. They are also keen on hiking the Adirondacks, although they could do without the black flies.