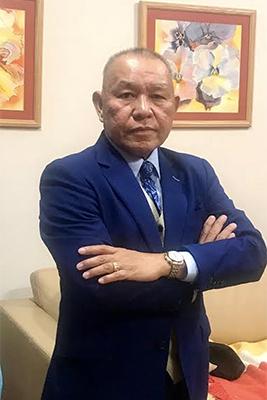 ---
Dr. Edwin J. Portugal was awarded a Ph.D. by SUNY Albany School of Business with specialization in leadership and strategic management. He earned an MBA in Finance from the University of Detroit Mercy, and a BS in psychology from the University of California at Davis. He graduated from Lowell Senior High School and Horace Mann Junior High School in San Francisco, California. He completed specialized training at the Harvard University Management Development Program, the Harvard Business School Discussion Centered Leadership, the Harvard Teaching with Business Cases seminar, and the Advanced Case Analysis program.

He has been a faculty member at SUNY Potsdam for 28 years, beginning in Fall 1993. He is a tenured full professor with specialization in strategic & global management, leadership and entrepreneurship. He was the Founding Chair of the Business Administration Department in the School of Education and Professional Studies and was the Founding Executive Director of the Institute for Music Business in the Crane School of Music. He received the highly selective Chancellor's Award for Excellence in Scholarship and Creative Endeavors in 2018 from the State University of New York's 64-campus-wide university system. He also received the SUNY Potsdam's President's Award for Excellence in Scholarship and Creative Endeavors in 2017.

Over the past 28 years at SUNY Potsdam, he has served on numerous campus-wide, school-wide and departmental committees including personnel committees, search committees, and awards committees. He has chaired the College's Visioning Committee and chaired the College's Business Affairs Committee. He has been invited to serve as external evaluator of undergraduate and graduate university programs in New Jersey, Massachusetts, and Maine. He led the effort to gain international accreditation of the business program at SUNY Potsdam. He spearheaded the establishment of BS to MBA 4+1 agreements between SUNY Potsdam and four different accredited universities in New York. He held numerous leadership positions in professional organizations, including as President of the Institute of Behavioral and Applied Management (IBAM), a national association of academics and executives throughout the U.S.

Dr. Portugal was co-director of two major grants from the U.S. State Department to form academic partnerships between SUNY Potsdam and the Kherson State University in Ukraine and the Institut Superieur de Gestion in Tunis, Tunisia. He received two Fulbright Senior Scholar Specialist awards for the University of the Philippines and the Asian Institute of Management.

He has been invited to lecture at Odessa State University and Kherson State University in Ukraine and the National Taipei University in Taiwan about international business and entrepreneurship. He has presented research papers in various international academic conferences in Australia, Singapore, Hong Kong, Thailand, Japan, Ukraine, Azerbaijan, Romania, Croatia, Bosnia & Herzegovina, Macedonia and the United Arab Emirates. Recently, he taught "World Class High Performing Teams" to MBA graduate students at the Asian Institute of Management in the Philippines and invited to lead sessions at the annual Europe/Asia Business and Economics Conference in Bangkok, Thailand.

Dr. Portugal has been active in the community in many capacities. He first ran for political office at age 29 and was elected for two terms as Mayor of Rouses Point, NY. He held leadership positions in various organizations: President of the Rotary Club of Potsdam, Assistant Governor of Rotary International District 7040, President of the St. Lawrence Leadership Institute (SLLI), Chairman of the Board of the Champlain Local Economic Development Corporation, Chairman of the Board of the Champlain Industrial Development Agency. He served on the boards of directors of numerous civic organizations. As Mayor, he was active in the New York State Conference of Mayors (NYCOM) and the National League of Cities and Municipal Governments (NLC), an American organization for mayors and elected officials in the United States.

He enjoys the outdoors and has climbed Mt. Fuji in Japan, Mt. Vatur in Bali, Indonesia, and Mt. Iriga and Mt. Asog in the Philippines. He has also climbed numerous mountains in the Adirondacks of New York and the Green Mountains of Vermont. He enjoys snowshoeing, skiing, hiking, camping, kayaking, canoeing, and bicycling. He finished the 26.2-mile New York City Marathon, Montreal Marathon, and Champlain Valley Marathon. He has successfully completed the annual 26.2-mile Bataan Memorial Death March marathon in New Mexico eight times and the 4-day trek in the Andes Mountains of Peru to reach the ancient Inca City of Machu Picchu. In 2018, he hiked more than 550 miles over 37 days along the ancient pilgrimage trail of the Camino de Santiago de Compostela in northern Spain. Dr. Portugal is a 1st degree black belt in the Japanese martial arts of Kenpo Karate. He has served as a martial arts instructor and has competed in many karate tournaments.

He is married to Susan Portugal (Summa Cum Laude, Statistics - University of the Philippines '77) and they have two sons, Edwin Jr. (Brown University, B.A. Public Policy and Slavic Studies), and Benedict (Providence College, Finance and Marketing). Mrs. Portugal is a Senior Research Scientist and Associate Director of Statistics at the Global Research and Development Headquarters of Pfizer Pharmaceuticals Corporation in Connecticut, USA.