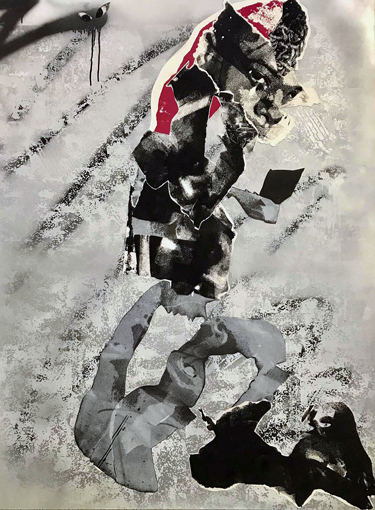 SUNY Potsdam alumnus John Alleyne '14 has found great success since graduating with a BFA in studio art five years ago. He went on to work at the Museum of Modern Art, received his master's degree from Louisiana State University and now works as an artist and adjunct professor at three universities in and around Baton Rouge.
His passion for art developed at an early age when he would watch his father working on illustrations at their home in Barbados. "My biggest influence growing up was my dad. He used to be an illustrator. He used to draw a lot and I would copy what he did," Alleyne said. "That experience of me drawing, then passing the paper to him to draw and then him passing it back to me is a simple exchange that I hold very close to me."
Alleyne's father, an Episcopal priest in the Caribbean, also introduced Alleyne to a variety of religious paintings and texts at the church. "Stained glass was one of the first pieces of artwork that I saw, and then the paintings. I've been really captivated by scenes of angels surrounding the Virgin Mary or Jesus—and the scene of angels hovering over these biblical images," he said.
Alleyne's mother has also been a huge source of support. In high school, she saw an article in the newspaper about a contest to create a poster for environmental change. She encouraged him to apply and despite his hesitancy and fear of rejection, her persistence paid off and he agreed to make the poster. He won first place. "To this day she is still a huge supporter of my work. My mom has been a big cheerleader in my life and artistic development," Alleyne said.
When he was 16 years old, Alleyne moved to New York City. He was immediately struck by the colorful artwork that he found while exploring the city. "Once I moved to Brooklyn, there was a lot of graffiti and street art, like gang tags and that type of thing, almost around every street corner in my neighborhood. For me, that was like going into a gallery or a museum," he said.
After graduating from high school in Brooklyn, Alleyne made his way to SUNY Potsdam to pursue a BFA in art, a program that really started to push his creative boundaries. He took a sculpture class with F. Douglas Schatz. "I remember having a great time in his classes in terms of sculpture and experimentation," Alleyne said
During his senior year, Alleyne took Drawing III with Professor Michael Yeomans. The class proved to be one of the most influential during his time at SUNY Potsdam. "I really enjoyed the critiques in that class. Michael has a very great way of explaining things so they make sense," Allenye said.
He started to experiment with abstract expressionism for the first time in Yeomans' class after he was given the assignment to create a series of paintings without using his hands. He borrowed a drill with a grinder attachment from his sculpture professor, laid a piece of paper under the tool, and poured house paint over the grinder as he squeezed the trigger. "The centrifugal force from that tool would create spiral-like patterns of paint that would drip on the paper," he said. "I loved what happened when I pressed the trigger on the drill and saw these drip patterns. That encouraged me to continue growing and seeing where I could take this art practice," Alleyne said.
He also took graphic design classes with professor Mark Huff, something that he thought could open more mainstream options for employment after graduation. "He was a big influence during my time at Potsdam. He was the person who encouraged me to apply to Louisiana State University because he's an alumnus of that school as well."
After graduating from SUNY Potsdam, and before pursuing his master's degree, he worked briefly as a freelance graphic designer. He then landed a job working as a membership assistant for the Henri Matisse exhibit at MoMa. Alleyne spent his days surrounded by world-class art and finding new inspirations for his own work.
After MoMa, Alleyne moved to Baton Rouge, Louisiana for his MFA in Studio Art at Louisiana State University. The socio-political atmosphere in the south started to permeate into his work. When it came time to produce his thesis show, he incorporated important themes related to racial discrimination. "This work was a meditation of the black male experience. I felt compelled to create images of black men because at the time there was the Alton Sterling shooting here in Baton Rouge that happened in 2016," Alleyne said. "I think that for me was when I first became very aware of this idea that anything can happen to me down here, or across the U.S. I felt compelled to create work that would shed light on the black male experience."
Alleyne's work is similar to abstract expressionism and borrows from all of his experiences—everything from attending church in Barbados, to exploring the graffiti scene in NYC. "For the most part, my art practice involves a lot of screen printing and then I literally cut out the image and collage it in a way that resembles that same movement or that flow of the angels and these holy images that I saw as a kid."
After graduating, Alleyne launched his career as a studio artist. He held his first solo art show last fall at Southern University in Baton Rouge from Oct. 25 to Nov. 15, 2018. For that exhibition, Alleyne incorporated barber shop images of black men and their hairstyles to challenge different issues in the black community. "I challenged stereotypes of black masculinity, presenting an alternative narrative within the aesthetic of a hairstyle poster," he said.
Alleyne is now taking everything that he learned at SUNY Potsdam and LSU to educate other up-and-coming artists. He's currently working as an adjunct professor at LSU where he teaches figure drawing, Southern University where he lectures about art appreciation and South Eastern Louisiana where he teaches introduction to two-dimensional design.
For more information about Alleyne's work visit, www.johnalleyne.com.
For more information about SUNY Potsdam's Department of Art visit, www.potsdam.edu/academics/AAS/depts/art.
Article by Jason Hunter