As he mastered sculpting, painting and graphic design in SUNY Potsdam's Department of Art, Evan Blondell '06 had no way of knowing that he was planting the seeds for a fruitful career as a landscape architect. Armed with an artistic eye, and years of training, Blondell now works in major urban centers to transform the landscape into breathtaking parks that intertwine modern design with nature.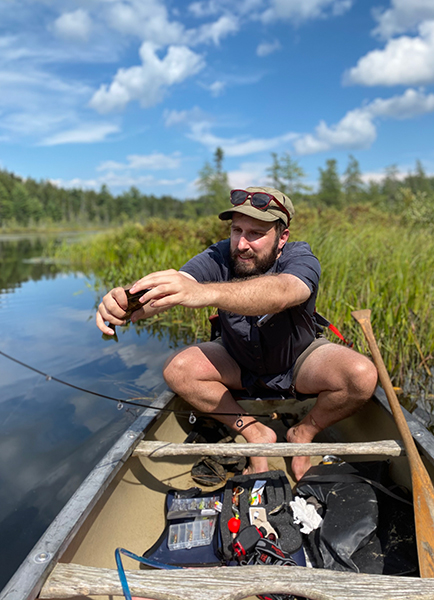 Since 2013, Blondell has been working as a landscape architect for Michael Van Valkenburgh Associates, Inc. in Brooklyn, N.Y., a firm known for designing the St. Louis Arch grounds, A Gathering Place for Tulsa, Brooklyn Bridge Park, and the Obama Presidential Center. One of his earliest projects with the firm was as a primary designer for Brooklyn Bridge Pier 6—part of the expansive 83-acre Brooklyn Bridge Park that sees more than five million visitors per year. "Its passive picnic lawns, sweeping flower field, space for open programming, and a diverse array of native plants and trees are tuned to withstand and adapt to their location within a harsh urban marine and inter-tidal zone," Blondell explained.
Now a senior associate, his efforts have shifted to Austin, Texas, where he helps oversee a team of more than 15 subconsultants working on the Waterloo Greenway project, a one and a half-mile long urban creek renewal initiative with an estimated price tag of more than $250 million. Evan and his team have been creating a trail and bridge system within the stream channel, altering the landscape through geotechnical slope reconstruction, and implementing a high-tech stormwater drainage system. "I'm able to utilize many skillsets that I first developed at SUNY Potsdam, using graphic design to communicate complex ecological relationships," Blondell said. "With an understanding of fabrication techniques such as welding and carving stone, I am able to better understand the construction of custom park furnishings such as benches, shade structures, and reusing salvaged stone materials for seating and play features."
The long path that led him to a successful career began on his family's dairy and fruit farm in Sodus, N.Y. An early connection to the landscape, coupled with a growing interest in art, set the stage for his position as a landscape architect. Influenced by his grandfathers who spent their free time painting and constructing furniture, and the unwavering support of his parents, he set out to pursue his passion for art, and was accepted into SUNY Potsdam's Bachelor of Fine Art program.
"I enjoyed SUNY Potsdam for many reasons. There was such a strong sense of community within the art department—we all knew each other well, hung out together, laughed together, cried together, and helped each other in the wee hours of the morning as we finished up our studio projects," Blondell remembered.
"Having the Adirondacks and Canada at your fingertips is amazing.  We had so many weekend adventures that not only allowed for some respite from studies but also inspired a lot of the work I was doing in my studio courses, whether it be the forests and mountains to the south, or the rich culture of Montreal to the north."
He experimented with many different forms of art, from graphic design and photography, to sculpting—the latter of which proved to be his greatest passion. As an extension of his BFA in visual arts, he also added an art history major, studying under Caroline Downing and Mary Jo McNamara to expand his visual and historical knowledge, and supplement his own efforts in the studio. "I really enjoyed all of the professors I worked with and still utilize much of what I learned there," Blondell said. "Whether it was learning how to create vector graphics with Mark Huff; studying light and shadow with Michael Yeomans; exploring visual depth through color with Amy Swartele; or the arduous process of bronze casting with Doug Schatz – these are all experiences that still influence and assist me today in my pursuits in landscape architecture."
Blondell was awarded the International Sculpture Center's outstanding student achievement award in contemporary sculpture, recognizing the exemplary work he had done as part of his BFA thesis project at SUNY Potsdam. He was one of just 22 award recipients from a pool of 377 nominees representing more than 140 schools around the country.
After graduating, Blondell landed an internship in Washington, D.C., working within the design excellence program at the U.S. General Services Administration, where he got to see firsthand the selection process for choosing architects and artists for federal design projects around the country. After six months in D.C., he moved back to Potsdam to be with his girlfriend who was still attending SUNY Potsdam, and he started teaching art to people with developmental disabilities at the St. Lawrence County Arts Council. From there he moved to Chicago, where he continued to study sculpture and visual communication at the School of the Art Institute of Chicago. Feeling like he wanted to focus more on design and large-scale projects, Blondell left school and worked a variety of odd jobs as he tried to determine the best direction for his life and career, everything from a non-profit community arts organization to help underserved communities in Chicago, to an organic CSA farm, and volunteer work as a beekeeper.
His combined experiences led him to discover his true calling, landscape architecture, where he could combine all of his interests. "Up until then, I thought landscape architecture was more like 'landscaping'—mowing lawns, mulching plant beds, trimming hedges, etc.  Looking into it further, I realized it was exactly what I had been looking for in a career," Blondell said. "I could apply my background in fine arts and art history, my experiences in community engagement, my upbringing on a farm and my love of design, recreation, botany, geology, ecology, sociology and the list goes on.  It is truly a field for generalists, which is something that I also appreciated about the multi-faceted nature of sculpture."
He pursued a master's degree in landscape architecture at the University of Illinois, where he was awarded the Cherie Kluesing Fellowship, a full tuition scholarship for an outstanding student showing a strong aptitude for incorporating art and design in their work. He was also named a University Olmsted Scholar, acknowledging his leadership strengths as a landscape architecture student. After he graduated, Blondell was offered a job at Michael Van Valkenburgh Associates, where he has been ever since.
From a strong foundation in the arts at SUNY Potsdam, to an impressive career in landscape architecture, Blondell has continued to evolve and fine-tune his interests and passions over the years, combining his artistic eye, with his love of the land.
In 2019, Blondell reconnected with Schatz, his former sculpture professor from SUNY Potsdam, and fellow alumnus Kirk Sweet '16, to compete in the National Snow Carving Championships in Wisconsin—a perfect way to reunite with his alma mater after more than a decade. "I had never worked with snow before, beyond the occasional snowman, so it was an entirely new experience for me," Blondell said. "But having my old sculpture professor there to show me the tricks was a fun and nostalgic experience. At times, it felt like we were back in Brainerd Hall in the sculpture studio."
Article by Jason Hunter