In the past weeks, the accomplished fashion designer and savvy entrepreneur Saad Hajidin '88 has turned his company inPhorm into an ally in the fight against COVID-19—shifting his focus from manufacturing women's activewear to producing protective face masks.
As part of his efforts to help people struggling with the global pandemic, the SUNY Potsdam alumnus has been working with his factory in Thailand to manufacture protective face masks—leaning on his decades of experience with textiles to produce masks that are fashionable and eco-forward, while also meeting guidelines set forth by the FDA.
"I started seeing the price gouging and people selling every kind of mask, and I felt like there's a false sense of security out there," Saad said. "I hesitated for a long time. I didn't want to seem like I'm cashing in on a crisis. But then I said, 'If I'm going to help out, why not put something out there that could be at least 85 percent effective?' So that's when I started developing the masks."
Within 48 hours, inPhorm sold out of the first 1,400 masks. Another 2,000 are on the way. Some vendors have also contacted Saad about producing as many as 1 million masks. "I was talking to my partner in Thailand last night, and we have the capacity to make 100,000 within the next couple of weeks. And then if the orders keep coming in, we can go up to 300,000 masks a week," he said.
At this point, the CDC recommends wearing even bandanas or simple homemade cloth face coverings during trips to the grocery store and pharmacy. Saad's INP Protective Mask offers a superior two-layer barrier—with an outer layer made from water repellent cotton and an inner layer from a soft bamboo fabric. Soon, his customers will able to purchase a PM2.5 Filter, which will slide between the two layers to provide an even higher level of protection. "The material that we're working with is approved in Thailand as a medical shield. It's the same material that all the hospitals in Thailand use for their masks," Saad said.
While working remotely, Saad and his staff are receiving boxes of masks directly from Thailand, processing the orders at their homes, and shipping them directly to customers. With his warehouse on Long Island not operating at full capacity, his clothing business has come to a crashing halt, but manufacturing masks has kept the chains moving.
After graduating from SUNY Potsdam over 30 years ago, Saad went on to a storied career in fashion design at Polo Ralph Lauren in New York City. He then set out on his own to launch a women's clothing line. What started as a women's athleisure wear and yoga clothing line expanded into the tennis and golf markets. "When I was at Ralph Lauren, I worked with the team that designed the very first U.S. Open Tennis outfits," Saad said. "I know technical fabrics and I know tennis, so I decided, 'You know what, this is what I was meant to do.' And that's how we got into tennis. Right now, tennis is 80 percent of our business. We also started golf recently and that's growing."
Saad grew up watching and playing tennis. When he moved to New York, he started to attend the U.S. Open—one of the biggest tennis tournaments of the year that features the best tennis players in the world and draws large crowds from around the globe. "Watching Tracy Austin play in her beautiful tennis dresses was exciting. Most kids dream of designing a runway collection. I dreamed of designing dresses for Tracy, Martina [Navratilova] and Chris [Everett]," he said. "Now I'm outfitting inPhorm's tennis pros for the U.S. Open, Wimbledon, and the Australian Open—a dream come true."
His tennis and golf lines are now sold by prestigious clubs all over the world—Pebble Beach, the Dallas Cowboys Golf Club and the Queens Club in London all carry his clothing line. Saad has also been working with Wimbledon on a private label. In addition to his website, Tennis Warehouse, Tennis Express and Midwest Sports all have accounts with Saad.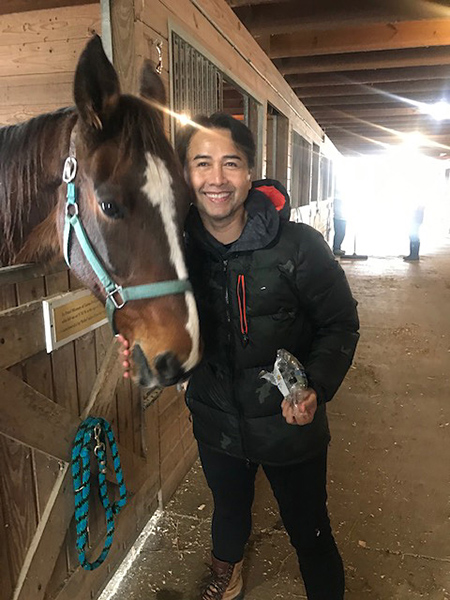 Fast forward to the global pandemic, and the bulk of his business is in a holding pattern. The Indian Wells Masters, an annual tennis tournament in Southern California, is a prime example. "We actually had products that were ready to be sold and they canceled right before the tournament," he said. From a business standpoint, the potential cancellation of the U.S. Open later this year would be another blow to the company.
But for now, Saad is focused on what he can do—making masks for people in need.
His passion for helping others extends to his personal life as well. Saad works with Equine Advocates Rescue and Sanctuary in Chatham, N.Y. "I love horses. It's a peaceful, serene environment and they have about 98 equines there. It's just an amazing place," he said.
Once social distancing becomes a thing of the past, and his massive protective mask project wraps up, Saad will continue his volunteerism with the rescue and sanctuary—grooming and walking horses and finding peace in a tumultuous time.
Article by Jason Hunter