Trekking past jagged peaks and snow-capped mountains, Daniel Romlein '12 feels right at home in the Swiss Alps. Born and raised in Potsdam, N.Y., he never dreamed he would be living and working in the heart of Europe, in a picturesque country associated with ski chalets, rolling pastures—and now, a growing technology sector.
"It's very peaceful. Even though Zürich's a bustling metropolis with major companies headquartered here, nature is interwoven everywhere: the lake, the surrounding foothills of the Alps, the forests... We live just a 10-minute bike ride to the heart of the city and yet can be in quiet woods and see sheep grazing a few minutes walk from our apartment," he said.
Romlein backpacking in Vallemaggia ("The Magic Valley") in southern Switzerland.
Romlein and his wife Yana in the UNESCO-listed Lavaux vineyard terraces along Lake Geneva.
Romlein in Santorini, Greece.
Just over a decade ago, Romlein graduated from SUNY Potsdam with a degree in studio art. Now he works at one of the biggest technology companies in the world—combining a myriad of liberal arts skills from his undergraduate years that became the foundation for an impressive career at Google and YouTube as a user experience (UX) designer. "I heard someone describe UX design in the following way recently and I like it: 'making technology easier to use.' Currently, that 'technology' is YouTube, and specifically my team works on YouTube Analytics," he explained.
After first working at Google in Seattle, he lined up the rare opportunity to move to Europe as a UX designer in Google's YouTube offices in Zürich. His primary mission is to create a robust, simple interface for content creators on YouTube. Working with a creative team, he focuses on YouTube Analytics projects, a free tool for users to monitor and optimize their video performance through things like views.
"Things come up in my role on an almost daily basis that I've never encountered before. In those instances, I think the eclectic sampling of SUNY Potsdam classes I took was foundational in my establishing a way to learn and problem-solve, and fueled my innate curiosity."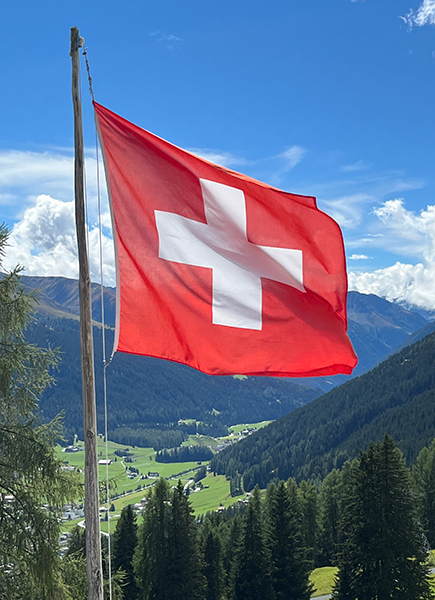 Living and working in Switzerland has been a source of inspiration for him and his team. While traveling around the countryside, design elements regularly catch his eye and influence decisions in the office. "I've come to expect things here in Switzerland will generally be thoughtfully designed and seamless to use. As a user experience designer, this delights me to no end, and our team will sometimes reference real-world Swiss examples (e.g. trail signage) as inspiration for the products we build," he said.
Storytelling is one of the most significant parts of his day-to-day operations in Zürich. Relying on feedback from YouTube users through surveys, interviews and social media, Romlein not only creates new designs to meet the changing technological landscape, but also composes written arguments to support those moves. "That might sound lofty or like I think I'm the next Ira Glass, but really I just mean simplifying complex ideas (like what our team should do next quarter, or why the review committee should approve my designs), and communicating those in a compelling way," he said. "My favorite part about my career is its position at the intersection of so many things I'm fascinated by—psychology, art, communication, science, technology, and more. I get to be curious and learn as a necessary part of my day-to-day, and I feel so lucky to be able to do that."
Combining so many academic interests in his job harkens back to Romlein's days at SUNY Potsdam while pursuing a degree in art. And although graphic design and art were his primary focus, so many of his liberal arts classes helped to provide him with a broad understanding and appreciation for interdisciplinary studies. "I see tremendous positives in a liberal arts education. To me, the biggest is how well a diverse, well-rounded sampling of studies prepared me for something I leverage every day: creativity. Not just in the artistic sense of making things, but also problem-solving and generating novel solutions," he said.
After growing up in Potsdam, homeschooled by his parents all the way through high school, he started to look for a college that aligned with his interests. Overwhelmed by the decision about where to go, he chose to stay close to home with the thought that it was a good financial decision, and that he could always transfer to another school later. Instead, Romlein stayed the course, and remained at SUNY Potsdam for his entire undergraduate experience. What he found was a rewarding balance of courses from departments all over campus.
A sampling of Romlein's artwork.
"The studio art program and specifically Mark Huff's digital design classes were where I discovered design. We listened to Massive Attack and played in Photoshop, and I thought it was the coolest thing ever," he recalled. "Beyond putting the seed in my mind that design as a career path existed though, my big takeaways from Potsdam weren't strictly related to art or even design. Probably the most significant area I developed during my time there was communication. One class in particular, writing and critical thinking with Judith Rich, was hugely impactful. The discussions we had in that class challenged a lot of my naive assumptions and gave me a fresh appreciation for viewpoints different from my own."
When he graduated from the College, Romlein was thinking about graphic design as his career path, but fate had other plans, and he discovered UX design. "Comparing a few options after I graduated, I went with the one that was willing to pay me and offered to support me in taking online courses so I could build out some of the web design skills I lacked," he said. "From there, I landed my first official UX design job at an Albany-area startup. That startup began using an open-sourced Cloud technology from Google, and so that was the start of my connection to 'Big Tech' and how I got my foot in the door to later apply and move out to Seattle."
A few years later, he applied for his current job in Switzerland, and moved there with his wife in 2021. A passion for art that he developed in his youth—and which he cultivated during his undergraduate years at SUNY Potsdam—remains strong today as he works at YouTube. "I still try to carve out time for a varied suite of creative pursuits: from watercolor and oil painting to photography and murals," he said. "I find it's invigorating to sketchnote a talk or paint a mural in a Google office [photos][time lapse video], and I'm thrilled with the way I've been allowed to incorporate these playful aspects of making things into my day job."
Article by Jason Hunter