Positions in the federal and state government cover a wide range of topics from resource and energy management to environmental and natural hazards. Some common agencies that employ geologist and GIS technicians are the United States Geological Survey, Environmental Protection Agency, Bureau of Land Management, National Park Service, and the National Oceanic and Atmospheric Administration. In New York State the Department of Environmental Conservation (DEC) commonly employs geology and GIS graduates.
Student Success
Alana Basso '19  – Mine Inspector, Bureau of Land Management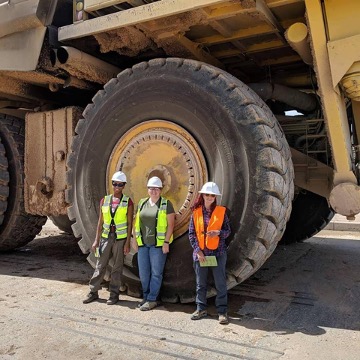 "SUNY Potsdam prepared me as a Geologist to work in the government sector in so many ways. Developing my professional writing skills in GEOL 425 Scientific Communication helps every day in the office while preparing letters for our operator. The field experience I got from my courses has given me a strong understanding of the complicated geology when I inspect mines, notices, or gravel pits throughout this region. The incorporation of GIS into my coursework was especially important to me. When I prepare for a field day, I use georeferencing skills I learned in Intro to ArcGIS to create maps and pathways to remote areas I need to visit. SUNY Potsdam provided a strong background in geology through a unique combination of field work and classwork which put me on the path to a successful career"