Born and raised in New York City, Laneise Goggans '15 & '22 found a new home when she enrolled at SUNY Potsdam. After receiving her undergraduate degree, she returned to the city and immediately launched a career as a dance teacher at a charter school in Brooklyn. Now she's back in Potsdam, pursuing a master's degree in education while raising her twin boys, in a community that has always felt like home.
"New York City was really busy, and it wasn't good as a single mom. It just gave me too much anxiety," Goggans said. "I needed to do something that was going to financially support my children. I just remember how comfortable I was when I lived in Potsdam, so I thought this would be the best place for me to raise my children."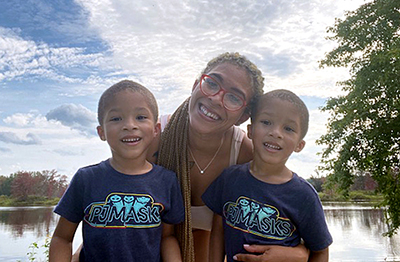 Now back in Potsdam, six years after getting her undergraduate degree, Goggans is balancing motherhood, her Master of Science in Teaching degree in childhood education, and a full-time position as a teaching assistant at Lawrence Ave. Elementary school. Her priority on family has only reinforced her strengths as a teacher. "Becoming a mom has changed me a lot—to think more positively, to have more patience, to be more understanding," she said. "Being a mom has made me want to be a better teacher and a better person as well."
Even before she was a mother, Goggans has always loved working with children. As an undergraduate student in the Department of Theatre and Dance, she played the lead role in the "Amazing Adventures of the Marvelous Monkey King," a production geared toward elementary students. Originally cast as the choreographer for the play, overseeing the dance movements for the other actors, she was asked to play the Monkey King at the last minute after the lead actor broke his leg. With just two weeks before opening night, she had to quickly master the new role.
"I learned the entire script in a couple of days, and jumped right on stage. I was eating, breathing, and sleeping that script because I wanted to do a good job," Goggans recalled. "That was one of the best performances I've done at Potsdam. Seeing all the children in the audience when I performed it eight times, and how happy they were to see the Monkey King, that also inspired me to teach as well."
Goggans playing the lead role in the "Amazing Adventures of the Marvelous Monkey King."
On choosing Potsdam: "There were so many different opportunities for me to visit the school, including multicultural weekend, and I didn't want to leave every time I came to visit. I knew this was the place for me." -Laneise Goggans
Goggans thrived as a dance student at SUNY Potsdam as a member of the hip hop dance team, the president of the dance ensemble, and she continued to hone her skills under the guidance of faculty like Donald Borsh (professor emeritus). "I call him my second dad. He really helped me throughout college. He was always there for me, not only through dance, but personally too. He makes sure he reaches out to all his students and that's something that I remember the most during my experience at SUNY Potsdam."
Goggans leads a dance class at Leadership Prep Bedford Stuyvesant Uncommon Charter Academy in Brooklyn, N.Y.
Goggans leads a dance class at Leadership Prep Bedford Stuyvesant Uncommon Charter Academy in Brooklyn, N.Y.
Combining her passion for dance and teaching, Goggans landed a job at Leadership Prep Bedford Stuyvesant Uncommon Charter Academy in Brooklyn in 2016, shortly after graduating from SUNY Potsdam. Starting off as a performing arts teacher, she integrated theatre and dance into the curriculum for children ranging from kindergarten to fourth grade—introducing the young students to different styles of dance, and playing an important role in their creative development. Later she was promoted to an enrichment instructional leader at the school where she oversaw a team of other faculty focused on teaching arts at the school.
In November 2020, in the middle of the global pandemic, Goggans moved to Potsdam for a fresh start to raise her two four-year-old boys, focus on graduate school, and launch a new career as an elementary school teacher in Northern New York.
"My goal kind of shifted. I thought I wanted to be a dance teacher forever, and join a dance company and travel the world, but as soon as I got deeper into teaching, I figured out that my passion was for teaching in general," Goggans said. "I want to stay in Potsdam for a really long time, and raise my children here. My goal is to be a first-grade teacher, I love the little guys."
Goggans is the recipient of the Joseph G. Nestich Scholarship, which is awarded to students who, in addition to pursuing their degree, are also raising a family or working full-time.
For more information about the Department of Theatre and Dance, visit:
https://www.potsdam.edu/academics/AAS/depts/theatre
For more information about the MST program in childhood education, visit: www.potsdam.edu/academics/SOEPS/teacher-education/programs-study/mst-childhood-education
Article and photos by Jason Hunter