Amanda Moeller '15 has leveraged a Bachelor of Science degree in business administration from SUNY Potsdam to gain a master's degree and a sought-after position with a multinational company. A member of several honors societies while at SUNY Potsdam, she is now the customer supply chain manager at Goodyear Tire and Rubber Company, where we caught up with her to chat about her undergraduate experiences.
Can you tell us a little about your background and how you landed at Goodyear?
"Without SUNY Potsdam, I wouldn't be where I am today. It has an amazing campus and classes that taught me everything I know about business administration. After Potsdam, I did the 4+1 MBA program and received my master's degree one year later from Clarkson University. I was hired by Goodyear in 2016, where I have completed positions as a supply chain rotational associate, senior supply chain analyst and customer supply chain manager."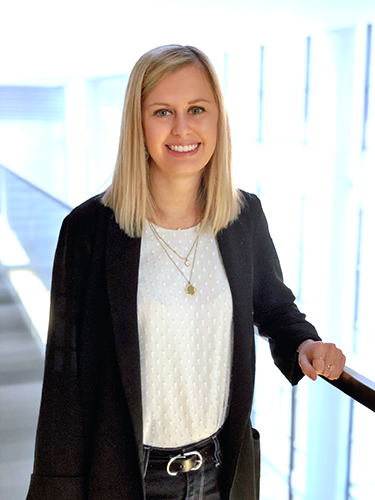 Can you tell us about your current position?
"I currently work at Goodyear's global headquarters in Akron, Ohio. The position that I have is at a national scope for our commercial truck customers such as Ford, Hyundai and Volvo. I lead a team of three people and we ensure we are supplying the customers on time with the best service at the lowest cost. These customers are original equipment manufacturers and my team handles all their orders and I ensure we have enough inventory for them and handle all the cost savings and efficiency projects."
What made you choose SUNY Potsdam, and what did you find once you arrived here?
"I transferred to Potsdam after attending a private university my freshman year. I originally was going to school for fashion merchandising but realized I needed a broader degree. When researching schools, I looked at Potsdam because the location was closer to home, the classes were smaller and the classes in business administration were all very interesting.
"At Potsdam, the professors were so helpful and it was easy to approach them during office hours. The Department of Business Administration was very organized and gave me a clear course for my degree with a wide variety of classes such as accounting, finance, information systems, ethics, economics and more. The extra classes to earn your degree were also helpful and there were many to choose from, such as investments and entrepreneurship. By having access to all these courses, I was able to gain a broad understanding of business administration and it encouraged me to pursue my MBA."
What are some of the challenges you experienced and what were your techniques for surmounting them?
"One of the biggest challenges for me was group projects. Potsdam taught me that in the working world, you will always need to collaborate with different people and this prepared me for it. It was very difficult to work through different schedules and make sure people were doing their work.
"I challenged myself by volunteering to be a team leader for my entrepreneurship and strategic management classes and this taught me how to be a part of a team to achieve a common goal. I now lead a team of three people at Goodyear and many of the tactics I learned in these group projects I have applied in the workforce and it gave me the direction to become a manager. Another area that gave me this direction was the opportunity to tutor at Potsdam. I tutored finance for three semesters and it taught me how to adapt to different learning styles and help other students.
"Another challenge I had was figuring out how to interview and find a job after college. The business department offered a weekend where we could network with alumni and do mock interviews. This event prepared me future job interviews, which helped me get the job I have today."
Were there faculty members who had a particular impact on your time in Potsdam?
Dr. Ed Portugal taught many classes that involved group projects. He encouraged me to lead group projects and helped me through the application process to graduate school. The style of his classes were fun and engaging. In our Entrepreneurship class, we opened up our own business. After I graduated, he invited me back to be a judge for his strategic and global management course, which was an awesome experience.
Business Administration Chair Joe Timmerman was extremely helpful and I liked his teaching style. He knew his class was challenging but if you put in the time and effort then it was really interesting to learn finance. He was always available at office hours and I decided to take all of his elective courses in finance to learn more. Dr. Shalu Wunnava was also a great professor. She was always available outside of class to ask for help. She taught information systems and operations management, which I found to be a very valuable class because I use a lot of the technology she discussed at work today.
When you glance back over the years spent in the North Country what stands out?
"Some cherished memories were being inducted into the Phi Kappa Phi, Lambda Pi Eta, and Sigma Beta Delta honor societies. I also cherish all the friends I was able to meet at SUNY Potsdam. It made transferring from a different school so much easier. One important honor for me was winning the Excellence in Management Award my senior year at Potsdam. It showed that all the hard work I put into our group projects had paid off and it encouraged me to become a manager at Goodyear."
Do you have any advice for business and administration undergraduates?
"Don't be afraid to branch out and pick up a minor or another class in an area you are unfamiliar with. I chose to do a minor in communications and this helped me when trying to get my first job. I also highly recommend participating in the Business Advisory Alumni Networking Weekend that happens in April every year. You will get to network with alumni and also learn how to interview and get feedback on your resume."
What's next for you?
"I've always wanted to be a manager but I believe my next step would be working towards leading a bigger team and eventually becoming a director. I want to stay in a corporate setting for a while and explore more areas of supply chain. I enjoy working at a large company where I get to interact and network with many different people. My ultimate dream goal later in life would be to own my own fashion boutique shop."
Interview by Bret Yager