Imagine receiving a reminder from your younger self to keep pursuing your goals.
That's what happened to SUNY Potsdam alumnus Nick Leonard '16 the other day, when a notification appeared on his iPhone: "Have job on Broadway in ticketing, pricing or revenue –From 21-year-old Nick."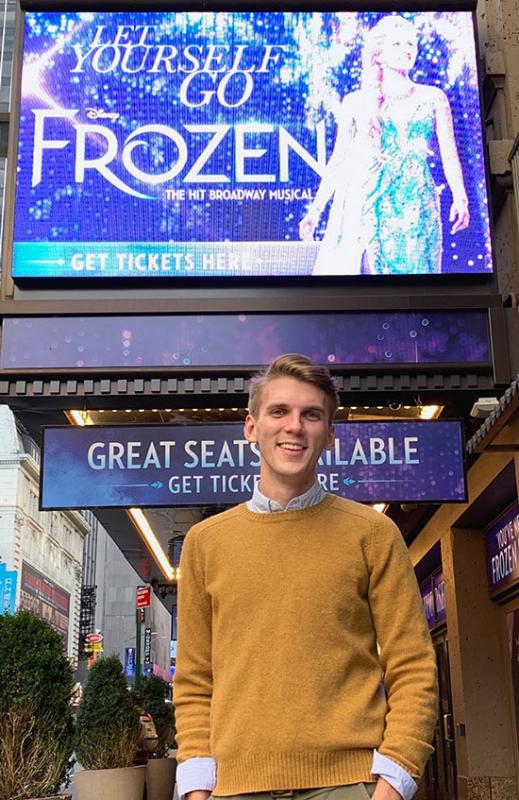 He had set the reminder three years earlier, in Dr. Ed Portugal's Strategic and Global Management course, which Leonard was taking in his final semester, wrapping up dual degrees in business administration and music business from SUNY Potsdam and The Crane School of Music.
"One day in [Dr. Portugal's] class, he told us to put a reminder in our phones. 'Write a goal for yourself in three to five years, and set a reminder in your phone. Now. No, seriously. Do it,'" he remembered the faculty member saying.
Portugal explained that he created this exercise as part of a class discussion on corporate mission and vision.
"To make the concepts relevant, the students write their own personal mission and personal vision on their notebooks. Afterward, I ask them to take out their smartphones and write their personal vision as a reminder note to themselves, three to five years into the future," he said. "Well, Nick did just that three years ago, and was flabbergasted when a reminder beeped on his smartphone one Saturday."
When the notification lit up Leonard's smartphone, he couldn't believe that he had already reached his goal—and he immediately emailed his former professor to thank him.
"A few weeks ago, I started a new job with the Walt Disney Company as the assistant manager of ticketing operations at Disney Theatrical Group. I work on ticketing, revenue, inventory and sales management for 'The Lion King,' 'Aladdin' and 'Frozen' on Broadway," Nick said. "I couldn't stop smiling [when I got the reminder]."
To reach his goal, Leonard completed internships with the Community Performance Series, with Yamaha Corporation of America (at the NAMM Show), 321 Theatrical Management and for Lincoln Center. After graduating, he landed a position as a box office assistant at The Public Theater, and also worked as an editorial intern for Broadway Briefing. He was hired as a marketing coordinator for arts and theatre for Ticketmaster, holding that position for three years, before landing his new job working in ticketing operations for the Disney Theatrical Group.
Portugal has shared Nick's story with students in all his courses this semester, and asked them to complete the exercise themselves.
"I am hoping that the students will learn to think about their goals and vision, so that they will have a sense of direction of their future. In Nick's case, his goal was so clear that it became true," Portugal said.
--Story by Alexandra Jacobs Wilke