Sitting behind the wheel of a New York State Police vehicle, Davanté Parker, a junior criminal justice major at SUNY Potsdam, speeds through a series of yellow cones as a state trooper tracks his speed and accuracy. But instead of getting a traffic ticket, Parker is being graded on his efforts, as part of an emergency vehicle operation course.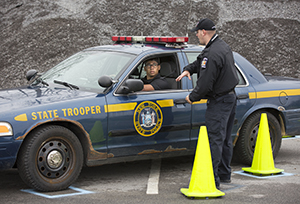 Parker and his classmates in the College's new Law Enforcement Training Institute are honing their driving skills as part of a special collaboration with the New York State Police. Students have gathered in a parking lot behind Maxcy Hall where eight instructors from the State Police are overseeing a driving course where students try to avoid hitting cones while maintaining an appropriate speed. Emergency vehicle operation is just one of the many training opportunities available to students enrolled in the institute, a police academy where students train for 10 hours a day, five days a week, as part of a demanding semester-long program.
SUNY Potsdam's Law Enforcement Training Institute was launched this semester, giving 20 students hands-on training in defensive tactics, fingerprinting, processing crime scenes and overseeing field sobriety tests to intoxicated individuals in a controlled setting. While running their field sobriety tests, students were able to see first-hand how intoxicated subjects' eyes jerked involuntarily while tracking a pen, or how they reacted poorly to standing on one leg and counting out loud.
Sonny Duquette, director of the institute, said that the first semester of the SUNY Potsdam program has been a great experience. "The facilities over here are tremendous. We have everything we need, as far as space and training locations…Maxcy Hall is the ideal place, and the people here are fantastic," Duquette said.
Crystal Washington '17, a double major in criminal justice and sociology at SUNY Potsdam, said the institute expands upon what she has already learned in the classroom. "This is what I want to do for a career. I want to be a police officer, so it's definitely preparing me for a job and what to expect," she said.
With the new institute, SUNY Potsdam is one of only 11 universities in New York state authorized to teach pre-employment police basic training. Students graduating from SUNY Potsdam with a Law Enforcement Training Institute certificate will be able to take a job with a village, town or county police agency without going through a separate police academy. Students starting a job with the State Police or Border Patrol will go through a specific academy for those agencies, but will be thoroughly prepared after their extensive training through their studies at the institute.
"I'm impressed with the caliber of student that I've had here and it's got to be connected to what they're already learning," said Duquette. "They're so easy to teach and they seem to grasp everything. We had our final yesterday and the class average was a 96. That's unheard of—the final is very tough," he said.
For more information about the new Law Enforcement Training Institute, visit: https://www.potsdam.edu/academics/appliedlearning/lawenforcement.