Set high in the Rocky Mountains, 80 miles west of Calgary, Banff, Alberta, is known for its world-class skiing and prestigious film festival. But for Kelley DiPasquale '20, a music business student in SUNY Potsdam's Crane School of Music, it was something else entirely that drew her to the snowy mountain town.
DiPasquale is in the middle of a six-month-long audio recording internship at the Banff Centre for Arts and Creativity—as one of eight students accepted into the renowned program. "They're from all over the world. It's a great opportunity to be able to learn from them because we all have incredibly different backgrounds," she said.
The hands-on practicum has allowed her to oversee professional audio recordings for bands like the Rapidgrass, a Colorado-based bluegrass quintet. "That was a week of us being in the studio with this band and recording an album for them. We did another session with a band called the Lemon Bucket Orkestra, which was the most fun music I've probably ever recorded. The artists we get to work with are a pretty big deal," DiPasquale said.
She also worked with the jazz drummer Jerry Granelli, best known for recording the "Charlie Brown Christmas" album with the Vince Guaraldi Trio. DiPasquale has also been recording live concerts staged by singer-songwriters at the Banff Centre. "I've learned so much during the months that I've been here. Even when I'm not scheduled on a session, I will often go in and observe. We're all learning from each other, which I think is really amazing," she said.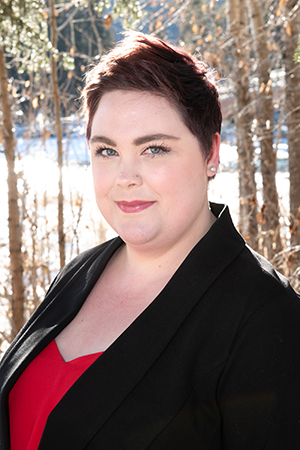 DiPasquale started at Crane as a music performance student over 10 years ago. In 2011, unsure about the direction of her future, she decided to leave Crane and returned to Buffalo, N.Y. She got married and found jobs at several different companies unrelated to her studies at Crane, including her most recent position working at an insurance company. "I got to a place where I couldn't see my career anymore and that was really sad and scary to me. My husband actually suggested that I should look into going back to SUNY Potsdam. It had gotten to a point where it was just time," she said.
She connected with Marc Ernesti, an assistant professor at Crane and the executive director of the Crane Institute for Music Business. "Marc Ernesti is the reason I came back! If he had not been so encouraging, I don't know if I would have. I was really scared, and you don't know what it's going to be like to come back as an older student," DiPasquale said. "He gave me the support once I was here and we had weekly mentor meetings where I could go in and talk to him about any struggles that I was having. Having that support was really important to me!"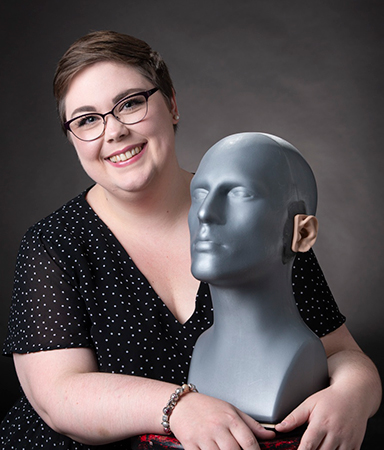 She got to work right away. Outside of her music business classes, she helped Ernesti launch a TEDx talk at SUNY Potsdam and then she was hired by Dr. Douglas McKinnie, an audio/video engineer at Crane, and Rob Zolner, the assistant audio engineer at Crane, to produce professional audio recordings of live concerts—everything from Crane's Latin and Jazz ensembles, to the West African Drum and Dance Ensemble.
She also made a connection with Denis Martin, an adjunct instructor at Crane. Martin introduced her to binaural sound, opening the door for her to do an independent project on the subject. She started by building a binaural head with McKinnie, which consisting of two microphones capable of capturing 3D quality sound. Martin then took DiPasquale to McGill University in Montreal, Quebec, to conduct research on the handmade equipment, before returning to Crane to record live ensemble performances.
She played the recordings for 34 subjects, who compared the sound from her binaural head (made for less than $500), to a commercially manufactured Neumann KU 100 binaural head (which costs $8,500). She wrote two papers on her findings, one of which was published on the Audio Engineering Society e-briefs forum. She went on to present her paper at the society's conference, held in New York City in October 2019.
"I can't express enough how supportive the people at SUNY Potsdam are—the faculty are so incredible! I could just walk into Douglas and Denis' offices and ask them every question that I had, and they were so patient and kind and generous with their time. I would say that about any of the faculty here. They want their students to succeed."
After she wraps up her internship in Banff this March, she will be back at SUNY Potsdam for commencement in May. Dipasquale is exploring her career options and with her interest in radio, she's thinking about pursuing an internship in public broadcasting. She's also applying to graduate school. "If I were to go look for a job right now, I would look for something in podcasting, something in radio or something in live sound. I see the audio and music technology world as being so wide, I feel like there are so many options," she said.
For more information about The Crane School of Music, visit: https://www.potsdam.edu/academics/crane-school-music
Article by Jason Hunter