Making music is at the heart of every Crane degree program.
Our philosophy is that all our students are first and foremost musicians; it is this core activity that connects them.

All music majors take weekly private lessons in accordance with their degree programs.
You'll study with a faculty of nationally and internationally respected musicians, all of whom are active professional performers.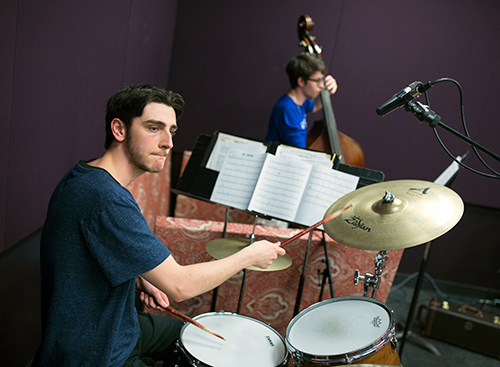 Students may pursue a concentration/area of study on any band or orchestral instrument, as well as voice, piano, classical guitar, and harp.
All music majors perform in ensembles.
In addition to our outstanding bands, choirs, and orchestras, Crane also offers an enticing array of smaller Performance Ensembles.
High Standards yield outstanding Music Professionals.
Our performance standards are high. Upon graduation, Crane students in each of our degree programs are routinely accepted for graduate study in performance at top-tier conservatories and universities around the country. A number of our alumni have won major competitions, and others are employed by important symphony orchestras and opera houses.

Whatever your career choice, Crane's Performance Department will prepare you for success!
I love my teachers so much. There's just so much that this school has to offer. 

-Dominique Santiago '20