Since she started at SUNY Potsdam five years ago, Assistant Professor Dr. Julie Hunter has been bringing the music and cultural traditions of West Africa to students at The Crane School of Music. Hunter received her Ph.D. in ethnomusicology from Brown University in 2012, and has taken seven trips to Ghana in West Africa to conduct research over the years—including her most recent trip this past August.
Hunter described the field of ethnomusicology as the study of music and culture and people making music. The intriguing field of study allows students to learn about music and cultures from around the world, not just by the "classic" European composers. African musical traditions are hundreds of years old and have been passed down from generation to generation through oral traditions—influencing a number of styles, from Afropop to jazz.
Hunter returned to Ghana this summer where she reconnected with an all-female group of drummers, the Klikor Kpegisu Habobo. Manavi Deku, the lead drummer for the group, worked closely with her on drumming techniques and repertoire. "It's a really unique association because for so long there was a taboo on women's drumming, and women did not typically play hand and stick drums in a traditional context in Ghana. It's still quite rare to even find a female drummer," she said.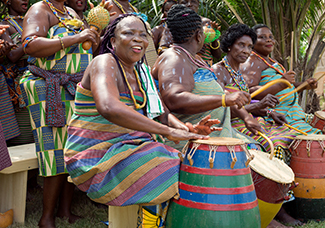 Hunter said that gender barriers have started to crumble since the 1980s, when Kpegisu got their start. Back in 2002 when she was working on her master's degree at Brown, a story aired on the evening news in Ghana about the Klikor Kpegisu Habobo, who were raising money for women in their community. The story immediately caught her eye. "I just jotted down the name of the group and then I returned to Ghana in the summer of 2003. That was the first time I was able to travel to the village and visit these women," Hunter said.
After traveling to Klikor, 80 miles from Accra, the capital of Ghana, Hunter conducted extensive interviews with the lead drummers, singers and dancers in the group. She attended music events at major funerals and festivals, traveling with the women by bus to many locations throughout Ghana. The drummers opened their homes to Hunter, welcoming her into their community and sharing many traditional meals with her, such as banku and okra soup.
In addition to Kpegisu, Hunter has conducted research on many other groups during her trips to Ghana over the past 15 years. "I've really been very fortunate to work with, and learn from, such skilled artists over the years. My ethnographic research for my dissertation focused around the phenomenon of the rise of women's drumming in Ghana and I spent the majority of my time with these female drummers and their music groups in the Volta region of Ghana," Hunter said.
Now entering her sixth year at Crane, she brings all of her field experience from Africa back to her students at Crane. It's very important to Hunter that she shares the music of these underrepresented groups that she's learned so much about through her research. This semester, she is teaching "Music, Culture and Politics in West Africa," two sections of "Music of Africa" and leading the West African Drum and Dance Ensemble. The ensemble is a dynamic group that she started in 2013, giving students the opportunity to express themselves and learn about West African culture and music through drumming, dance and singing. "It's open to all SUNY Potsdam students, regardless of musical background; they don't need to have an audition, all that they need to do is basically go online and register for the course," Hunter said.
The West African Drum and Dance Ensemble has performed nine times at Crane, and will take the stage for their 10th performance on Dec. 1 in Snell Hall. Hunter has helped to expand the ensemble's instrument collection, acquiring many new drums such as the Sogo, which features either goat or cow skins for the drum head, and hand-carved Ghanaian symbols on the frame.  She has also procured authentic hand-sewn shirts and a range of colorful wraps directly from her contacts in Ghana.
The group has also been supported over the years by drumming and dance professionals who visit campus to work with students and then perform with them onstage. "We've been inviting in specialists who are masters at drumming and dancing. One example is Martin Kwaku Kwaakye Obeng, from Brown University, who has been performing at every concert with the group. We've been very fortunate because he can provide a different perspective on the music and help us to perform at a very high level for the Potsdam community," Hunter said.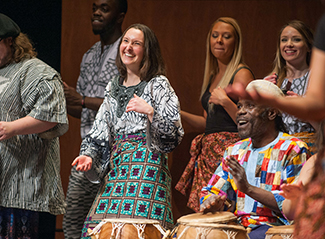 One of the most unique aspects of the ensemble is the way in which the students learn and engage with the music. Unlike most music groups at Crane, where reading sheet music is essential, students in the ensemble explore music in the same way that it's taught in Africa.
"We learn the music through an oral tradition, which means that when I teach a piece, I often won't even write the lyrics on the board or give a hand out with the lyrics. Rather, I encourage students to really listen to the words and learn it by ear. The same thing is true with the melodies and rhythms. I rarely hand out notation because this is the way that the music is traditionally taught in its local context," Hunter said.
She said that she's been excited to be working with an increasingly diverse group of students in her classes, including some students who were born in Africa. The student interaction in class continues to impress her as well.  "I was pleasantly surprised to see a number of students singing along to some of the traditional and hiplife songs set in the Akan language that I played in class recently. This has never really happened before. This is a moment of change here, and you can see that students are really passionate about the music," Hunter said.
Hunter said that it's been inspiring to work with an extremely skilled group of faculty and students, and said that Crane offers a very friendly and supportive atmosphere. "I'm typically blown away by what students are able to do, and how they look at music," she said.
For more information about The Crane School of Music visit: https://www.potsdam.edu/academics/Crane.