Through trips to India and Ireland, working with the West African Drum and Dance Ensemble, and co-founding Potsdam Okuma Taiko— Bridgid Bergin '15 has been on a path of discovery that led to a career in ethnomusicology.
Connecting with different cultures through music was the centerpiece of Bergin's education at SUNY Potsdam's Crane School of Music. "I began taking ethnomusicology courses, and playing in world music ensembles, ultimately learning about other countries and people via music," she said. "Dr. Julie Hunter had joined the faculty by then and her courses became the highlights of my semesters including the West African Drum and Dance Ensemble."
"Honestly, and I think this goes for a majority of folks, I really learned a lot about myself during my time at SUNY Potsdam and that is mostly due to the relationships I developed there. I am still close with friends that I met freshman year."   -Bridgid Bergin '15
Bergin performs with the West African Drum and Dance Ensemble in 2014.
For several semesters she performed on stage with the newly formed ensemble, learning about drumming and dance techniques from Ghana and Togo—a brand new addition to the Crane curriculum at the time. She also signed up for a travel course to India. Students met throughout the semester to learn about the music of southern India, and then embarked on a 14-day trip to Chennai, India, with Professor Peter McCoy and Professor Emerita Marsha Baxter. "That course totally changed my path. We took voice lessons, Bharatanatyam and Kathak (dance) lessons, and learned about the Carnatic and Hindustani music traditions," she recalled.
Those global experiences resonated more deeply with her than the Western classical music she had been learning up to that time. When she returned to Potsdam, she changed her major to musical studies, added a minor in women's and gender studies, and started looking at the intersection of music and gender through her ethnomusicology classes. Tying into her trip to India, she also started researching the role of women in Carnatic music, specifically veena, a chordophone (stringed instrument) played in southern India as part of the Presidential Scholars Program at SUNY Potsdam. "That was a big highlight academically as it provided funding to do independent study and also provided the opportunity for me to bring my veena teacher Nivedita ShivRaj's band Charanams to Potsdam for a performance and talk," Bergin said.
Another formative experience was as co-founder of Potsdam Okuma Taiko. "I remember walking down the hall from the Crane Commons and hearing really, really loud and powerful drumming. There were pulsing sounds that hit you at the core of your body, something I never heard before," Bergin explained. "I made my way in there and Sean Shibata '13 was practicing taiko. He passed bachi (taiko drumsticks) over to me and the first time I hit that drum I felt an amazing sense of confidence, power, and being grounded." The two of them formed an official Taiko club, and welcomed students from around campus. They made drums from car tires and started a side business doing yard work for community members in order to purchase supplies and make additional drums. "There was definitely a sense of family emplaced within the group and I'm so happy to see that Okuma Taiko has continued at SUNY Potsdam," she said.
Her exploration of world music continued on campus as well as through trips around the globe with faculty. In addition to visiting India to study music, she traveled to Ireland with Dr. Shelly Tramposh, a professor who was very influential to her development as a violist. "The travel courses that were offered at Potsdam were very special—providing opportunities to learn with a hands-on approach, within different cultural contexts," she said. "I think what was really special about Potsdam, in my experience, is that a place 'in the middle of nowhere' became a place that connected me to many distinct areas of the world: Japan through Taiko drumming, Ghana through West African drumming, Ireland through fiddling and—what would become my main focus—South India through Carnatic music."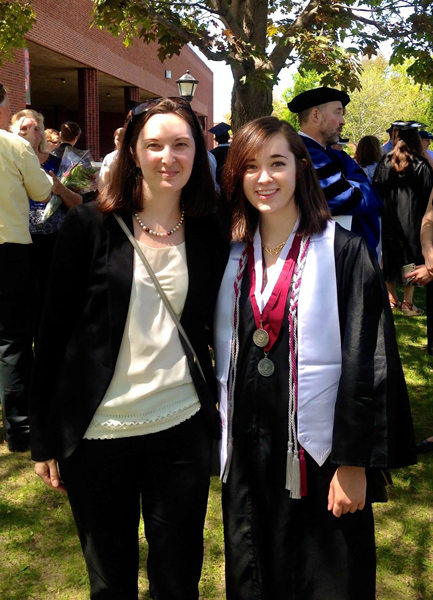 When Bergin graduated from SUNY Potsdam, she was offered a teaching assistantship to study ethnomusicology at Wesleyan University. Building off of her foundation at SUNY Potsdam, she more thoroughly examined the music of India. This led to an exploration of Indian fusion music in New York City. "My research shifted just a bit to focusing on the contentious term of 'fusion' music leading to my thesis, 'Indian Fusion Music in New York City: Navigating Space, Place, and Identity,'"  she said. When she wasn't immersed in her academic research, Bergin was working with several organizations in New York City (the Center for Traditional Music and Dance, World Music Institute, and Rubin Museum) to help with their marketing and program offerings. She thrived in that environment and was able to take her ethnomusicological education and apply it in the real world.
When she graduated from Wesleyan University in 2017 with her master's degree, Bergin was offered a job at the International Contemporary Ensemble as an executive assistant. In just three years she transitioned from that position to a development associate, and now production and communications manager for the organization. Initially tasked with scheduling meetings, taking notes, and booking donations, her responsibilities expanded to include overseeing social media, leading digital fundraising campaigns, assisting with grant writing, coordinating fundraising events, and now working on marketing, communications and production for the ensemble. "I've learned the nuts and bolts of how a performing arts nonprofit organization works. I really enjoy this world of producing concerts, and working for an organization that advocates for underrepresented artists," Bergin said.
Her work with the ensemble has led to some memorable moments. In 2019 she helped co-produce a documentary portrait series where the ensemble performed the music of three Iranian female composers. The show premiered at the New York Public Library for the Performing Arts as part of Lincoln Center's Mostly Mozart Festival, opening with a short documentary about the three featured Iranian composers Anahita Abbasi, Aida Shirazi, and Niloufar Nourbakhsh. "This is a project where I really feel my background in ethnomusicology and commitment to musical connections came together," she said. "To me, ethnomusicology opens doors for different modes of understanding culture, music practice, and identity."
This spring, in light of the global pandemic, the ensemble's live performances came to a halt. In March, the they partnered with MUSIC on the REBOUND to produce "The Worldwide Tuning Meditation," an event led by three musicians including SUNY Potsdam alumna Raquel Acevedo Klein '16. The live-streamed event connected 4,600 people from 30 different countries. Bergin has continued to lead online, digital music initiatives for the International Contemporary Ensemble this spring and summer.
In the next few years, Bergin hopes to become an artistic producer for marginalized artists and communities. One day, the SUNY Potsdam alumna has her sights set on creating her own arts organization.
For more information about The Crane School of Music, visit: https://www.potsdam.edu/academics/crane-school-music
 
Article by Jason Hunter