"The Crane School of Music is a nationally regarded and globally known music school. You're getting a top-notch education that employers respect."
When the lead singer of the Foo Fighters, Dave Grohl, broke his foot back in 2015, his team called up SUNY Potsdam alumnus Brian Dougherty '06 for help.
Despite the injury, Grohl planned on performing on stage, and he wanted to sit on a "Game of Thrones"-inspired guitar seat, as in, a seat made out of electric guitars! The problem was that the throne, made out of metal, was going to produce interference for the band's Sennheiser microphones. Dougherty, a product manager at Sennheiser at the time, was used to coming up with wireless solutions for his clients, and the Foo Fighters were no different. He took his knowledge of Sennheiser wireless technology and figured out a way to integrate microphones into the throne of guitars.
Ever since graduating from SUNY Potsdam's Crane School of Music back in 2006, Dougherty has found great success in the music business industry. He landed a job at Samson Technologies right after graduation and was later hired at Sennheiser—one of the biggest names in the music industry.
Dougherty studied music education for the majority of his time at Crane, but then switched his focus to music business. "It was when the SUNY Potsdam music business program was just starting up, so I'm the only person to actually graduate with this specific degree. It was essentially the standard liberal arts business administration degree with a ton of extra music credits," he said.
With mentors like Carol "Kickie" Britt '69 &' 74, the former executive director for the Crane Institute for Music Business, and James J. Petercsak, a SUNY Distinguished Teaching Professor who taught percussion—SUNY Potsdam was the perfect springboard to Dougherty's career. "The Crane School of Music is such a highly regarded music school, you're getting top-notch education that employers respect, but you're getting it with a small group of people," he said. "You are getting a lot more one-on-one time with your professors and a lot more time integrating with other students and learning from them as well."
Despite the change to music business, his music education background has continued to influence his career. "I essentially spent the majority of my Potsdam career learning to be a teacher. Although I ended up not being a teacher, I taught high school marching band for 10 years. It's something that's definitely helped me out in my career—to be very comfortable in front of a crowd or in front of a camera and being able to speak clearly," he said.
Dougherty found early success at the consumer and professional audio product manufacturer, Samson Technologies—his first job after graduating from SUNY Potsdam. After an internship with Samson his senior year, they offered him a full-time position that he started just days after commencement. He wore many hats in that role and helped to launch an artist relations program. "I worked with a lot of artists, running different events and artist signings," he said.  "I also taught myself how to do live concert photography and they used my photos in ads or product design work. It was a great first company to work for! It allowed me to learn a lot and take the initiative to do a lot of different things."
In that role, he worked as Samson's trade show manager, representing the company at the National Association of Music Merchants (NAMM) Show. Dougherty has attended the NAMM Show every year for the past 15 years, first as a Crane student, then as an employee at Samson and now while working at Sennheiser, which produces high fidelity products like microphones and headphones. "Every year that I was at Samson and attending the NAMM Show, we had SUNY Potsdam students working with us. And when I came to Sennheiser I reached out to Kickie Britt, and I said, 'Hey, I'm at Sennheiser now. Since I'm a Potsdam grad, I would love to open up the company to be able to have Potsdam students here as well. We started getting two interns in 2014," Dougherty said.
In his initial role at Sennheiser, Dougherty provided high-level tech support for Sennheiser clients that included ABC, FOX, WWE and artists like Beyonce. "I got to go to New Jersey when Beyonce and Jay-Z were doing their first 'On the Run' tour. They were doing their production rehearsals and I got to go there, demo the system for them, the new high-end wireless Sennheiser technology, and teach their staff how to use it," Dougherty said.
Another time, Dougherty was sent to the Universal Theme Parks in Florida and California to build wireless microphone systems for a ride at each park. With tunnels, metal and other interference, he placed antennas in key areas throughout the ride to avoid breaks and pops in the signal. "I was taking their design specifications, and their needs, and then trying to fit our Sennheiser product into it. I wasn't creating a unique product, it was more taking a situation where wireless shouldn't be working and then my job was to figure out how to get it to work," he said.
And then there was Kayne West. Dougherty personally etched Sennheiser microphones for West to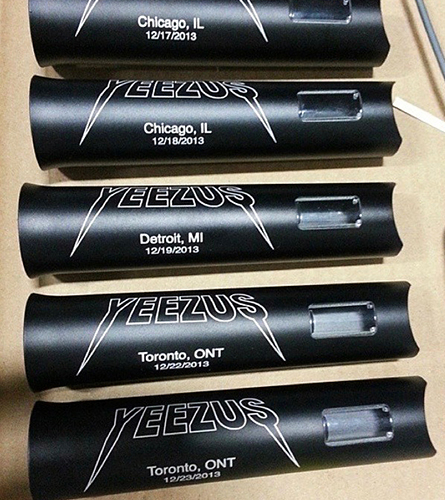 hurl off the stage—sailing through the air to the outstretched arms of his fans at live shows. Dougherty had heard that West was throwing microphones to his fans and he reached out to his tour manager. "I said, 'Hey, we can laser etch these mics. What better way for his fans to commemorate the night? Not only do you catch the mic, but it has the tour, the date and the city right there, laser etched on the mic," Dougherty said.
Dougherty now has a new role at Sennheiser, working strictly in sales as a key account manager. With more than $796 million in global sales in 2018, he oversees significant markets for the company—handling all sales of Sennheiser professional products on Amazon.com within the U.S. and Canada. He's now building a global presence on Amazon.com, helping to sell products from the Sennheiser Pro Division around the world.
As part of his job, he also offers large educational classes to Sennheiser employees, teaching sales techniques about their products. While he communicates with his colleagues and clients, Dougherty leans on his former music education background from Crane, and the public speaking course he took with Associate Professor Dr. John Youngblood. "He was a professor at SUNY Potsdam that really stuck out, and really helped me with my career as a student," Dougherty said.
In his free time, Dougherty does a lot of volunteer work with Sennheiser, cooking at the local soup kitchen, participating in a yearly walk to end homelessness, and sponsoring a music program for the homeless and at-risk youth. On his own, he created a fundraiser in memory of his friend's mother. "Every year I do an eBay auction in honor of my friend's mother who passed away from an inoperable brain tumor. I try to gather up some items from artists I know. All the money goes to the American Brain Tumor Association," he said.
Article by Jason Hunter