On a blustery winter day in New York City, two successful women pose for a photo in front of the Hudson River. On the surface, they may not seem to have much in common. One is a retired Chief Information Officer with over 38 years of experience in higher education. The other is a young scholar and entrepreneur who graduated from college less than a year ago.
The pair's connection stems from SUNY Potsdam, their shared alma mater.
"We come from different backgrounds and generations," Christine Haile '74 says of her friendship with Kadiatou Balde '19, "but Potsdam has made a difference in both our lives."
Haile and Balde first met during the Fall 2018 meeting of the Potsdam College Foundation's Board of Trustees. This was Balde's first Board meeting, made possible by her role as Student Government Association President.
During the weekend, Balde connected with Haile, and they realized all they had in common. Both were involved with SGA as students, and both had recently traveled to the same town in Morocco.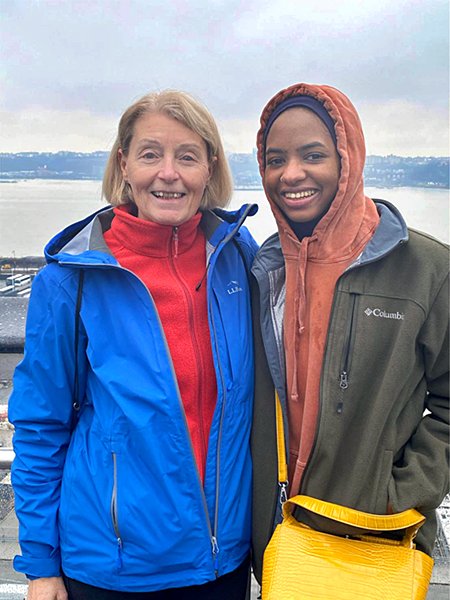 "From the moment we met, Chris was genuinely invested in getting to know me better and made sure to connect with me after our initial board meeting," Balde remembers. "Eventually, we set up a time for us to get to know each other."
The two have continued to keep in touch since then, talking regularly and meeting occasionally in Albany and New York City. "Whether it's deciding about jobs or grad programs, Chris is my go-to," Balde says gratefully. 
In 2015, Haile endowed The Christine Haile '74 Women & Leadership Fund in recognition of the importance of networking for young professionals like Balde.
"The goal of this fund is to provide students with exposure to leadership and to women leaders, in particular," Haile says.
Her fund supports the College's Women, Gender & Leadership program, a year-long program open to all students, regardless of gender identity. In the fall semester, students attend weekly workshops that focus on different areas of leadership and career development, such as interviewing and conflict resolution. If a student has attended all of the workshops, they are paired with an alumni mentor that works in their desired career field, whom they connect with over the course of the spring semester.
"The feedback from students about the mentoring aspect of the program has been very positive, and it's exciting to see so many students take advantage of it," Haile notes. "This program aims to help our students become effective leaders in whatever field they choose."
The Women, Gender & Leadership Program culminates each year with a luncheon, where mentors and mentees have the chance to enjoy a meal together. Despite social distancing measures implemented as a response to the novel coronavirus, the Campus Life Office has ensured that the luncheon will still happen virtually this spring.
"The student participants this year have been especially grateful for the important relationships they are developing with their mentors during this challenging time," shares Ruth Policella, Director of Campus Life. "Given that the program is from afar anyway, most people were already connecting via video conferencing. I was pleasantly surprised to hear that the students still wanted to have the big group experience to have the chance to meet more of the mentors."
Policella and her team have worked hard to guarantee that the virtual event will offer the same level of opportunity for community and networking as usual. "Something we try to do at the lunch is connect students and alums who are not already connected as mentors-mentees," she explains. "We will set up some chat rooms to allow for small group and 1-1 connections. We try to group them by career interest at tables, so we will still try to do this."
Haile is consistently inspired by the students she connects with at SUNY Potsdam, whether through the Women, Gender & Leadership program or as the Foundation Board Treasurer.
"During every Board weekend, we dedicate time to be with students, and they are always so impressive and dedicated; it makes you want to support Potsdam even more," she shares.
Haile and Balde agree that there are many opportunities for students to build their professional network on campus. Haile specifically encourages students to take advantage of the annual networking workshop facilitated by Foundation Board Vice President Amy Kellogg '99, and Balde suggests there are opportunities to network every day.
"It's never about meeting as many people as possible," she explains. "The key is truly and genuinely connecting with the people you're surrounded by – from your home to the classrooms."
Though Balde recognizes that she still has a lot to learn about the art of networking, she seems to understand the heart of it already.
"Networking is only difficult if you're not being yourself and are trying to build transactional relationships," she says. "Invest your time in learning about others and always think about what you can give them rather than what they can provide for you. The more you center yourself on giving to others, the more people will be open to extending their hands to you."
For more information about how you can connect with others in the SUNY Potsdam community, contact the Alumni Relations Office at alumni@potsdam.edu. Alumni and students specifically interested in participating in the Women, Gender & Leadership program can contact Ruth Policella at policera@potsdam.edu.