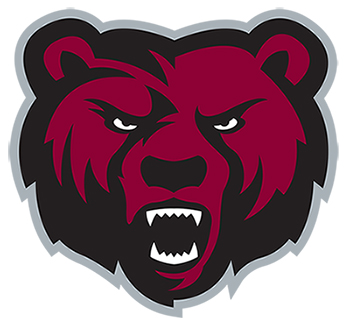 There's little time for hibernation for Max C. Bear, SUNY Potsdam's beloved mascot. Whether he's cheering for one of the Potsdam Bears' athletics teams, mingling with alumni during reunion weekend, or congratulating graduating seniors at commencement, Max C. Bear makes school spirit his number one priority—even more than his craving for honey and maple syrup.
Max C. Bear is firmly rooted as SUNY Potsdam's mascot, but that wasn't always the case. Prior to 1961, SUNY Potsdam's athletic teams called themselves The Racquetteers, a reference to the Raquette River that runs past campus. However, as the years went by, many people wanted a change, and in 1958, opinions about a new name and mascot were presented to the Athletic Committee. After hearing numerous opinions on the issue, the committee devised a contest with a $10 reward to anyone who could think of a new name and mascot for the college. After numerous contests, a new mascot was finally chosen, "The Polar Bears." 
The polar bear mascot made its first appearance at a basketball game against New Paltz College on December 8, 1962. However, by 1963, students again began expressing their dislike for the cuddly-looking mascot, saying it misrepresented the college and its athletics offerings. In response, the senior class purchased a ferocious-looking bear outfit to be worn by a student. That marked the end of the pink and white polar bear. The 1964 school year began with "The Bear" as the new official mascot.
Eventually "The Bear" acquired a more personalized name, and officially became known as Max C. Bear, paying homage to Dr. John Maxcy, who served as the chairman of SUNY Potsdam's Health and Physical Education Department from 1920 to 1964. Maxcy Hall, our athletics complex, was also named after the long-serving administrator.
Max C. Bear - Days of Old
Max C. Bear - Bear Pride Night 2013
Max C. Bear - celebrating SUNY Potsdam's bicentennial in 2016
Max C. Bear - Pandemic (2020)