David '73 and Carol "Kickie" Holloway Britt '69 & '74, both of whom graduated and retired from SUNY Potsdam, have spent decades investing time and resources into the College's students, programs and community. Because they know their alma mater so well, they are specific about what areas of campus they support.
"We have a unique perspective, having worked at the College in a variety of jobs and having a more intimate look at where the needs are," shares Kickie.
Kickie first came to The Crane School of Music in 1965 with the dream of becoming a music teacher. Growing up in a musical family, the Rochester native knew music education would be part of her future vocation from a young age. In high school, she even replaced some science and math classes with professional voice lessons in order to extend her knowledge and improve her technique.
Kickie recalls countless memories from her first four years at Crane—from her intimidating personal interview with Helen Hosmer, Class of 1918, to an opera performance that continued despite a power outage. She was a student while the campus was entering a new era, with pink pebbles blanketing the Academic Quad as new brick buildings were constructed.
After graduating, Kickie taught music in Skaneatles, N.Y., before returning to SUNY Potsdam for her master's degree. As a graduate student, Kickie had a front-row seat to the generosity and comradery of the SUNY Potsdam family, and she chose to stay and work in Admissions once she graduated, at which point she met David Britt.
David graduated from high school the same year as Kickie but left college after one year to join the Air Force. Once his service ended in 1970, he chose to attend SUNY Potsdam to study computer science, an emerging field at the time. David completed his degree in three years and made the most of his campus experience, eventually becoming the Student Government Association Vice President.
Like Kickie, David adopted an administrative role at the College after graduating in 1973. He and Kickie were married in Potsdam the summer of 1975, the same year their careers led them beyond SUNY Potsdam.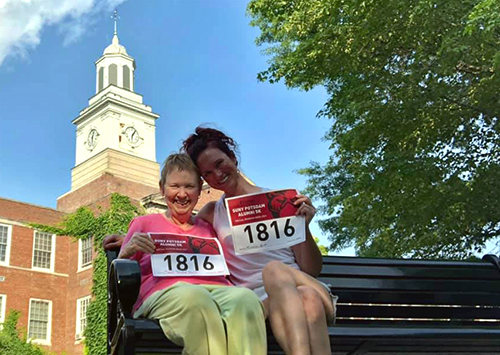 The pair continued to lead successful careers in each place they lived. David earned his Master of Business Administration from Union College while Kickie served as a Resident Hall Director at SUNY Cobleskill. Kickie then enjoyed a 16-year tenure as the choral director of SUNY Adirondack while David invested his time and talents at General Electric and then in Nashville, Tenn. Together they also raised their two children, Matthew and Miranda, the latter of whom graduated from SUNY Potsdam in 2003.
In 2002, the Britts learned of an opening at their alma mater. "There's a job opportunity up there," Kickie remembers David saying. "Let's go back and give back some of what we got out of it."
After returning to the North Country, the couple never left. "We love the place. It's why we've stayed here post-retirement. There isn't any reason for us to go anywhere else," Kickie reflects. "This is home."
Kickie ended up taking over the Crane Institute for Music Business, becoming an inspiration and guide for countless Crane students as the executive director. Kickie notes that retiring as an assistant professor emerita of music business was the greatest honor of her life. "I can never thank Crane enough for what it did for me."
Across campus, David became a leader in the Office of College Advancement and then the Office of Business Affairs, in both roles using his acquired expertise to guide the College through difficult financial strains. He retired in 2017 as the Director of Business Planning and Analysis and cites his role as the reason behind the couple's giving to the College.
"We have always tried to target our donations, our giving to the College, to activities that are going to have an immediate impact," he says. "Working where I did, I know how tight funds are on a real-time, day-to-day basis, so that's where we tend to put our giving over the years."
"The needs are everywhere, and you can't solve them all, but anything you do is helpful. I tend to be a person of action, so anything I can do in the short term, in my opinion, is where I'm going to make my contributions."
The Britts' generosity has empowered students' success and experiences across campus—from music business initiatives to the men's basketball team. They have also strengthened the SUNY Potsdam Family by volunteering to assist with a multitude of alumni events and programming in the North Country and beyond.
"We just love this place," Kickie says, "We're not going anywhere, and we will remain devoted."
To learn more about giving to SUNY Potsdam, visit potsdam.edu/giving.
For more information about how you can serve as an alumni volunteer, contact the Alumni Relations Office.