Name: Ian Love
Scholarship: Don Allen Edrington Scholarship
Expected Class Year: 2025
Major: Art Education
Minor: Art Therapy
"This scholarship is really helping me and aiding me to achieve my goals of getting the degrees I would like and helping to get to the process of bringing that art therapy field back up to the North Country and working with the community that I know and love."
Why did you choose to attend SUNY Potsdam?
I started my college career out at Nazareth College out in Pittsford, N.Y., near Rochester, and I constantly kept thinking about SUNY Potsdam just because it feels like home. I love the environment of SUNY Potsdam and where it is located. I live in Massena, so it's not too far from me.
The College also has a very one-on-one type of feeling, and I really appreciate that. The professors are very close-knit. I like the teamwork aspect that everybody has as well. My favorite professor is Danielle Johns. She is a very bright light in the art department, and I loved talking with her every day before my painting class. She's a phenomenal mentor.
Potsdam just feels like home, and I like it a lot.
What do you hope to do with your degree from SUNY Potsdam?
I always loved and had a very big passion for the medical field and working with the public and the community, especially wanting to come back up in the North Country and wanting to serve and help the people in my community.
I've also always been a creative person. I sang in different groups, did musical theatre and painting, so I've done all types of things creative.
So I was stuck in between going into the medical field or doing something creative, like being an art teacher, but then I found out that I can actually combine the two with art therapy. It makes me excited that I get to share both my love for the medical field and wanting to help people and also my love for using creativity and helping the world see that through that form—the medium of art.
I would like to go on to my master's and hopefully work towards my doctorate in art therapy. I would have to start further away to get more experience, but I would love to bring the art therapy field back to the North Country because I don't believe there are a lot of places that offer it.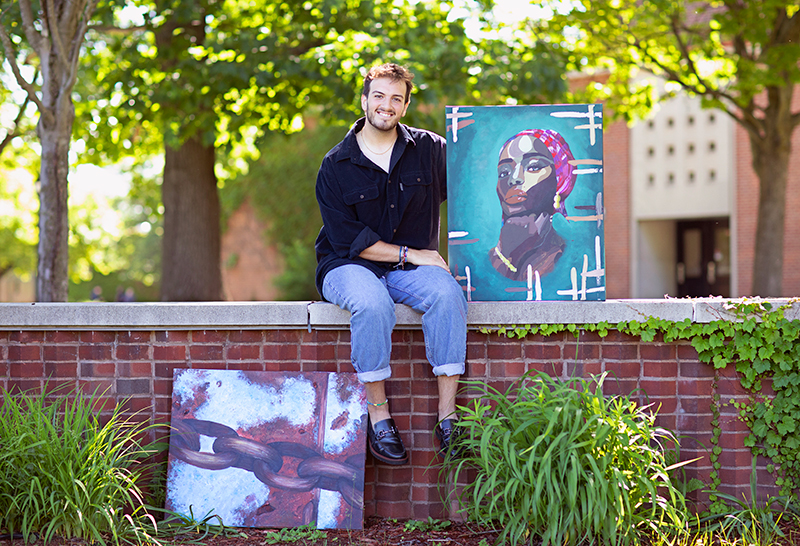 Your scholarship was established by Canton native Janet

Edrington

Bullis

to support students from St. Lawrence County studying art at Potsdam. What does it mean to you to receive this scholarship, especially in light of your affinity for the North Country?
It was really cool to see that the scholarship was for a recipient up in the North Country. It just means a lot, especially because I do know that I want to come back, so this scholarship is really helping me and aiding me to achieve my goals of getting the degrees I would like and helping to get to the process of bringing that art therapy field back up to the North Country and working with the community that I know and love. I am beyond grateful and honored to have this scholarship awarded to me.
How has your experience at SUNY Potsdam helped prepare you for your future?
The professors really have driven me toward success. They play such a big supporting role of all students at SUNY Potsdam. I haven't met a professor yet that has not wanted success from their students, and I think that's a really admirable thing. One thing I could easily say to a prospective student is that the professors here really do strive for success with their students, and I see that in both the education department and art department. It's truly beautiful to see that somebody is willing to share all their knowledge and wisdom with students to help them be successful.
Also, as a SUNY Potsdam student, I completed an internship with the Walt Disney Company. There I worked with all different types of individuals from all over the world—an opportunity that I am very grateful for. This allowed for me to create an understanding of other individuals and their livelihoods because I was introduced to new worlds, new types of people, new types of environments, and different communities. I really cherish that and learned quite a bit from this internship. I was able to just observe what I can bring back and learn, not only just for myself but also for my community in the North Country, which humbles my heart.