The C123 rehearsal room within SUNY Potsdam's Crane School of Music radiated with warmth each Monday, Wednesday and Friday as members of Phoenix Club filed in. This atmosphere was not due to the number of musicians in the room, nor the reading of the thermostat, but the joy that effused from Associate Professor Emerita Dr. Rebecca Reames's smile.
Once the all-treble choral ensemble found their seats, Reames took her place at the center. Her southern sweetness calmed the singers as she instructed the young women to try a Tai-Chi move as a warm up or to ensure the last note of a piece was "the softest, sweetest and most beautiful."
Reames joined the Crane faculty in 1996 and taught courses in music education and conducting, while also directing ensembles like Phoenix Club, until 2017, when she passed away after a four-year battle with cancer.
To honor Reames's impact at Crane, her former students, colleagues and friends came together to establish the Dr. Rebecca Reames Memorial Scholarship. In 2021, the first scholarship was awarded to Haven Gotham '21, a music education student from Edwards, N.Y. who perfectly emulates the vision and passion of Dr. Reames.
Gotham conducting during an ACDA event
Dr. Rebecca Reames leading a Phoenix Club rehearsal
"It was an absolute honor to be recognized with a scholarship in Dr. Reames's memory," Gotham shared. "I have heard from many people of her joyous and kind-hearted spirit, as well as how welcoming she was to her students at Crane. Her passion for teaching music clearly touched the lives of those that worked with her. I hope that I can do the same for my current and future students and carry her teaching ideologies and approaches with me."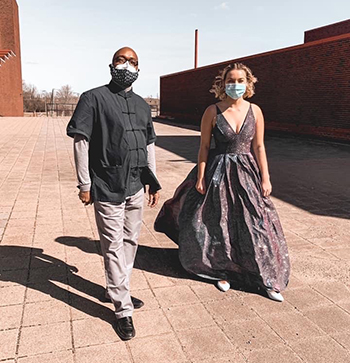 Gotham began her journey at The Crane School of Music in the fall of 2018, studying under the tutelage of another beloved vocal professor, Dean Emeritus Dr. Lonel Woods (Hon. '21). She had first connected with Woods for a trial lesson at the end of her junior year as she explored the possibility of pursuing a career in music education.
"I have always loved music, but I still was uncertain about what I wanted to do with my life," Gotham recalled. "After I began working with Dr. Woods, I knew that I wanted to be a music teacher and that Crane was the only place that I wanted to be."
Once enrolled at Crane, Gotham continued to work with Woods until his unexpected passing in May 2021. Studying with him furthered her love for teaching and her commitment to inspire the next generation of musicians. "He was and still is my greatest role model as a music educator because of his embodiment of every quality needed to be a remarkable person and teacher."
With the support and guidance of mentors and friends, Gotham has made the most of her time at SUNY Potsdam. She has been involved in organizations and programs across campus—acting as president of Crane's American Choral Director Association (ACDA), serving as a student representative for the Middle States Working Group for Inclusive Excellence and even working as a lifeguard in the Maxcy Hall pool.   
"SUNY Potsdam provided me with an abundance of opportunities to truly express myself and explore new passions and interests," Gotham said. "Because of these opportunities to grow in leadership, communication and organizational skills, it has furthered my development in both of my roles as a student and a teacher."
In addition to her extracurricular activities, Gotham has also excelled academically at SUNY Potsdam. She made the President's List every semester and was one of three SUNY Potsdam students to receive the 2021 Chancellor's Award for Student Excellence.
Gotham will graduate this December after finishing her semester student-teaching at Gouverneur Elementary School and Ogdensburg City School District, and she has already accepted her first official position teaching elementary general music and chorus.
With an eye toward the future, Gotham shared, "I am excited to carry the teaching philosophies and legacies of Dr. Reames and Dr. Woods with me along the way as I embark on this new journey as a music teacher. I cannot wait to see where the next chapter takes me!"
To learn more about donor impact at SUNY Potsdam, visit potsdam.edu/donorimpact.
Article by Alexis Donnelly '18