SUNY Potsdam Student Work Appearing at Frederic Remington Art Museum and the Arts Center of the Capital Region 
Woven with the natural world, the artwork of SUNY Potsdam students is featured in a juried exhibit running Feb. 27 to March 28 at the Frederic Remington Art Museum in Ogdensburg, N.Y. Student work will also appear at the 120 Degree Collegiate Art Regional in Troy, N.Y., from March 6 to April 16.  
The Remington 2021 College Student Juried Art Exhibition contains the work of 11 SUNY Potsdam students. SUNY Plattsburgh, Clarkson University and St. Lawrence University students are also represented in the show, which features a virtual open reception on Saturday, Feb. 27 from 2 to 3 p.m. A Zoom invitation to the event can be obtained by emailing desmond@fredericremington.org. 
The paintings, photographs and sketches grapple with sober themes as well as natural ones. Whether it's the hue of an empty classroom, the color of a lost handkerchief held by a dog, the reflection of water in a Canton gorge or the cast of inchoate grief—blue and much of what it can mean mark the student work. But so does the hope in sunflowers. 
"There is a considerable focus on the natural world, which is interesting, since we have all been, of necessity, confined inside a lot more than usual," said Caroline Downing, SUNY Distinguished Teaching Professor and chair of the SUNY Potsdam Department of Art. 
Marie Amell's piece "eEements of Nature" was accepted into the 120 Degree Intercollegiate Art Regional juried show in Troy, N.Y..
SUNY Potsdam students who had work accepted to the Remington show are Martin Arquitt, Lindsey Baker, Chris Falcon, Mara Frisbee, Liv Gonia, Chloe Koegel, Alexis LaBarge, Charlie Patterson, Allison Perham, Wanya Simmons and Krista Larock Wells. Many of the pieces will be on sale, with one third of the proceeds benefitting the museum and the rest going to the student artists.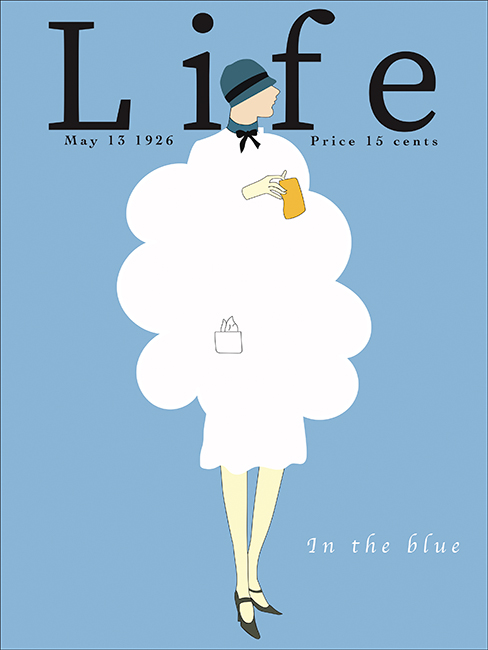 LaBarge '21 went back 100 years to find inspiration in the American illustrator Coles Phillips and his "fadeaway girls," the subjects of Life Magazine covers popular in the early decades of the 1900s, with their edges always vanishing in the background of the illustration. The dissolution can represent the profound transformation and losses of World War I, the 1918 influenza pandemic, the advent of the automobile and the heavy industrialization that ended the "horse and buggy" sensibility of earlier times.  
"What I'd like to pass on through 'Life 1926' is trying to bring alive Phillips' art techniques," LaBarge said. "Look at how simple his illustrations are, and they are still taking the world by storm."  
SUNY Potsdam Presidential Scholar Marie Amell '21 was chosen to have her black and white charcoal drawing, "Elements of Nature," appear in the 120 Degree Intercollegiate Art Regional, a partnership of the Arts Center of the Capital Region, the Lower Adirondack Regional Arts Council and Saratoga Arts. The juried fine art exhibition, running from March 5 to April 16, features the work of students attending an accredited college or university within 120-mile radius of Troy, Glens Falls or Saratoga Springs, N.Y. The exhibition travels to a different host site each year, highlighting the best of collegiate art students in the region. An exhibit reception and awards ceremony are set for March 26, from 6 to 8 p.m. The ceremony will be recorded live on Instagram and can be viewed by following @capregionartscenter. More information can be found at www.artscenteronline.org. 
SUNY Potsdam's Department of Art offers Bachelor of Arts and Bachelor of Fine Arts degree programs in art history, art education, studio art, fine arts and graphic design and new media. Graduates have gone on to pursue professions in the fine arts, art administration, art therapy, digital design, K-12 and university teaching, museum curation, audio/visual administration, publishing, gallery ownership, interior design, architecture, commercial printing, pattern making, photojournalism and studio ceramics. For more information, visit www.potsdam.edu/art. 
About SUNY Potsdam: Founded in 1816, The State University of New York at Potsdam is one of only three arts campuses in the entire SUNY system. SUNY Potsdam's arts curriculum offers the full palette: music, theatre, dance, fine arts and creative writing. No matter the discipline, people from all backgrounds can find their creative compass at Potsdam, with myriad arts immersion experiences available for both campus and community. 
---
General News
Arts & Culture