Crane Youth Music to Celebrate its Fiftieth Anniversary in Newly Renovated Crane School of Music Complex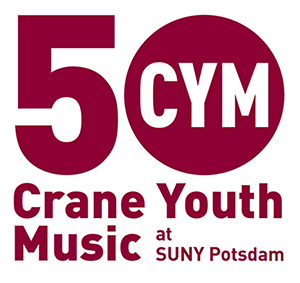 SUNY Potsdam's Crane School of Music is pleased to announce that registration is now open for the 50th anniversary season of Crane Youth Music. The popular summer camp will welcome young musicians from ages 12 to 18 from Sunday, June 25 to Saturday, July 1.  
CYM 2023 will once again feature masterclasses, individual lessons and ensemble rehearsals with experienced Crane faculty, as well as recreational activities and a nightly concert series—all in the newly renovated Crane School of Music complex.  
Founded in 1973, Crane Youth Music is an open enrollment camp for young musicians who have completed two years of instrumental or voice study through their middle or high school programs and/or through private lessons. Young vocalists, pianists and instrumentalists are all welcome to attend. CYM offers ensembles for chorus, wind, woodwind, brass, percussion and strings, as well as jazz groups.  
Auditions are not required to register. Registration will remain open until June 1, or until spots for each instrument area are filled. Campers will audition for ensemble placement upon their arrival. 
There are options available both for resident campers (staying overnight in the residence halls) and for commuter campers. Scholarships are available to defray CYM costs for qualified families.  
The final concerts will be held on Saturday, July 1, and will be open to families as well as to the community. 
CYM alumni who go on to audition and enroll at The Crane School of Music are also eligible for the Roy Schaberg Scholarship, which is renewable for four years of study. 
To learn more about Crane Youth Music, visit www.potsdam.edu/cym. 
About The Crane School of Music: 
Founded in 1886, SUNY Potsdam's Crane School of Music has a long legacy of excellence in music education and performance. Life at Crane includes an incredible array of more than 300 recitals, lectures and concerts presented by faculty, students and guests each year. The Crane School of Music is the State University of New York's only All-Steinway institution and was one of the first Yamaha Institutions of Excellence. For more information, please visit www.potsdam.edu/crane.
---
Arts & Culture
Campus Announcements