Former New York Yankee & Recording Artist Bernie Williams to Speak to SUNY Potsdam Graduates at Commencement 2022 
The State University of New York at Potsdam will honor the Class of 2022, as hundreds of students earn their undergraduate and graduate degrees during the College's Commencement Ceremony on Saturday, May 21. Nearly 700 bachelor's and master's graduates are set to cross the stage. 
This is the College's first full in-person Commencement ceremony with all graduates and guests in attendance together in the Academic Quad since 2019. With the return to the traditional pomp and circumstance of the large ceremony, SUNY Potsdam will also welcome some members of the Classes of 2020 and 2021 back to campus, who were previously unable to take part in-person due to the pandemic. They will join this year's graduating class for an unforgettable celebration—kicking off with a special Friday night concert led by this year's keynote speaker, Bernie Williams. 
Keynote speaker & concert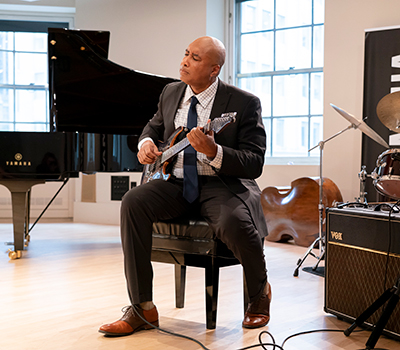 Former New York Yankee and award-winning recording artist Bernie Williams (Hon. '19) will deliver the keynote address. SUNY Potsdam honored Williams with an honorary doctorate in recognition of his lifetime achievements in 2019, and now the five-time All-Star and Latin Grammy nominee is set to speak to the graduates of the Class of 2022. 
His visit will kick off with a special concert with the Bernie Williams Collective, presented by the Community Performance Series. The performance will be held on Friday, May 20 at 7:30 p.m., in the Helen M. Hosmer Concert Hall at The Crane School of Music. Tickets are on sale now at www.cpspotsdam.org, and the public is welcome to attend. 
Ceremony details 
SUNY Potsdam's 2022 Commencement Ceremony will be held on Saturday, May 21 at 10:15 a.m. in the Academic Quad. Hundreds of undergraduate and graduate students will cross the stage in the shadow of the Satterlee Hall clocktower to earn their bachelor's and master's degrees. 
During Commencement, SUNY Potsdam recognizes all students who have either earned their degree or are eligible to graduate during that calendar year. 
The ceremony will be held outside in the Academic Quad, rain or shine, unless there are extreme weather conditions. Guests are asked to dress appropriately for the weather, and bring umbrellas, blankets or sunscreen if needed. There will be an option for guests who are uncomfortable with weather conditions to watch the ceremony live on a large screen inside, in the Barrington Student Union Multi-Purpose Room. 
For family and friends around the world, SUNY Potsdam will stream the ceremony live via YouTube again this year. The link for the livestream, which will begin at 10 a.m. on May 21, will also be available at www.potsdam.edu/commencement. 
Masks are optional for graduates and guests. Those who are unvaccinated are still strongly encouraged to wear a mask around others. 
Emergency weather plan 
There is an emergency weather plan in the case of extreme conditions like lightning or freezing temperatures. Under the emergency plan, there would be two ceremonies, which would be held back-to-back, at 10:15 a.m. and 3 p.m., in the Maxcy Hall Ice Arena.  
Each graduate has been given four tickets for the emergency plan; all other guests are welcome to view the ceremonies via live video in the Jerry Welsh Gymnasium. 
To learn more about Commencement at SUNY Potsdam, visit www.potsdam.edu/commencement. 
About SUNY Potsdam:  
Founded in 1816, The State University of New York at Potsdam is one of America's first 50 colleges—and the oldest institution within SUNY. Now in its third century, SUNY Potsdam is distinguished by a legacy of pioneering programs and educational excellence. The College currently enrolls approximately 3,000 undergraduate and graduate students. Home to the world-renowned Crane School of Music, SUNY Potsdam is known for its challenging liberal arts and sciences core, distinction in teacher training and culture of creativity. To learn more, visit www.potsdam.edu.