SUNY Potsdam's Crane School of Music Presents Virtual Faculty Recital Featuring Christopher Hernacki, Trombone, Alongside Pianist Ling Lo, on Feb. 7
SUNY Potsdam's Crane School of Music will present a faculty recital themed around "A Winter's Journey," featuring Visiting Assistant Professor of Trombone Christopher Hernacki, on Sunday, Feb. 7 at 7:30 p.m.

"This performance is themed around the winter season, exploring what it means to journey through a time of year that contains both bitter cold and silent beauty. It is a moment to rest and reflect, to listen and engage, with our innermost truths," Hernacki said.
The recital will open with "A Winter's Night" by Kevin McKee, followed by a movement from "Colors" by Bert Appermont. Accompanied by pianist Ling Lo, Hernacki will present selections from Franz Schubert's "Winterreise" song cycle, transposed for trombone. Following a short intermission, they will also present selections from Tchaikovsky's ballet "The Nutcracker," ending the performance with "Winter" by David Snow.
The performance will stream live online on Sunday, Feb. 7 at 7:30 p.m., on Crane's YouTube channel and Facebook page. The links and program information are available at www.potsdam.edu/cranelive.
About the performers: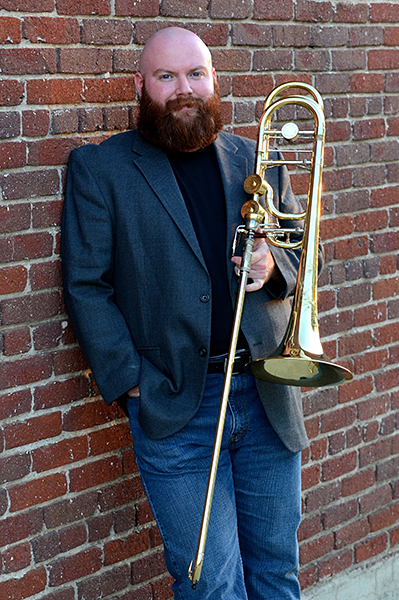 A Los Angeles native, Christopher Hernacki is an international award-winning musician/educator and has held positions as the bass trombonist of the San Antonio Symphony, the Finnish Radio Symphony Orchestra, the Phoenix Symphony and Symphony Silicon Valley. A huge nerd of music, video games and video game music, Hernacki writes, performs and records various arrangements of classic game music, some of which can be viewed on his YouTube channel. Hernacki earned degrees in trombone performance from the University of Michigan and the San Francisco Conservatory of Music, and completed a Professional Studies Certificate at the Colburn School. He was a fellow of the New World Symphony, and is currently completing a Doctor of Musical Arts degree, also in trombone performance, at the University of Michigan. He currently serves on the faculty of Idyllwild Arts' Summer Music Program as a low brass instructor, is a visiting assistant professor of trombone at SUNY Potsdam's Crane School of Music.
Dr. Ling Lo currently serves as staff pianist at SUNY Potsdam's Crane School of Music. As an active pianist, she has been invited as a guest artist to present duo recitals at several universities, including Purdue University Fort Wayne, Olivet College, Saginaw Valley State University, the University of Louisville, SUNY Potsdam, Schenectady County Community College and the University of Kentucky. Additionally, Lo has served as a festival pianist for the Mid-West Regional Tuba and Euphonium Conference, Leonard Falcone International Euphonium and Tuba Festival, Henri Selmer Summer Clarinet Festival and the Potsdam Clarinet Summit. Lo holds degrees from Michigan State University (Doctor of Musical Arts degree in piano performance and Master of Music degree in collaborative piano) and from Boston University (Master of Music degree in piano performance). She is currently completing an additional Doctor of Musical Arts degree in collaborative piano at Michigan State University. Her teachers include Pavel Nersessian, Konstantinos Papadakis, Deborah Moriarty and Zhihua Tang.
To view this concert program and see other upcoming streaming performances, visit www.potsdam.edu/cranelive.
About The Crane School of Music:
Founded in 1886, SUNY Potsdam's Crane School of Music has a long legacy of excellence in music education and performance. Life at Crane includes an incredible array of more than 300 recitals, lectures and concerts presented by faculty, students and guests each year. The Crane School of Music is the State University of New York's only All-Steinway institution. For more information, please visit www.potsdam.edu/crane.
---
Campus Announcements
Arts & Culture