Artworks from Permanent Collection at SUNY Potsdam Displayed in New Show, 'Sam Francis & Japan: Emptiness Overflowing,' at LACMA 
Two works from the permanent collection at The State University of New York at Potsdam are on loan for a new exhibition at the Los Angeles County Museum of Art. The Art Museum at SUNY Potsdam facilitated the loan of the pieces, which will be on display in "Sam Francis and Japan: Emptiness Overflowing," from April 9 to July 16 at LACMA. 
The show examines the work of American artist Sam Francis (1923–1994), in which Western and Eastern aesthetics engage in a profound intercultural dialogue. Francis first traveled to Japan in 1957, developing a lifelong affinity for Japanese art and culture that influenced his work. With over 60 works from LACMA's collection and key lenders, this is the first exhibition to explore the artist's work in relation to "ma" and other aspects of Japanese aesthetics. It will include works by Francis in the company of historic Japanese works to illustrate stylistic priorities shared by both. Also on view are works of contemporary Japanese artists (many associated with Gutai and Mono-Ha) whom Francis knew from his extensive time in Japan in the 1960s and '70s.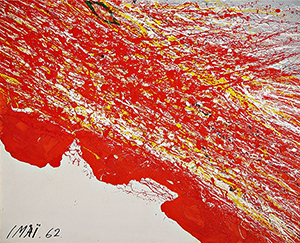 Two pieces from SUNY Potsdam's Japanese Collection were chosen for the show, including "L'Onde," a 1962 oil on canvas painting by Toshimitsu Imai, from the bequest of Roland Gibson. (Photo credit: Michael Yeomans) Also featured is a 1961 untitled work with oil and sand on canvas by Shozo Shimamoto, which was a gift from Noriko Yamamoto and Dr. Fred Prince. (Photo credit: Michael Yeomans)
SUNY Potsdam's Japanese Collection contains the largest single number of Gutai artworks in the country, and is a time capsule of Japanese painting from the late 1950s to the early 1970s. According to Japanese art scholar, Dr. Ming Tiampo, the Gutai were a group of about 25 young artists whose innovative artistic experiments defied previously held notions about art and painting.  
Many Gutai works treated the canvas with irreverence, breaking through traditional rules of art and representation. For the Gutai, making art that addressed the post-war world necessitated experimenting with new materials and techniques—not the materials of high art, but rather the stuff of everyday life: sheet metal, old newspapers, masking tape, synthetic fabric, mud, water and more. 
The collection's focus is abstraction. Its strength is in the work from the 1960s. It is a broad spectrum of modernist works by artists of two different generations, divided by their birthdates of before and after 1920. These diverse works tell a distinct story of the lineage within the vanguard movement.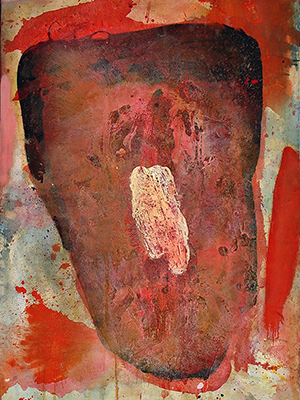 The 1,900 objects in The Art Museum at SUNY Potsdam's collection are a diverse selection of post-war American and European art, contemporary art, ethnographic art, early American and European art. The strength of the collection, however, lies in the Japanese and Italian sub-collections, many of which were donated by Roland Gibson himself. 
The Art Museum at SUNY Potsdam serves as the center for visual arts at the College, and encompasses all of the collections found throughout campus, including in the Gibson Gallery. The Museum is dedicated to the exhibition and interpretation of quality works of art, and its collection includes significant artworks from the 20th and 21st centuries as well as earlier pieces. The mission of The Art Museum at The State University of New York at Potsdam is to make direct experience of the visual arts accessible to students, faculty, staff and alumni of the College, as well as to residents of Northern New York. To learn more, visit potsdam.edu/museum. 
About SUNY Potsdam:  
Founded in 1816, The State University of New York at Potsdam is one of America's first 50 colleges—and the oldest institution within SUNY. Now in its third century, SUNY Potsdam is distinguished by a legacy of pioneering programs and educational excellence. The College currently enrolls approximately 3,000 undergraduate and graduate students. Home to the world-renowned Crane School of Music, SUNY Potsdam is known for its challenging liberal arts and sciences core, distinction in teacher training and culture of creativity. To learn more, visit www.potsdam.edu. 
---
General News
Arts & Culture