SUNY Potsdam's Crane School of Music Presents Concert Series Highlighting Works by Composer

Gregoria

Karides

Suchy
SUNY Potsdam's Crane School of Music will honor the music of composer Gregoria Karides Suchy in a special concert series this fall, marking what would have been her 100th birthday.
Crane will host "The Music of Gregoria Karides Suchy – A Centennial Celebration" throughout the month of November, with a series of six concerts. All of the concerts are free, and the public is invited to attend.
Three concerts will consist entirely of works by the groundbreaking composer, including:
Concert of Instrumental Solo and Chamber Music:

Sunday, Nov. 5 at 7:30 p.m., in the Sara M. Snell Music Theater

Crane Symphony Orchestra and Crane Latin Ensemble performance:

Tuesday, Nov. 14 at 7:30 p.m., in the Helen M. Hosmer Concert Hall

Concert of Vocal Solo and Chamber Music:

Sunday, Nov. 19 at 7:30 p.m., in the Proscenium Theater, located in the Performing Arts Center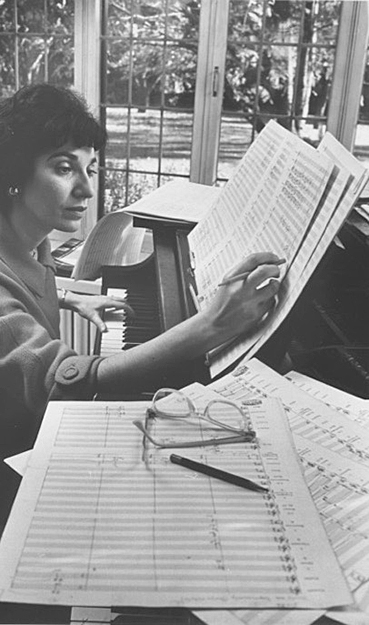 Gregoria Karides Suchy (1923-2018) used a variety of compositional approaches, and the concerts will showcase the breadth of her style from the incorporation of Greek folk melodies to twelve-tone and atonal approaches, as well as dance music for jazz band/Latin ensemble. She is thought to have been the first person to experiment in electronic music in Wisconsin, with her modern ballet, "Skins and Exposures."
Concerts will include commentary by the composer's daughter, Dr. Jessica Suchy-Pilalis, a professor at Crane. Dr. Suchy-Pilalis is currently on sabbatical, and is cataloging her mother's works and preparing some of the newly-discovered ones for publication. The chamber music concerts feature 20 Crane faculty members in total.
In addition to the above concerts, there will be three additional performances featuring Suchy's compositions, alongside works by other composers:
Crane Jazz Ensemble:

Wednesday, Nov. 1 at 7:30 p.m., in the Proscenium Theater

Crane Latin Ensemble:

Saturday, Nov. 11 at 7:30 p.m., in Snell Theater

Crane Wind Ensemble:

Monday, Nov. 20 at 7:30 p.m., in Hosmer Hall
About the composer:
Gregoria Karides Suchy (1923-2018) wrote for a variety of media. Her compositions, many of which received awards and prizes, have been performed by eminent artists and groups in the U.S. and abroad, including the New York Contemporary Chamber Ensemble, the International Society of Contemporary Music, by pianist Rudolph Ganz, violinists Leonard Sorkin and Gerald Fischbach, the Milwaukee Symphony Orchestra (American Composers Festival) and the National Association of Composers USA. "Greg," as she was known, was born into a Greek immigrant extended family of photographers and musicians. This ethnic influence can be heard in some of her most frequently performed works, "Twelve Greek Maxims," "Greek Rhapsody" and "Three Lovers." Yet she wrote:
"Although my Greek heritage provided my first musical experiences, and though I feel those ethnic rhythms and modal melodies to be part of my very essence, I have never felt restricted or bound by those musical impulses. Rather, I have always enjoyed setting new compositional parameters for myself, be it an odd combination of instruments or timbres, the pre-determined necessities of a ballet, the enrichment of multimedia, the confines of serialism, or the artistic exploration of the technological frontier. I do not feel as if I have only one style or any preferable genre, and I am still exploring.  It is the joy of the challenge and the fulfillment of creating that exhilarate me, and this I wish for all of my students..."
After the death of her parents, Suchy's high school mentors encouraged her to pursue music as a career. She was offered a faculty position shortly after graduation from Milwaukee State Teacher's College (the predecessor of the University of Wisconsin-Milwaukee). As a professor of composition and music technology at the University of Wisconsin-Milwaukee, where she taught for more than 50 years, she was a passionate teacher. Her own mentors included J. Thomas Oakes, Anthony Donato, Alexander Tcherepnin, Rudolph Ganz and Ralph Shapey. During her later years, Suchy came to Potsdam to hear works of hers performed by various Crane faculty members and to give lectures on her compositional approach.
These performances will be broadcast live on the Crane School of Music YouTube channel at the concert time. To view the programs and see other upcoming streaming performances, visit www.potsdam.edu/cranelive.
About The Crane School of Music:
Founded in 1886, SUNY Potsdam's Crane School of Music has a long legacy of excellence in music education and performance. Life at Crane includes an incredible array of more than 300 recitals, lectures and concerts presented by faculty, students and guests each year. The Crane School of Music is the State University of New York's only All-Steinway institution and was one of the first Yamaha Institutions of Excellence. For more information, please visit www.potsdam.edu/crane