SUNY Potsdam's Crane School of Music Presents Alumni Recital Featuring Harpist Anna Wiegandt '16 & Saxophonist Andrew Lammly '15 & '19
SUNY Potsdam's Crane School of Music will welcome back two recent graduates for a special alumni recital on Monday, Nov. 4 at 7:30 p.m., in the Helen M. Hosmer Concert Hall.
The recital will feature harpist Anna Wiegandt '16 and saxophonist Andrew Lammly '15 & '19, presenting a program including works by Jacques Ibert, Jean Cras, Claude Debussy, Alexina Louie, Bernard Andrès, Elias Parish Alvars and George Gershwin.
About the performers: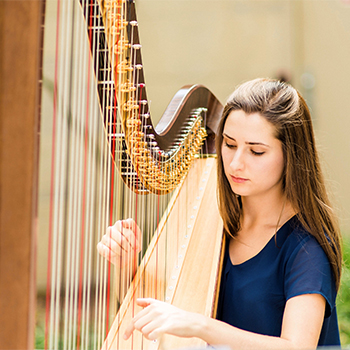 Anna Wiegandt '16 performs and teaches throughout upstate New York. As an orchestral harpist, she frequently performs with the Syracuse Symphoria and has played with the Carmel Symphony Orchestra and Cordancia Chamber Orchestra. She is an adjunct instructor at St. Lawrence University and teaches harp at the Holy Name of Jesus Academy in Massena, while maintaining a private harp studio in the North Country. She has been a featured soloist with the Hochstein Alumni Orchestra and with the Eastern Music Festival Orchestra as the concerto competition winner. She has also been an American Harp Society's Anne Adams Awards finalist and a winner of the Boston Harp Festival's Stars of Tomorrow Competition. Wiegandt received her master's degree in harp performance from Indiana University, where she served as an associate instructor for the harp department and studied with Susann McDonald, Elizabeth Hainen, and Florence Sitruk. Her undergraduate degree, also in harp performance, is from The Crane School of Music, where she was in the studio of Dr. Jessica Suchy-Pilalis. During that time, she was a winner of the American Harp Society's Youth Harp Ensemble Competition as a member of the Crane Harp Ensemble. As a winner of the Crane Concerto Competition, she performed the first movement of Ginastera's "Concerto for Harp" with the Crane Symphony Orchestra. Outside of music, she is currently studying at SUNY Canton to become a physical therapist assistant.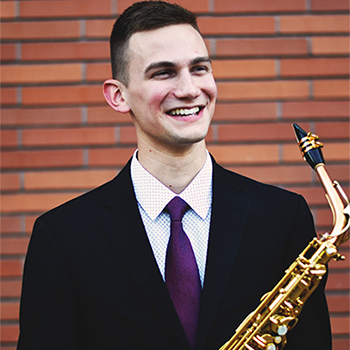 Andrew (Drew) Lammly '15 & '19 is an active music educator and saxophonist, working in a variety of musical settings as a soloist, chamber musician and collaborator, in both the classical and jazz idioms. He currently is the high school band director in the Greenville Central School District, where he directs the Concert Band and Jazz Ensemble, and has also held teaching positions at the Niskayuna Central School District, Crane Youth Music Camp and Bethel Woods Center for the Arts. Lammly has a Master of Music degree in saxophone performance from Arizona State University, and a Bachelor of Music degree in both music education and performance with a minor in jazz studies from The Crane School of Music at SUNY Potsdam. As a performer, he has received honors in the Fischoff Chamber Music Competition, MTNA National Chamber Music Competition, Enkor International Chamber Music Competition, and in both the chamber music and concerto competitions at The Crane School of Music. He has recorded for the Navona, Soundset and Mark labels. Lammly's passion lies in fostering lifelong participation in and appreciation for music in each of his students.
This concert is free, and the public is invited to attend.
This concert will be broadcast live on the Crane School of Music YouTube channel at the performance time. To view the program and see other upcoming streaming performances, visit www.potsdam.edu/academics/Crane/streaming.
About The Crane School of Music:
Founded in 1886, SUNY Potsdam's Crane School of Music has a long legacy of excellence in music education and performance. Life at Crane includes an incredible array of more than 300 recitals, lectures and concerts presented by faculty, students and guests each year. The Crane School of Music is the State University of New York's only All-Steinway institution. For more information, please visit www.potsdam.edu/crane.
---
General News
Arts & Culture