Online Exhibition at The Art Museum at SUNY Potsdam Features Work From Five North Country School Districts
Creative, thoughtful and full of color, an online exhibit of art by St. Lawrence County high school students is featured in a virtual exhibition presented by The Art Museum at SUNY Potsdam. Three dozen pieces showcase the talent of 18 students from five local districts, and range from watercolor still life images to abstract acrylic and black and white photographic landscapes. All of the high schools in the county were invited to participate in the St. Lawrence County Annual High School Exhibition 2020.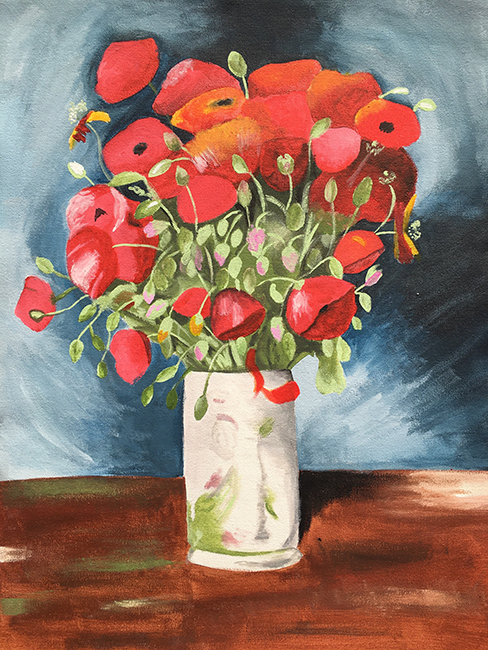 "The annual high school show is representative of the best our county art students have accomplished throughout the year," said museum Director April Vasher-Dean. "This spring COVID-19 forced us to change the parameters."
Featured are works from the following districts: · Hammond Central · Lisbon Central · Massena Central · Parishville-Hopkinton Central · St. Lawrence Central
Students created the art at home while engaged in online courses, and the work serves in some cases to represent a changed and uncertain world, including one piece titled "Current World Situation," a colored marker painting showing a wide-eyed young girl behind a face mask, depicted with the spiky graphic elements used in the media to illustrate the COVID-19 virus. Other pieces show the world continuing, placid and unaltered.
"These works are innovative, beautiful and inspiring," said Vasher-Dean. "They demonstrate how visual art is a vital part of everyday life. We need these images now more than ever. I want to thank the teachers and students who participated."
The St. Lawrence County Annual High School Exhibition 2020 can be viewed here: https://bit.ly/3d3u6w9
The Art Museum at SUNY Potsdam serves as the center for visual arts at the College, and encompasses all of the collections found throughout campus, including in the Gibson Gallery. The Museum is dedicated to the exhibition and interpretation of quality works of art, and its collection includes significant artworks from the 20th and 21st centuries, as well as earlier pieces. The mission of The Art Museum at The State University of New York at Potsdam is to make direct experience of the visual arts accessible to students, faculty, staff and alumni of the College, as well as to residents of Northern New York.
Founded in 1816, The State University of New York at Potsdam is one of only three arts campuses in the entire SUNY system. SUNY Potsdam's arts curriculum offers the full palette: music, theatre, dance, fine arts and creative writing. No matter the discipline, people from all backgrounds can find their creative compass at Potsdam, with myriad arts immersion experiences available for both campus and community.
---
General News
Arts & Culture