SUNY Potsdam BFA Graduates Look to Online Venues and New Approaches to Their Futures
The creative strength of SUNY Potsdam's arts students remains undiminished by a pandemic which has injected new innovation into the way we engage with and create art, literature and drama.
Normally, graduates from the College's selective Bachelor of Fine Arts programs are all celebrated with culminating exhibitions and readings to cap off their senior years.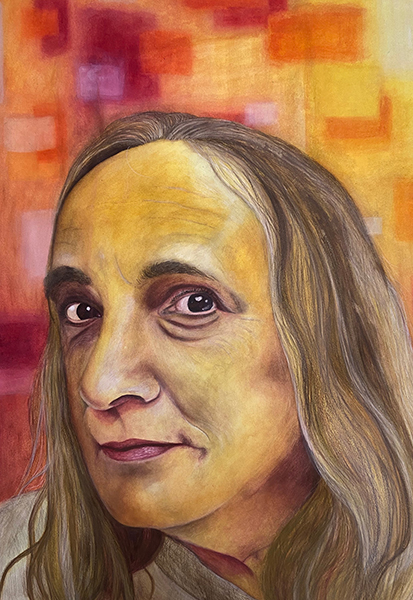 The BFA Exhibition is held in the Roland Gibson Gallery every spring, showcasing the work of graduating seniors pursuing degrees in visual arts, and graphic design and new media. Joyous and colorful, the show is a feast for eyes made tired by winter. This year, the compelling, in-depth works of Rebecca Hasenauer '20, Joyce Lau '20 and Emily Morton '20 are instead being displayed online in a virtual exhibition.
Even as it has forced technological innovation, the coronavirus pandemic has also deepened an introspection that is inherent to the arts and the college experience. SUNY Potsdam students report they have had more time to reflect, and their views of the future demonstrate new adaptations. Hasenauer plans to follow her undergraduate experience with virtual pursuit of a master's degree in production design at the Academy of Art University School of Motion Pictures and Television.
"An online degree is helpful especially now, since the pandemic has happened, and it prevents me from having to move across the country," she said.
As she graduates with her Bachelor of Fine Arts degree in creative writing, Teresa Licata '20 is also looking at the world differently. Normally, graduates of the writing program read from their poetry, fiction and non-fiction at the annual LoKo Arts Festival — another cherished SUNY Potsdam tradition. Instead, the students this year submitted videos of their readings. Licata wore out her voice doing dozens of takes to create a video that satisfied her. Instead of going straight to graduate school, she plans to use the pandemic to work on getting her writing published and expanding her portfolio. Sara Ryan '20, Breanna Trombley '20, and Ali Nightengale-Stevens '20 also recorded readings of their work from home, something that would usually happen in person during the LoKo Arts Festival.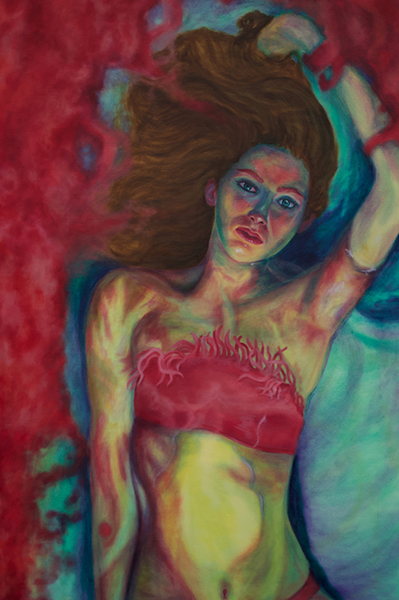 Morton has developed an arresting sense of color and emotion during her time in the North Country. She will apply to graduate school at the University of Buffalo in the fall for a Master of Arts degree program in visual studies, and plans to begin studying there in Fall 2021.
"The BFA program at SUNY Potsdam helped me to develop the skills needed to be a working artist," she said. "These skills include time management and being able to express my ideas in writing as I am expressing them on a canvas."
April Vasher-Dean, director of The Art Museum at SUNY Potsdam, said the virtual BFA Exhibition was born of a desire to give students like Morton a venue for their work, coupled with a mandate to teach online for the remainder of the semester.  
"College galleries and museums have struggled to provide as close to an in-person exhibition as possible for our graduating students," Vasher-Dean said. "We wanted to showcase the great work our students have provided while staying safe at home."  
Like graduates across the nation, SUNY Potsdam's own are experiencing a world where they are having to reinvent themselves. Some are expressing justified doubts and feelings of loss. The way they deal with this new adversity will help define who they become, as artists and as people.
"In my artwork, the straightforward view is a figure in a strange, obscure space," Hasenauer concluded. "This space is undefined, and although it may look like it could be something concrete, there are aspects that suggest otherwise. These undefined spaces are meant to make the viewer think about the unknown future for the figure, which may also make them feel uncomfortable as they begin to think about the future for themselves."
View the BFA Exhibition on the web here: https://www.potsdam.edu/community/art-museum/exhibitions/gibson-gallery/current-upcoming-exhibits.
SUNY Potsdam's art students live, create and study in a unique art environment within the context of a stimulating liberal arts tradition. To learn more about the College's fine arts programs, visit http://www.potsdam.edu/art. For more about the BFA program in creative writing, visit https://www.potsdam.edu/academics/programs-study/creative-writing.
About SUNY Potsdam:
Founded in 1816, The State University of New York at Potsdam is one of America's first 50 colleges—and the oldest institution within SUNY. Now in its third century, SUNY Potsdam is distinguished by a legacy of pioneering programs and educational excellence. The College currently enrolls approximately 3,600 undergraduate and graduate students. Home to the world-renowned Crane School of Music, SUNY Potsdam is known for its challenging liberal arts and sciences core, distinction in teacher training and culture of creativity. To learn more, visit www.potsdam.edu.