St. Lawrence County Annual High School Exhibition 2020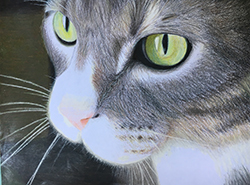 The Annual High School show is always representative of the best our county art students have accomplished throughout the year. This spring COVID-19 forced us to change the parameters. The Museum decided to highlight the art that was being created at home by the students. As always, we invited all county high schools to participate. Unfortunately, we were unable to provide a juror and awards. Instead we asked the teachers to submit up to ten images of the work their students were creating while schooling from home.
I believe we have a representative example of the hard work our students and teachers were able to achieve. These works are innovative, beautiful, and inspiring. They demonstrate how visual art is a vital part of every day life. We need these images now more than ever. I want to thank the teachers and students who participated. You are all amazing! I hope to see everyone in person next year and hand out awards. Keep up the hard work.I hope you all enjoy the show!
Sincerely,
April Vasher-Dean, Director
The Art Museum at SUNY Potsdam
Artwork: The following documents are available in Adobe PDF format.

BFA Exhibition

Artists: