The SUNY Potsdam Alumni Association recently presented the 2020 Minerva Award to Eileen Goss Whelley '76 of Greenfield Center, N.Y., during the College's Virtual Reunion Week.
The Minerva Award is presented annually to graduates who have demonstrated outstanding professional achievement in his or her field. It is the highest honor that a SUNY Potsdam graduate can receive from the association. Whelley was recognized for her outstanding professional achievements, and in gratitude for her service and generosity to the College.
About the recipient: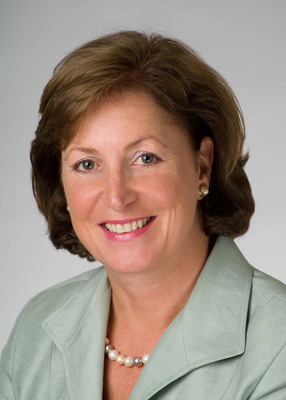 Eileen Goss Whelley '76 has found success working in a range of fields, from insurance to student affairs to oil to banking to entertainment to talent recruiting to contract negotiations.
A large part of her career was at General Electric, where she worked for 17 years. As executive vice president of human resources, Eileen played a major role in helping to train and promote diverse leaders and forming GE's policies on compensation benefits and talent acquisition, while planning for long-term success. At GE's NBC subsidiary, she led the company through acquisitions of Telemundo and the Bravo channel, and NBC's merger with Universal. During her tenure at GE, the corporation was consistently rated as the best company at developing executive talent. She was a founding member of the GE Women's Network.
Eileen duplicated her successful experience for another 14 years at The Hartford Insurance Company and later The XL Group. As executive vice president and chief human resources officer for both companies, she worked closely with the executive leadership team and corporate board to build the businesses and organizations. In 2019, Eileen "retired" and formed her own consulting company, working primarily as an executive coach.
Throughout her career, Eileen has valued community service. She is currently a member of the Research Foundation of the State University of New York Board of Directors, and has previously served on the Connecticut Teach for America Advisory Board. She also serves her alma mater as a member of the Potsdam College Foundation Board of Trustees, for which she serves as chair of the Trusteeship Committee. Eileen has also endowed a scholarship for women leaders at the College, and recently she has helped to start an Internship Enablement Fund to help SUNY Potsdam students complete internship experiences that will help them find a great job after graduation.
To find out more about how SUNY Potsdam connects with its devoted alumni, visit www.potsdam.edu/alumni.
About SUNY Potsdam:
Founded in 1816, The State University of New York at Potsdam is one of America's first 50 colleges—and the oldest institution within SUNY. Now in its third century, SUNY Potsdam is distinguished by a legacy of pioneering programs and educational excellence. The College currently enrolls approximately 3,600 undergraduate and graduate students. Home to the world-renowned Crane School of Music, SUNY Potsdam is known for its challenging liberal arts and sciences core, distinction in teacher training and culture of creativity. To learn more, visit www.potsdam.edu.