Alumni & Friends Invited to Join SUNY Potsdam for Fun-Filled Reunion from July 12 to 17
SUNY Potsdam is preparing to welcome alumni and friends back to campus for its first in-person Reunion since 2019. Alumni from all class years are invited to return for this year's festivities, which will be held on campus from Thursday, July 14, to Sunday, July 17. Virtual events and engagement opportunities will also be available on July 12 and 13.
Reunion 2022 will feature several special celebrations, including a 50th-anniversary dinner for the Classes of 1970, 1971 and 1972 on Friday, July 15. Crane Alumni TromboneS (CATS) are also reuniting and will offer a free public concert on Saturday night in Hosmer Hall.
Several of SUNY Potsdam's Greek organizations are gathering for reunions, including Agonian Sorority (140 years), Omega Delta Phi Sorority (61 years), Phi Kappa Pi Sorority (116 years) and Psi Phi Delta Fraternity (74 years).
With a diverse schedule of events and plenty of opportunities to catch up with classmates and meet alumni from all class years, Reunion 2022 at SUNY Potsdam has something for everyone. It's not too late to register to join in the fun! All alumni and friends are invited to join in the festivities. To learn more, view the full schedule of events, or register, call (315) 267-2120 or visit www.potsdam.edu/alumni/reunion.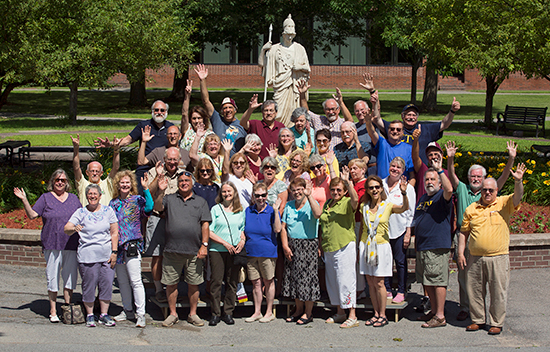 Reunion 2022 will kick off with virtual events on Tuesday, July 12, and Wednesday, July 13. Alumni from all over the globe can enjoy "An Unpredictable Journey to Hollywood" with actor Keisuke Hoashi '89 or participate in the third-annual Virtual Reunion 5k.
On-campus Reunion 2022 events begin on Thursday, July 14, with the Welcome Home Reception, featuring live music by Alex Vangellow (Hon. '14). Events continue Friday, Saturday and Sunday—ranging from the choral reading and tours of campus spaces, to affinity celebrations and the In-Person 5k Walk/Run.
Alumni can satisfy their taste buds with two signature events on Friday and Saturday evening. On Friday, Taste of Potsdam allows alumni to enjoy their favorite nostalgic foods, from a Sergi's pizza roll to the campus's Seattle Sizzler, during an outside buffet dinner. On Saturday, the SUNY Potsdam Alumni Association will honor its 2022 award recipients during Celebrating Bears Through the Years—a decades-themed event featuring hors d'oeuvres, a photo booth, entertainment provided by local DJ Jody Tosti, a signature cocktail, and a silent auction.
This year's Alumni Association award recipients will be honored and recognized as follows:
Minerva Award:

Sal Cania '79 & '82

Donald L. Tompkins Distinguished Service Award:

Laura Pike Stevenson (Hon. '07)

Rising Star Award:

Katherine Beck '12

Honorary Lifetime Membership:

David Cummings; Dr. John Graham, posthumously; Dr. Edward Hamilton

St. Lawrence Academy Medal:

Mary Steinberg Rutley '60

Helen M. Hosmer Excellence in Music Teaching Award:

Tim Savage '84 & '96

Dr.

Lonel Woods Peace and Love Award:

Shavon Lloyd '19
Throughout the weekend, alumni will have multiple opportunities to enjoy "Once Upon a Mattress," the Community Performance Series (CPS) summer musical, which runs from Thursday, July 14, to Sunday, July 17. Tickets can be purchased at www.cpspotsdam.org.
SUNY Potsdam's Reunion is held in conjunction with Clarkson University's Reunion Weekend and the Village of Potsdam's Summer Festival. To view the full schedule of events for SUNY Potsdam's Reunion 2022, visit www.potsdam.edu/alumni/reunion/reunion-schedule.
Registration headquarters will be located in the Raymond Hall lobby throughout the weekend. The public is invited to attend Reunion 2022 events, but must register. For more information or to register for the weekend, please call (315) 267-2120 or visit www.potsdam.edu/alumni/reunion.
About SUNY Potsdam:
Founded in 1816, The State University of New York at Potsdam is one of America's first 50 colleges—and the oldest institution within SUNY. Now in its third century, SUNY Potsdam is distinguished by a legacy of pioneering programs and educational excellence. The College currently enrolls approximately 3,600 undergraduate and graduate students. Home to the world-renowned Crane School of Music, SUNY Potsdam is known for its challenging liberal arts and sciences core, distinction in teacher training and culture of creativity. To learn more, visit www.potsdam.edu.