Dr. Frank Revetta Offers Free Weekly Shows at SUNY Potsdam Planetarium
SUNY Potsdam Geology Professor Emeritus Dr. Frank Revetta (Hon. '05) will offer his popular planetarium shows free to the public again this fall.
This is the 55th year that Dr. Revetta has led planetarium shows at the College. All of the weekly sessions will be held in the planetarium named in his honor.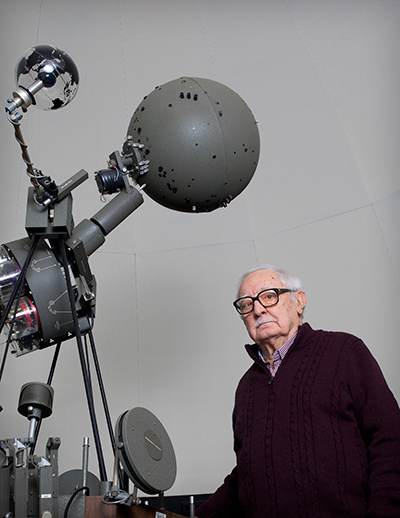 "Astronomy is the oldest science, and it's really something that most people have an interest in. You know, I often wonder about what's out there. That's just normal. When people come to a planetarium show, I think they already have an interest and I just make it more so. I consider it to be the best instrument up here for teaching," he said.
Planetarium shows are held every Thursday afternoon at 4 p.m., in the Dr. Frank A. Revetta Planetarium, located in the basement of Stowell Hall. Each show lasts about 45 minutes, and guests of all ages are welcome.
Attendees are encouraged to arrive early, because once the show begins, the door is locked. Please note that no food or drink are allowed in the planetarium, and as darkness is required, cell phones cannot be used during the show. Free parking is available in Lot 6, near Kellas Hall.
The Fall 2019 planetarium show schedule is as follows:
Sept. 12: "Circumpolar Constellations"

Sept. 19: "North Star (Polaris)"

Sept. 26: "Spring & Summer Constellations"

Oct. 3: "Winter Constellations" 

Oct. 10: "Brightest Stars"

Oct. 17: "Worldwide Constellations"

Oct. 24: "How Astronomers Locate Stars"

Nov. 7: "The Sky this Week"

Nov. 14: "Stories of Constellations"

Nov. 21: "Southern Constellations"

Dec. 5: "The Sun's Path"

Dec. 12: "The Seasons"

Dec. 19: "Constellations of the Zodiac"
In addition to the scheduled sessions, Revetta also offers planetarium shows for groups of five people or more at your convenience. For more information about the planetarium shows and seismology workshops, please contact Revetta at (315) 267-3441 or revettfa@potsdam.edu.
About SUNY Potsdam:
Founded in 1816, The State University of New York at Potsdam is one of America's first 50 colleges—and the oldest institution within SUNY. Now in its third century, SUNY Potsdam is distinguished by a legacy of pioneering programs and educational excellence. The College currently enrolls approximately 3,600 undergraduate and graduate students. Home to the world-renowned Crane School of Music, SUNY Potsdam is known for its challenging liberal arts and sciences core, distinction in teacher training and culture of creativity. To learn more, visit www.potsdam.edu.