SUNY Potsdam Student Amiere Bell '20 Presented with 2019 Norman R. McConney Jr. Award for EOP Student Excellence
SUNY Potsdam student Amiere Bell '20 of Watertown, N.Y., was among a select group of students from across New York State to be honored with the 2019 Norman R. McConney Jr. Award for EOP Student Excellence.
The award, which bears the name of the late Norman McConney, one of the architects of the statewide Educational Opportunity Program and a champion of youth empowerment, celebrates EOP students who have overcome significant obstacles in life to achieve their educational and personal goals.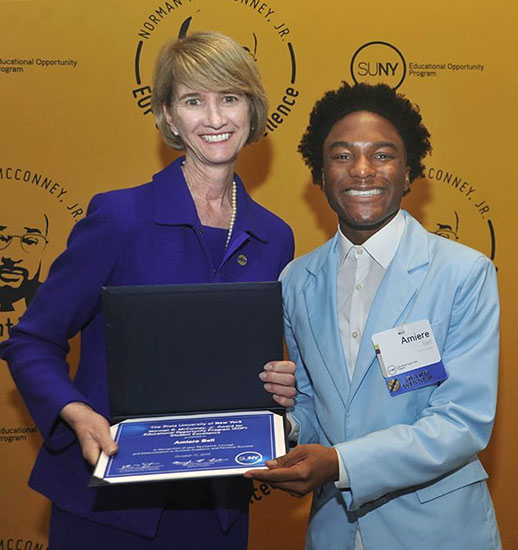 Bell traveled to New York City to receive the award at a reception and ceremony hosted by SUNY Chancellor Dr. Kristina M. Johnson on Oct. 17. In its first year, 42 students from across the state were presented with the new award.
During his first three years at SUNY Potsdam, Amiere Bell '20, a theatre major with minors in dance and speech communication, has grown both academically and artistically. Bell has a cumulative grade point average of 3.7. He has choreographed dances, played the lead role in "Wiley and the Hairy Man," and landed on the President's List the last two semesters—an impressive feat after entering SUNY Potsdam with a learning disability.
Among his acting and dance credits, Bell was also featured in the cast of SUNY Potsdam's mainstage production of "The Bacchae of Euripides." Based on his strong performances, Bell was invited to audition for the Kennedy Center American College Theatre Festival's Irene Ryan Acting Scholarship. This past summer, he interned with Celebration Barn Theatre in Maine.
He is a military child and has lived in Germany, Texas, California, Georgia and New York. Previously, Bell was named the New York State Military Youth of the Year for 2016-17, by his local Boys and Girls Club in Fort Drum, N.Y. Bell is an energetic, committed and extroverted student with a very positive attitude. He has a very clear set of goals and expectations and works hard to reach them.
Bell has received three donor-funded scholarships throughout his time at Potsdam, including the Presidential Scholars Award, the Betty & Merton Evans Scholarship and the Phi Mu Alpha Scholarship. In his senior year, Bell is serving as a student mentor for EOP.
Since its inception in 1967, the EOP has provided access, academic support, and supplemental financial assistance to students from disadvantaged backgrounds, many of them the first in their families to attend college. In its 52-year history, the EOP has served more than 75,000 students and evolved into one of the country's most successful college access programs. In the current academic year, SUNY has more than 11,000 EOP students on 48 SUNY campuses. EOP students often outperform their peers, with 73 percent of them graduating with a baccalaureate degree within six years.
To learn more about EOP at SUNY Potsdam, visit https://www.potsdam.edu/admissions/apply/special-admissions-programs/educational-opportunity-program-eop.
About SUNY Potsdam:
Founded in 1816, The State University of New York at Potsdam is one of America's first 50 colleges—and the oldest institution within SUNY. Now in its third century, SUNY Potsdam is distinguished by a legacy of pioneering programs and educational excellence. The College currently enrolls approximately 3,600 undergraduate and graduate students. Home to the world-renowned Crane School of Music, SUNY Potsdam is known for its challenging liberal arts and sciences core, distinction in teacher training and culture of creativity. To learn more, visit www.potsdam.edu.