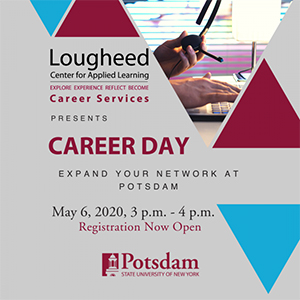 Save the Date:
May 6, 2020
3-4 p.m.
3:00 p.m.: Networking Event with Employers
This networking event is a great opportunity to discuss your skills and experience with employers and learn about their industries.
Meet employers!
Learn about career fields and related resources.
Practice your online networking skills.
2:30-3 pm: Get comfortable with the Zoom setup
3 p.m. - 4 p.m.: Networking Event with Students
SUNY Potsdam's Lougheed Center for Applied Learning and Career Services invites you to our 2020 Virtual Career Day. While the coronavirus pandemic caused us to cancel our many other Career Day activities, we are still hoping you'll join us for a networking event to meet SUNY Potsdam students.
 
This is a great opportunity to share your professional expertise and information about your company with our students, while they practice their online interview and networking skills. Join us to scope out talent and get to know our students - we're sure they'll wow you!