PACES Dining Services offers more dining facilities than any other SUNY campus its size.
We have lots of different options, so you never get bored with your choices. PACES is not your typical food service.
Explore the different facilities- from traditional resident hall style all you care to eat dining to a la carte food kiosks and gourmet cafes. If you are a student on a meal plan, you can use your plan at any campus dining location. Campus visitors can use cash or debit/credit card.
Each dining unit has unique aspects- from your not so typical residential dining hall at Lehman's with its all you care to eat value- offering a cook to order dairy and gluten free station at dinner - to a breakfast smoothie bar in the Student Union.
PACES Dining Services holds special events, tastings and theme dinners at different locations throughout the semester. Check SPW or sign up for the PACES Twitter feed to get the latest news.
Welcome to the world of PACES campus Dining. The choice is yours!
Located in Pratt Commons, Becky's Place is a gateway restaurant serving salads, pizza, baked pasta, paninis, soups and grab & go items. Breakfast, daily lunch and dinner specials are available here. Becky's has a hot Vegan or Vegetarian dish available every day.
Tim Hortons
Open Monday - Thursday 7:30 a.m. - 4 p.m, Friday 7:30 a.m- 3 p.m.
PACES Dining Service offers a Tim Hortons bakery café express in Becky's Place in Raymond Hall. The Tim Hortons chain was founded in 1964 in Hamilton, Ontario.
Dedicated to the memory of Becky Pratt, '97, Becky's Place at Pratt Commons is made possible through the investment of PACES and the generosity of an anonymous friend of the Pratts.
Academic Year Hours of Operation:
Becky's Place open Monday - Thursday 7:30 a.m. -7 p.m., Friday 7:30 a.m. - 3 p.m.
Grill area - serving breakfast 7:30 a.m. - 10:45 a.m. and lunch/dinner 11 a.m. - 7 p.m. (lunch until 2 p.m., Friday)
Stir Fry/Saute Station, Hearth Oven, Deli open Mon - Thursday 10:45 a.m.- 7 p.m., Friday 10:45 a.m. - 2 p.m.
Pay with Cash, Flex Dining Credits, Bear Express, or a bank card. Meal Plan allowances are accepted at Becky's Place until 10:45 a.m. and after 3 p.m.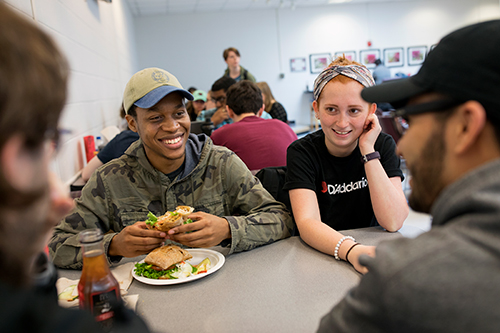 Located in the Crane complex, the snack bar serves breakfast, lunch specials, made to order sandwiches, and soups. It offers a hot entree daily, a vegan or vegetarian dish, and grab and go.
Convenient for those seeking a moment between classes, or on the go.
Pay with Cash, Flex Dining Credits, Bear Express, or Meal Plan allowances in this unit.
Hours of Operation
Monday-Friday: 7:15 a.m. - 3 p.m.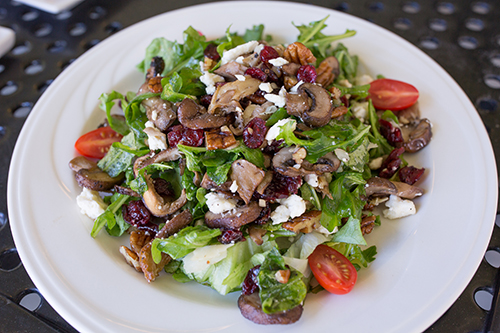 Located in Thatcher Hall, Dexter's features gourmet sandwiches, salads, fine desserts, and unique beverages. Dexter's was awarded the Bronze Medal in the national Loyal E. Horton Dining Award competition.
Dexter's offers an amazing array of taste sensations, every weekday. It is "wow" for your taste buds. Try a signature sandwich, a specialty panini, some homemade soup, or an amazing dessert. You won't ever be disappointed!
Reviewed in the Watertown Daily Times, (March 2008) food critic Wally Siebel calls Dexter's Cafe "a place that does lunch right." Siebel was "impressed with the variety of offerings, all prepared with quality ingredients, and the fact it was so affordable....They are dedicated to using the best ingredients, locally grown and produced goods as much as possible, and meals made from scratch." Our salads showcase the best of the best.
Monday-Friday: 11 a.m. - 2 p.m.
Pay with Cash, Flex Dining Credits, Credit Cards, or Bear Express.
Student Meal allowances are not accepted at Dexter's.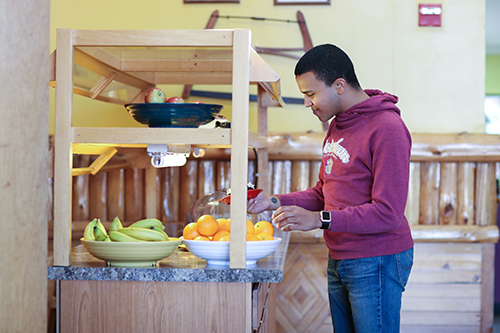 Lehman, the classic dining hall one entry price to a world of amazing foods and the easiest place to eat something healthy!
Pre-Order a Bucket of Fried Chicken to eat for dinner at home or in your dorm room! Call (315)267-4674 for prices and times of service.
Take Out Program
You can purchase a reusable Take Out container at the register for $5 with Bear Express, Check, Cash or Credit/Debit.
Have your card swiped for One Meal- you have decided to take a meal out for lunch or dinner today: you can't hang out and eat in Lehman and then fill the container with a Take Out meal.
Fill the container with your choice of foods - (limit of a dozen wings per container: lid must close without resistance)
Fill your Drink Cup given to you by the Cashier.
Exit the Building
Enjoy Your Meal
Rinse the container and dispose of the beverage cup.
When you want to get a Take Out meal again, bring the container back to Lehman, Becky's, or PAC Cafe and have it exchanged for a clean one and a new beverage cup. If you lost or forgot your container, you must buy another one. Remember: The lid must close and you need to take your meal OUT
2018-19 Academic Year Hours
Weekday Hours

Lunch 10:45 a.m. - 1:30 p.m.
Dinner 4 - 7:30 p.m.

Weekend Hours
Brunch 10:30 a.m. - 2:30 p.m.
Dinner 4 p.m. - 7:30 p.m.
Our menus rotate from week to week, so you never need to get bored with your food choices. Based on product availability, our menus may change without notice.
Food Allergies?
See Terri White, our unit Manger if you have special dietary needs while eating at Lehman.
Pricing
Meal plan holder's entrance to Lehman is counted as one meal swipe.
Walk in visitors or non meal plan holders are welcome to eat at Lehman and will pay the cash/bear express price, plus NYS sales tax.
*prices effective August 1, 2019
Lunch Entry Price
Cash, Bear Express, Credit Card $8.50, plus tax
Flex Entry is $6.80
Groups with confirmation letter $8
Brunch/Dinner Entry Price
Cash, Bear Express, Credit Card $12.50, plus tax
Flex Entry is $10
Groups with confirmation letter $11.50
Located in Crumb Library, Minerva's Café is a favorite meeting place of faculty and students.
Espresso drinks, pastries, desserts, grab and go sandwiches, salads and snacks are featured here.
Pay with Cash, Flex Dining Credits, Bear Express or your Meal Plan allowance.
Hours of Operation
Monday-Friday: 8 a.m. - 3 p.m.
Performing Arts Center Cafe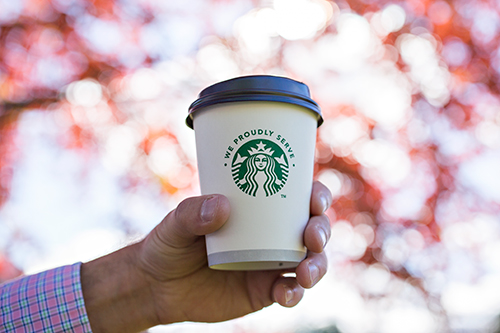 Open: Monday - Friday 7:30 a.m. - 3 p.m.
Use your Meal Allowance (before 10:45am).
Flex Credits, Cash and Bear Express can be used anytime.
The Cafe features a Starbucks Coffee and specialty drinks and PACES award winning Dining Services.
Hot Breakfast Wraps, signature sandwiches and paninis, hot entrees, soup, and Sushi on Thursdays!
Student Union Dining Court
The Student Union Dining Court (SUDC) is home to a variety of restaurants. Meal allowances, Flex, Bear Express, and cash are all accepted at any location in the SUDC.
Meal deals offered at every unit in the Student Union Dining Court.
If your dish is served with fries or chips you an swap it for a healthy piece of fruit.
'Dack's
Monday-Thursday: 11:00 a.m. - 2:30 p.m., 4:30 p.m. - 7:30 p.m.
Friday: 11 a.m. - 2:30 p.m.
Located in the Student Union Food Court, this restaurant offers home cooking, done right.
Try our Montreal Style Baked Chicken, Chicken Pot Pie, and specialty vegetarian and vegan dishes at the Blue Plate!
Blue Plate, like all our restaurants hosts periodic special events- Breakfast for Dinner, or Steak Night- keep and eye on the flyers in the Union for more details.
Chips Old Time Deli
Daily: 10:45 a.m. - 10 p.m.
Chip's Old Time Deli features specialty sandwiches, a different one each day! We serve a wide selection of top quality meats, cheese, and veggies. Add a generous handful of chips and a fresh deli pickle and it becomes a deliciously good value.
PACES makes your deli sandwich to order. You let us know what you want, and how much of it. We can turbo oven it to melt the cheese, or leave just as is- you decide. Gluten Friendly breads are available for your sandwich.
Cookies, Cream & Co.
Monday-Thursday, Noon -10 p.m.
Friday, Sat & Sun Noon-10 p.m.
Okay, we all have a sweet tooth sometime. This is the campus answer to your search for a special treat or an alternative to a late breakfast. Grab a Protein, Fruit or Veggie Smoothie anytime.
You can get custom made milkshakes, frozen yogurt, ice cream sundaes, and cones from our dairy bar.
Looking for a dense treat- chose a slice of a signature specialty cake or pie. Lots of decisions to make- gourmet cookies, lemon bars, cheesecakes, and chocolate cakes!
Fifth World Grill
Monday-Friday: 7:30 a.m. - 9 p.m.
Saturday & Sunday: 8 a.m. - 9 p.m.
Looking for breakfast- our Full Plate is available all day long! Two eggs, 2 toast, 2 bacon and hashbrowns- anytime at all!
Got a craving for a grilled sandwich or wrap, we have featured specials every day. Grab a sandwich and fries and you are on your way.
Try our Seattle Sizzler - chicken tenders with hot sauce, fire roasted veggies and blue cheese dressing- Kaobunga!
Looking for something tasty but vegetarian based- try the Portobella Burger- the choice is yours.
Firehouse Grill
Weekdays, 11 a.m. - 2:30 p.m., Sunday- Thursday, 4:30 p.m. - 11 p.m., Friday & Saturday 4:30 p.m. - midnight
The Firehouse Grill is the go to place for anything flame broiled. It features char-grilled hamburgers, chicken filet, garden or turkey burgers, and hot dogs made from the best quality ingredients.
At night it becomes home to our Late Night Operation which offers a special menu for the hungry late night crowd.
Mediterrano's
Monday-Thursday: 11 a.m. - 2:30 p.m., 4:30 p.m. - 7:30 p.m.
Friday: 11 a.m. - 2:30 p.m.
Take a trip to the Mediterranean and indulge your sense of taste with recipes from exotic places such as Spain, Greece, and North Africa.
Nationally recognized Mediterrano's is the place to tour the culinary planet. Experience dishes like Spinach Basil Bellisimo, Pasta Rosso or Greek Island Chicken & Artichokes. Or create your own favorite dish, from our ingredients.
Sauteed spinach in olive oil, garlic and lemon juice, with bow tie pasta and sundried tomato pesto- topped with feta or parmesan cheese. Meat eaters love to add grilled chicken.
Saguaro Burrito
Weekdays, 11 a.m. - 2:30 p.m., Sunday- Thursday, 4:30 p.m. - 11 p.m., Friday & Saturday 4:30 p.m. - midnight
We offer the gourmet flavors of Mexico, wrapped in a steamy tortilla- wheat or white.
You decide what you want inside your burrito, or just on a plate for a healthy styled salad. Everything is made fresh in our Thatcher Kitchen on campus. Pico de gallo, smoked pinto beans, and our special sauces. Chose from cilantro lime infused chicken, taco flavored ground beef, or homemade BBQ rubbed pork. This little hole in the wall restaurant makes for a fantastic dining memory!
Garden Toss
Weekdays, 11 a.m. - 2:30 p.m., Sunday- Thursday, 4:30 p.m. - 11 p.m., Friday & Saturday 4:30 p.m. - midnight
We offer a variety of greens- some grown locally on campus- with a vast array of toppings.
You decide what you want on your salad, we weigh it and off you go for a healthy meal alternative
Tomassito's 
Weekdays, 11 a.m. - 2:30 p.m., Sunday- Thursday, 4:30 p.m. - 11 p.m., Friday & Saturday 4:30 p.m. - midnight
Tomassito's brings a taste of Italy and other international dishes to you. Pasta bakes, pizzas, calzones and specialty flat bread pizzas are available here.
Grab a slice of pizza, or a whole pie to share with friends.
Phone in a pizza order for pickup, 267-2585.