PACES Dining Services is Here for You!
We have lots of different options, so you never get bored with your choices. PACES is not your typical food service.
Explore the different facilities- We have à la carte dining facilities, grab-and-go kiosks and gourmet cafés. If you are a student on a meal plan, you can use your plan at any campus dining location. Campus visitors can use cash or debit/credit card.
Each dining unit has unique aspects—from full meal solutions to made-to-order concepts to grab-and-go items for students on the run. You can choose what fits your needs.
Welcome to the world of PACES campus Dining. The choice is yours!
Located in Pratt Commons, Becky's Place is a gateway restaurant serving salads, pizza,  pasta sautes, paninis, soups and grab & go items. Breakfast and lunch are served every weekday. Becky's has Vegan or Vegetarian options available every day.
Dedicated to the memory of Becky Pratt, '97, Becky's Place at Pratt Commons is made possible through the investment of PACES and the generosity of an anonymous friend of the Pratts.
Use your Meal Allowance any time.
Flex Credits, Cash and Bear Express can be used anytime.
The Cafe features hot breakfast and lunch options. The Cafe has a large selection of grab & go items made in the PACES campus kitchens in Bowman and Thatcher halls.
Serving Starbucks Signature beverages as well as has a large selection of grab & go items.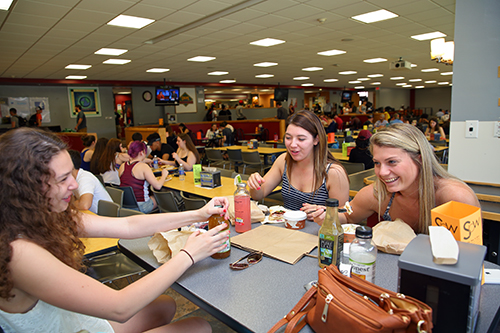 Meal deals offered at every unit in the Student Union Dining Court.
If your dish is served with fries or chips you can swap it for a healthy piece of fruit.
'Dacks
'Dacks offers the complete meal solution on campus. One meal swipe guarantees your plate has a choice of protein (animal or plant based, side of vegetable, side of starch, salad, dessert and a beverage.
Chips Old Time Deli
Chip's Old Time Deli features specialty sandwiches, a different one each day! We serve a wide selection of top quality meats, cheese, and veggies. Add a generous handful of chips and a fresh deli pickle and it becomes a deliciously good value.
PACES makes your deli sandwich to order. You let us know what you want, and how much of it. We can turbo oven it to melt the cheese, or leave just as is- you decide. Gluten Friendly breads are available for your sandwich.
Cookies, Cream & Co.
Okay, we all have a sweet tooth sometime. This is the campus answer to your search for a special treat.
You can get custom made milkshakes, frozen yogurt, ice cream sundaes, and cones from our dairy bar.
Choose a slice of a signature specialty cake or pie. Lots of decisions to make- gourmet cookies, brownies, cheesecakes and chocolate cakes!
Fifth World Grill
Looking for breakfast- our Full Plate is available all day long! Two eggs, 2 toast, 2 bacon and hash browns- anytime at all!
Got a craving for a grilled sandwich or wrap, we have featured specials every day. Grab a sandwich and fries and you are on your way.
Try our Seattle Sizzler - chicken tenders with hot sauce, fire roasted veggies and blue cheese dressing- Kaobunga!
Vegetarian options available.
Firehouse Grill
The Firehouse Grill is the go to place for anything flame broiled. It features char-grilled hamburgers, chicken filet, garden or turkey burgers, and hot dogs made from the best quality ingredients.
At night it becomes home to our Late Night Operation which offers a special menu for the hungry late night crowd.
Saguaro Burrito
We offer the gourmet flavors of Mexico, wrapped in a steamy tortilla- wheat or white.
You decide what you want inside your burrito, or just on a plate for a healthy styled salad. Everything is made fresh in our Thatcher Kitchen on campus. Pico de gallo and our special sauces. Choose from Korean chicken, seasoned taco beef or homemade BBQ rubbed pork. This little hole in the wall restaurant makes for a fantastic dining memory!
Tomassito's
Tomassito's brings a taste of Italian street food to you. Pizza by the slice or pie; specialty stromboli and breadsticks. House made dough, tossed and stretched by hand.
Phone in a pizza order for pickup, 267-2585.