Whirligigs and the Study of Animal Behavior
Ever since stepping foot on campus 17 years ago, SUNY Potsdam Professor Dr. William Romey has dedicated his time to researching tiny whirligig beetles and how their movement can inform the behavior of animals as large as the wildebeests of Africa.
Romey recently published his 11th article on whirligigs in the international journal, Animal Behaviour, after conducting research with alumnus Charles Kemak '15 to examine the beetles' reaction to the threat of predators. They discovered that it takes approximately 10 percent of a group of whirligigs responding to the threat of a predator before all they all move rapidly in a flash expansion—an outward migration from the group's core to protect themselves and confuse predators, much like a stampede of zebras responding to a threat.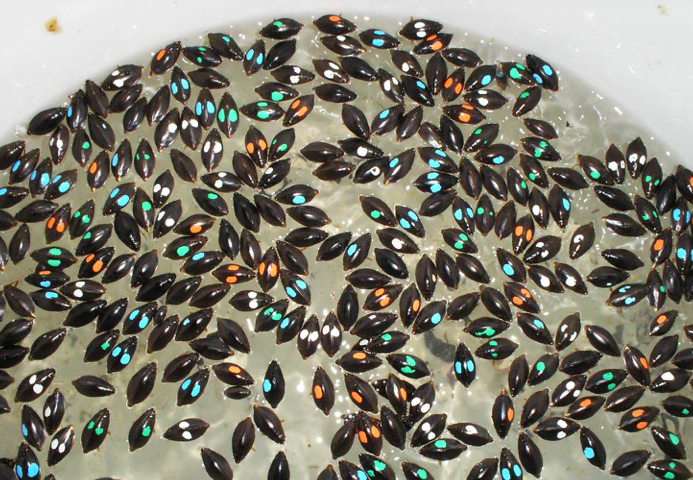 In the fall of 2015, Romey and Kemak took weekly trips to the Grasse River in Canton where they scooped up around 1,000 whirligigs in long nets and brought them back to Stowell Hall to examine and videotape their movement. After painting over the eyes of the majority of the whirligigs, they tested how the remaining sighted beetles affected the rest of the group when exposed to a predator stimulus.
They found that just one sighted beetle in a group of 12 caused all of the beetles to expand outward as part of the threat avoidance mechanism. However, it took three sighted whirligigs in a grouping of 24 and six in a group of 48 to trigger their unsighted counterparts to engage in the flash expansion mechanism—averaging out to about 10 percent of the sighted beetles across all three group sizes.
Their research provides insight into how other animals, who travel in groups, could respond to the threat of predators simply by the movement of others around them—without actually seeing the threat. "Any question that someone could ask about grouping behavior, I can answer with my whirligigs, probably a lot easier, faster and with greater replication," Romey said.
"It's much easier for me to tag a whirligig than it is to tag a baboon, or a wildebeest or something like that. I have friends who work on wildebeests in Africa and they have to hire helicopters, or figure out drones—whereas I just hang a camera over them in the lab," Romey explained.
Undergraduate research opportunities like this are invaluable tools for students like Kemak. "This certainly helped him get into graduate school. Having an article published puts you miles ahead of anyone else applying for grad school," Romey said.
"The research and the teaching go hand in hand. A lot of the official research that gets published takes place in the summer with my students, and then that informs my classes. A combination of teaching and research is important."
Romey's research has extended to other species and diverse habitats over the years. He has also studied Adirondack bee communities and pollination biology, and a rare species of tiger beetle in the Utah desert. Before he began his own graduate studies, Romey was a Peace Corps volunteer in Tonga, where he spent time scuba diving along the coral reefs. Later, he followed up on his interest in marine biology by studying deep-sea bivalves and the schooling behavior of marine fish. In recent years, his research has focused on swarming and grouping behavior, garnering several grants over the years, including a $290,000 grant in 2011 from the National Science Foundation to explore the mechanisms of emergent swarm behavior of whirligigs.
This semester, Romey is teaching an introduction to biology lecture and lab, plus an upper-level guided research class. Next fall, he will be teaching "Freshwater Ecology," as well as "Insect Ecology," a class where his students host a Halloween Bug Banquet to cook recipes such chocolate chip cricket cookies, cricket fondue and mealworm fritters—a unique event that has garnered local media attention in the past and gives students and the public a chance to savor culinary creations featuring worms and crickets, while also learning about insect ecology.
For more information about the Department of Biology, visit: www.potsdam.edu/academics/AAS/biology.