There is no doubt that Miryam Veliz Calderon '20 is going places.
A double-major in mathematics and Spanish, Veliz Calderon does not shy away from opportunities to grow as both a leader and a scholar. Since coming to SUNY Potsdam, she has actively participated in a variety of clubs and organizations on campus, ultimately taking on leadership roles.
"In Math Alliance, I am the treasurer. In Spanish Club, I am the president," Veliz Calderon shares humbly. She also currently performs on the Bear Witness Step Team.
Combining majors from mathematics and modern languages may seem strange to some, but it makes perfect sense to Veliz Calderon. "From a young age," she remembers, "I noticed that numbers are my passion. And since I was born and raised in Argentina, I decided to further my education with my first language, Spanish."
Veliz Calderon chose SUNY Potsdam because of its renowned teaching program, but it wasn't until later in her college career that she discovered the perfect way to merge her two interests. "I realized that I can combine both subjects by becoming an English as a New Language (ENL) teacher, which will require me to have credits in both a subject and a language."
By participating in the student organizations associated with her majors, Veliz Calderon has developed deeper relationships with department faculty, which have led to opportunities to work as a teaching assistant and attend conferences in both of her fields.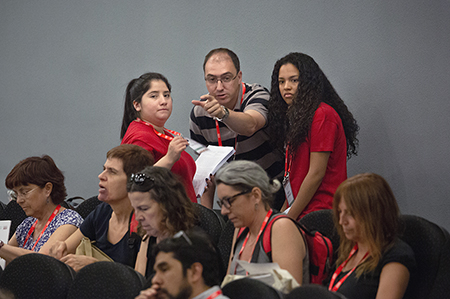 In July 2019, Veliz Calderon traveled to Madrid, Spain, for 10 days as an intern for the fifth annual AIBR International Conference of Anthropology. Her internship began in the spring as she worked with Assistant Professor Dr. Sergio López and fellow intern Angelin Hernandez '19 to prepare for the conference.
"During the spring semester, Miryam worked to create the database for ARIES, a new Spanish scientific journal in Anthropology, featuring over 2,000 articles and scientific references coming from all the papers of the AIBR Conference in the last five years," López explains. "She and Angelin managed email correspondence with more than 1,000 authors to publish their papers and articles."
López serves as the president of the Board of Directors of Antropólogos Iberoamericanos en Red (AIBR), a non-profit organization that offers the open dissemination of anthropological research and resources. This summer was his second time traveling to the AIBR conference with SUNY Potsdam student interns. Both trips were funded in part by The Bob, an endowment established by Robert Hill '77 to support applied learning at SUNY Potsdam.
At the conference, Veliz Calderon and Hernandez joined a team of 40 volunteers, all of whom were students at the Universidad Autónoma de Madrid. The SUNY Potsdam interns were involved with a variety of tasks, such as assisting professors and panel participants, translating for non-Spanish speakers, guiding conference attendees, and taking photographs for the annual AIBR magazine.
As she enters her final year at Potsdam, Veliz Calderon recognizes that her college experience would not have been the same without the generosity of Jeanne '80 and Raymond Roberts, the donors of the Jeanne Kimmich Roberts Scholarship, which she has received for the past three years.
The Roberts established their scholarship in 2013, designating it for academically talented female students pursuing a degree in math or computer science. A mathematics major herself, Jeanne says, "We wanted to help someone else go to SUNY Potsdam and major in the areas I was involved in. It makes us happy to help students who might not be able to go to Potsdam without a scholarship."
Veliz Calderon wants the Roberts to know how much she appreciates their investment in her education. "Because of their gesture, I will give back to students like me in the future," she says. "They made an impact in my life, and for that I will forever remember them."
For more information about the Department of Modern Languages, visit: https://www.potsdam.edu/academics/AAS/depts/lang
For more information about the Department of Mathematics, visit: https://www.potsdam.edu/academics/AAS/depts/math
To learn more about the impact of giving at SUNY Potsdam, visit: https://www.potsdam.edu/giving/donorimpact
Article by Alexis Donnelly '18, Portraits by Jason Hunter